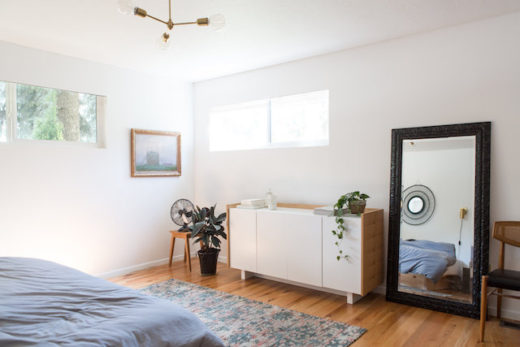 Brass Chandelier Adds Pop in Minimalist Master Bedroom
Last week we visited with Kirsten Grove, of the blog Simply Grove, as she revealed the transformation of her living room that included a Downtown Minimalist Adjustable Wall Sconce near the fireplace. Today, Kirsten shares the remodel of her master bedroom where a modern brass chandelier adds interest to the mostly white space.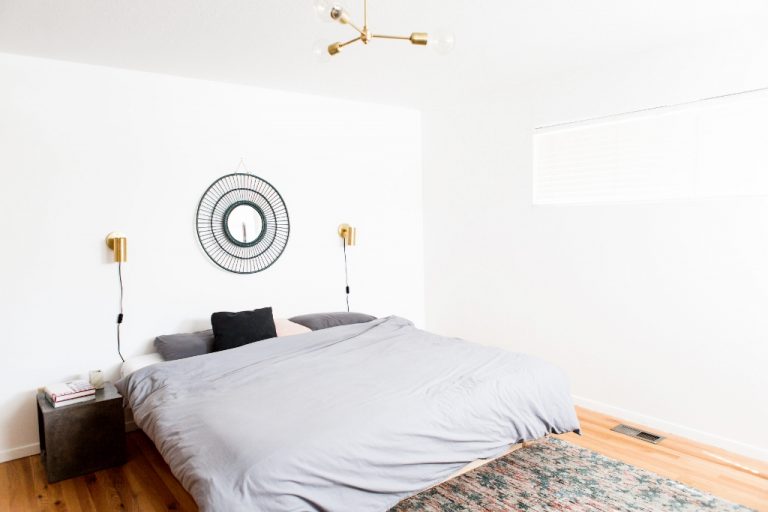 "When we first walked into this room, it felt dark and lonely," Kirsten says. "I wanted to make the room come to life so naturally we painted everything white and textured the ceiling to get rid of the popcorn." The house has strong bones and is a mid-century masterpiece, and Kirsten plans to stay true to the aesthetic of the house through her renovations. She wants to keep the mid-century feel but modernize it without making it feel empty.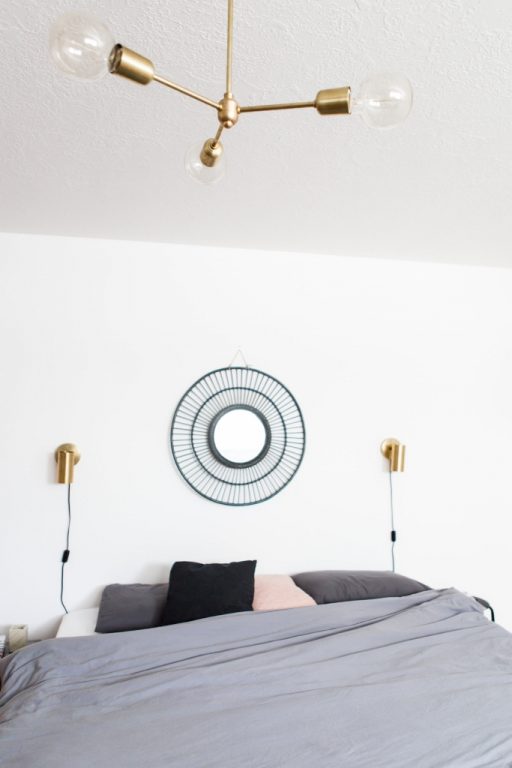 Kirsten opted for the Downtown Minimalist 3-Light Chandelier to replace the ceiling fan in this room. She customized this American-made chandelier with a Raw Brass finish, 12″ stem, and G30 Edison style bulbs. Weathered Brass is also available for this multi-light pendant as are custom stem lengths.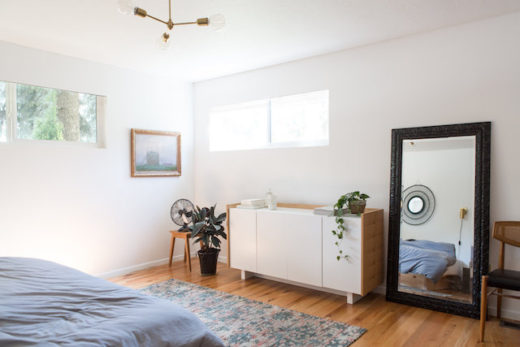 "I wanted a fun piece to go with my neutral-colored bedroom," she explains. "I wanted something in a good size and with a fun design. The second I spotted this pendant, I knew it would be the star of the show. It does just that and I am more than thrilled with the results!"
The brass complements the mid-century feel of Kirsten's home while the Edison bulbs help bridge the gap between the old and the new.
"Without the pendant, the room is pretty but kind of boring," Kirsten says. "The pendant is a modern piece with a mid-century feel and it brings life into the space. And the bulbs are the cherry on top!"
Photos courtesy of Simply Grove