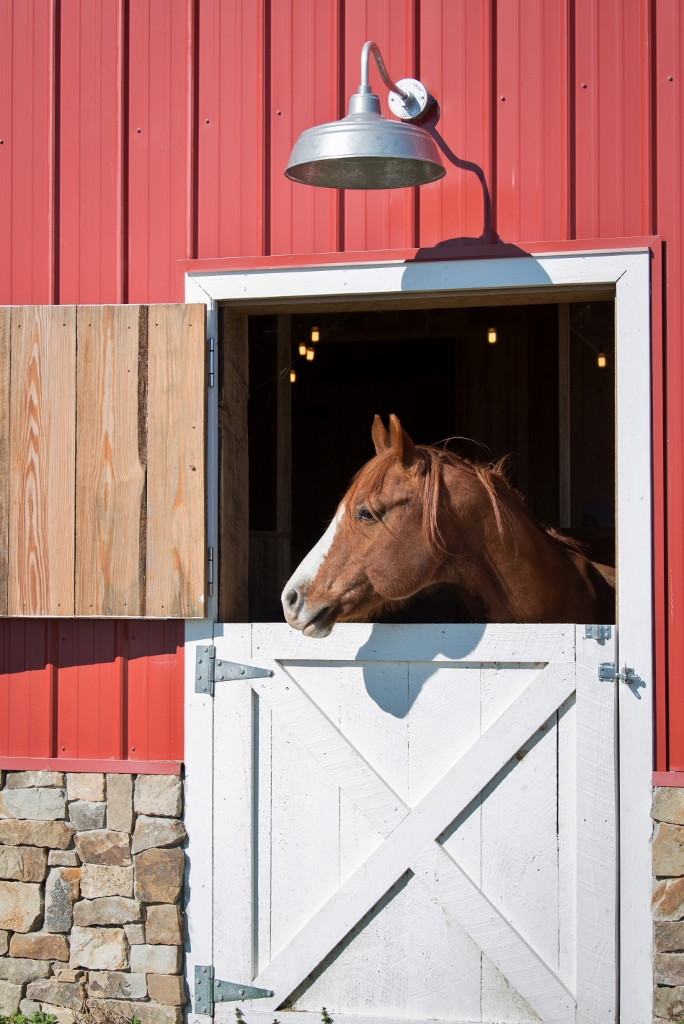 Our Favorite Barns & the Lights That Make Them Memorable
Thanks to customer photos filling our Instagram, Pinterest, and Facebook feeds, we enjoy a daily dose of beautiful spaces highlighted with our quality, American-made lighting. We have our favorites, but the space that always speaks to our hearts is a barn.
We've seen barns ranging from old, well-worn tobacco sheds to brand-new barns we'd like to live in. We wanted to share some of our favorites on the blog today. If you've got an outbuilding that needs some love, these pics will inspire you!
Although Renee first thought about painting her entire barn red, she instead chose the Barn Red finish of our Original™ Warehouse Gooseneck Light to accent a dark gray exterior. These generous 20″ shades sport G6 gooseneck arms and add the perfect pop of color to the facade.
Speaking of moving in, do you think the horses would mind? Designed and built by Sequoia Contracting, the interior of this barn features 14 Wallaby Flush Mount Pendants that add plenty of light but, thanks to the flush mounting, don't get in the way of passing equines…
…who love their view of the exterior of the barn. Is this the sweetest pic ever?!
For many customers, nothing beats the look of a Galvanized finish. Carrie and Chad built two barns just across the yard from their home in Alabama — one for the animals and one for the family.
Carrie's barns, featured here, are classic red with white trim and boast plenty of Galvanized gooseneck lights and pendants throughout that complement the metal roofing.
Joseph wanted exterior fixtures that offered plenty of illumination but without the glare. This Original™ Warehouse Gooseneck Light mounted to a post offers the downlighting Joseph needed while the optional wire cage protects the bulb as the cattle make their way to the nearby barn.
To highlight the doorways of his renovated barn featured in this blog post, Randy chose the Houston Street SoHo Sconce, part of our collection of Barn Wall Sconces. The rugged pipe mounting offers an industrial look to the shallow, 14″ shade finished in Oil Rubbed Bronze.
The Frye family has been farming in eastern Iowa since the late 1800s, and though much has changed in farming since those early days, Susan Frye still carries on the tradition. When she started rehabbing some of the older barns on the property, she opted to combine the classic look of vintage gooseneck lighting with the latest in LED technology.
These Chicago Vintage Industrial LED Gooseneck Lights bring early 20th century charm to the barns while saving time and money on electricity and maintenance.
Inside one of the stalls, Susan opted for a more modern look with a Parabolic Chandelier. This mid century modern pendant features a creamy Jadite finish on the retro, half-dome shades adding a soft touch to the space.
Be sure to follow our social media feeds for plenty of lighting inspiration!