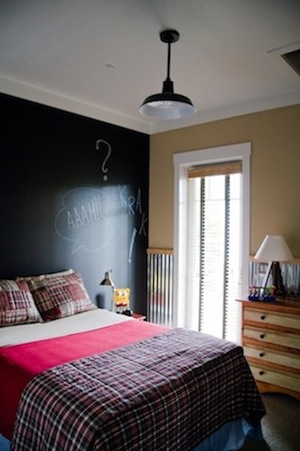 Orlando Vision House 2011 | Children's Bedrooms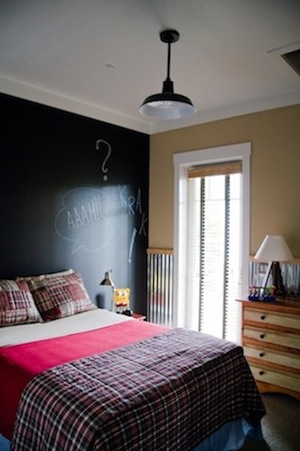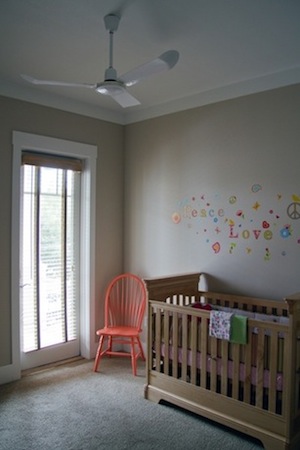 Today, we proudly bring you Part 7 in our ongoing series of the Orlando Vision House 2011. If you're still not acquainted with this energy efficient home, follow the link above or do a search within our blog to familiarize yourself! Clearly, the Orlando Vision House has kept the classic industrial farmhouse feel throughout every square inch of the home, including the two children's bedrooms. One bedroom uses a corrugated metal wainscoting effect along with a full size chalkboard wall. The nursery plays up the farmhouse feel with a country rocking chair, light wood crib, and a barn-style ceiling fan.

In the first bedroom, everything is so perfectly put together and well thought out. From the rustic furniture to the plaid bedding, the industrial farmhouse motif is apparent. To top it all off, the bedroom is neatly tied together with our Barn Light Warehouse Pendant. As with the majority of our fixtures, this barn pendant is customizable beyond belief. Not quite a believer? Check out all of the customer submissions underneath the product description. Shown here is our stem mount pendant in a black finish. We offer this warehouse shade in a cord hung option for use indoors, however the stem mount option is perfect for use both indoors and outdoors. The stem protects the interior wiring against the weather elements, making it perfect for use on your front porch, or here, in a growing boys' bedroom – things can get crazy in there after all!
In the nursery, the designers have chosen to use our 60" Barn Ceiling Fan Equine. The blades curve up on the ends in order to keep air circulating downwards. In Florida, we have only two seasons – hot and hotter – so the cool air provided by this ceiling fan is much appreciated, not to mention energy saving! This ceiling fan starts at $202.50, and like the aforementioned warehouse pendant, there is room to customize it to suit your needs!