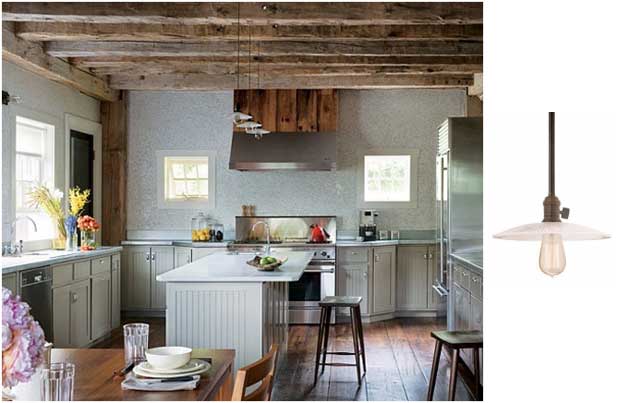 Vintage Pendant Lights in Connecticut Barn House Kitchen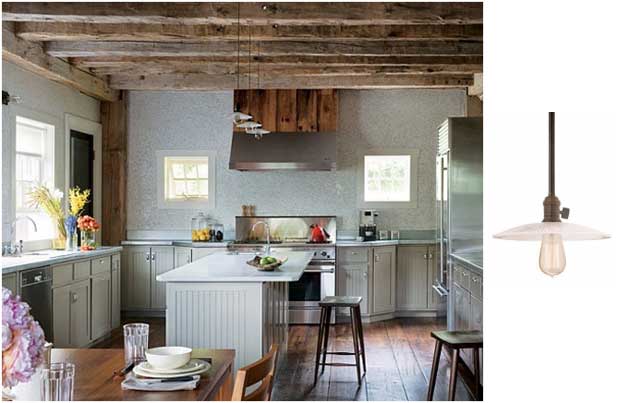 When a 150 year old barn was salvaged and relocated from Canada to Connecticut, the new owners sought to create an interior that honored both the period of the original barn and included modern sensibility. In the kitchen, three vintage pendants resembling the Magnolia Pendant at Barn Light Electric, hang above a zinc and marble counter top.
Based on designs from the early 1900's, the Magnolia Pendant comes in three shade sizes and four finishes that represent the era: Aged Brass, Old Bronze, Historic Nickel, or Polished Nickel finish. Whether you're looking for a kitchen pendant for your home or your cafe, the Magnolia Pendant adds a nostalgic element to any room where it's installed.
In the Connecticut barn turned home, the kitchen's counter tops and pendants were part of the interior designer's modern twist. It was a technique he calls, "building by setting down different layers of time." Other elements from the original barn include the exposed raw ceiling beams and heavy, thick wood flooring. A modern yet cozy feeling was created by mixing the traditional fixtures like the vintage industrial lighting, with modern upgrades like a new audiovisual and communications systems. Unconventional square windows were installed near the stove area to expose the entire kitchen are to more natural light.
"The structure itself, a Canadian barn that was rescued and rebuilt in Connecticut, has elements that go back to the 1850s…The barn's frame cast an anchor into the 19th century; the couple's artwork pushed the chronology forward into the 20th and 21st. The job was to bridge the distance and to get all the pieces to cohere and make the place feel fresh, young and alive."
To see more vintage or rustic pendants resembling the one we featured today, visit the pendant lighting section of Barn Light Electric.