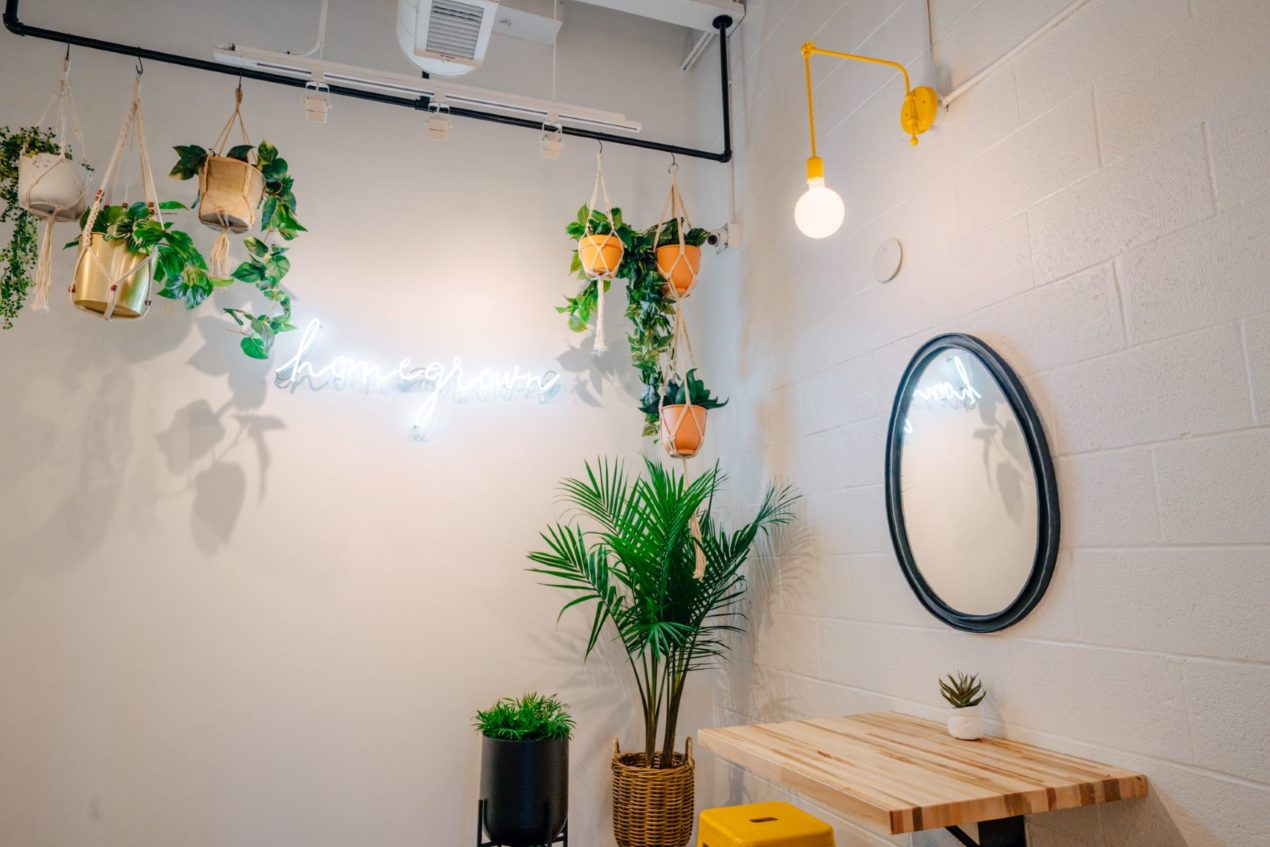 Colorful Swing Arm Wall Sconces Add Whimsical Touch to Houston Eatery
Keeping up with Kim Lewis requires a good map. The Austin, Texas-based entrepreneur designed more than 120 homes in 43 states during her stint on Extreme Makeover: Home Edition and Tiny House Nation. More recently, Kim travels have taken her around the world creating children's art centers in West Africa, Cambodia, and Thailand.
Back home in Texas, Kim stays busy lending her creative eye to commercial projects including her latest challenge in Houston with EggHaus Gourmet.
"This was a fun concept because we worked alongside the owner to create the brand vibe," Kim says. "We were really invested in the full look and feel from the ground up." Kim chose a rich marigold tone as the signature color which established an elevated style while keeping a whimsical and fun approach.
"The color on this design was the driving factor. I remember standing in the parking lot of a coffee shop because I always spec colors in the sun," Kim explains. "I pulled out paint samples, Pantone colors, and powder coat options from Barn Light Electric. We put the Buttery Yellow chip next to the Pantone color they had selected for business cards and BAM! It was perfect!"
Kim chose the Downtown Swing Arm Sconce, in beautiful Buttery Yellow, to provide directional lighting to wall-mounted tables located down a narrow hallway. The same style fixture also provides illumination to a merchandise display backed by eye-catching wallpaper.
"We needed lighting that would function well in a small space while making a statement. They also needed to provide good directional lighting," Kim notes. "Besides the perfect yellow color, the flexibility in gooseneck sizes and shapes was a no-brainer reason to go with Barn Light Electric!"
For the hallway lighting, Kim chose the G67 gooseneck arm which projects 14″ from the wall. She further customized these sconces with a swivel knuckle which allows for perfect positioning.
"I needed the light to hit just over the center of the 24″-deep, wall-mounted table," she says. "The swivel knuckle added more customization for me to position the light exactly where we wanted it. The wall sconce became a piece of art and focal point that grounds each table vignette down the hallway."
For the display area, a longer arm was needed to position the light past the shelving which features EggHaus merchandise. These two sconces are customized with the G68 arm which measures 20″ from the wall with no swivel knuckle. Kim enjoys designing commercial spaces such as this because of the opportunity to tell a brand story and to leave an impression for the customer experience.
"For EggHaus, if we succeeded in creating a happy, joyful place where people can positively start off their day, then we did our job, and our job had purpose." Using high-quality, easy-to-customize fixtures made that job just a bit easier.
"I love the quality and color of the fixtures which feel strong and durable," Kim says. "The powder coat finish does not wear off or chip, and, of course, that color! I'm proud that we are working with an American-made brand, and the quality in the craftsmanship shows!"
Photos courtesy of EggHaus Gourmet and Kim Lewis Designs