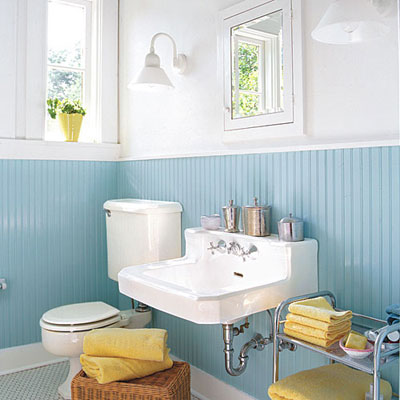 Outdated Bathroom is Refreshed with Bead Board and Barn Lighting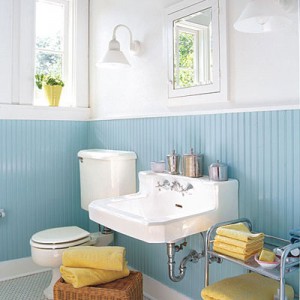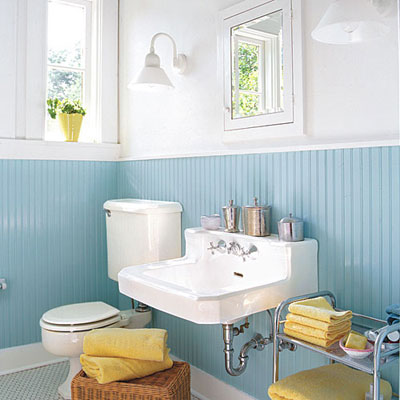 Renovating your bathroom can seem like a rather daunting task, especially if it looks anything like this beautiful blue and white bathroom did before. Fortunately, the mother and daughter pair saw great potential through the dated pink tile and hideous floral wallpaper. In fact, their restroom renewal made Southern Living's Best Bathroom Before and After! The crisp lines created between the blue bead board and fresh white paint create a truly refreshing retreat, with an extra pop of color brought in with the use of yellow accents.

Like this particular restroom, not everyone has a huge space to work with. This is where it is important to take colors into consideration, as this team did. By combining two lighter hues, the room feels open and airy. Also, by using white barn sconces flanking the vanity mirror, the continuous line of sight goes uninterrupted.
These unique wall sconces keep this powder room lit up during the evening hours, while effortlessly adding that extra je ne sais quoi. Luckily, barn sconces similar to this are easy to find at Barn Light Electric. For a flared shape and arched neck resembling these sconces, keep the Barn Light Colby Sconce in your mind bank. The Colby Sconce is one of our bestselling sconces, and for obvious reasons. It is available in over 50 different finishes, so you will most definitely find that finish to complement your décor.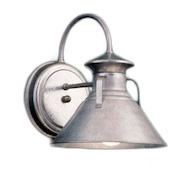 This American made light fixture is also UL Rated for damp locations, making it a perfectly safe addition to a bathroom. However, we don't want you to feel the need to limit the Colby's use to your restroom; use it to light a dim hallway, or mount it next to your bed as the ideal reading lamp. Love the Colby, but not looking for a wall sconce? Check out the Barn Light Colby Pendant!
Top Photo Courtesy of Southern Living