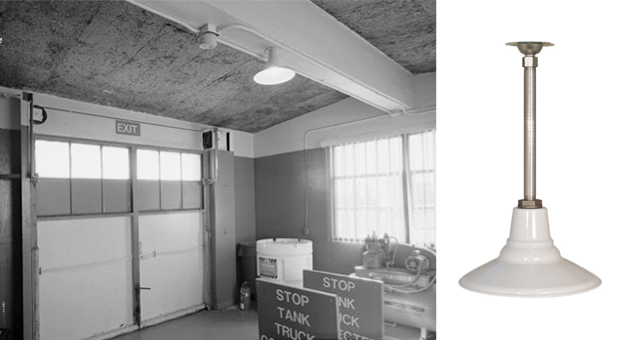 Porcelain Barn Lights Used at MacDill Airforce Base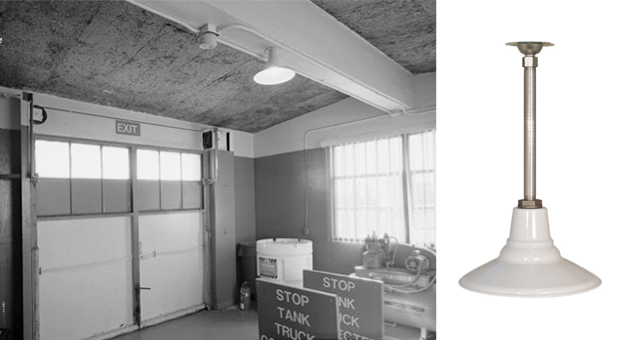 To find the inspiration behind each of our vintage inspired porcelain barn lights, take a look at archived photos of factories, warehouses and military bases. In this photo from the Library of Congress, you'll see a flush mount warehouse pendant attached to the ceiling beam. It has a shallow bowl shape that's virtually identical to the Ivanhoe® Aero Porcelain Pendant!

The Aero comes in a 12 inch warehouse shade coated in porcelain enamel to protect from rust and corrosion. Stem mount pendants add an extra layer protection over the similar exterior-rated cord pendant. The same desired look (as shown above) can be achieved by ordering this pendant light with a 6 inch stem.
The porcelain light pictured above is from the Quartermaster Gas & Oil House at MacDill Air Force Base in Tampa, Florida. MacDill was established in 1939 and according to notes from the Library of Congress, the Oil House's architectural integrity contributed to the Second World War-era infrastructure and adds to the base's historic character. The Oil House played an integral role in wartime construction and development of the rest of the base. During World War 2, it supported MacDill's training and operating missions to prepare our troops for battle in Europe and the Pacific.
Mounted in the center of the garage bay, the porcelain light's shallow bowl warehouse shade provides task lighting for mechanics while they inspect and repair automobiles. When the garage bay isn't occupied by a car, the porcelain warehouse light shines over signs and industrial tools stored in the room.
To this day, commercial and residential spaces utilize shallow bowl pendants for their reliability and efficiency. The Aero has transcended from an outdoor industrial light to a charming indoor fixture. Today, more and more people are integrating porcelain barn lights into their homes and businesses.
Photo Courtesy of the Library of Congress