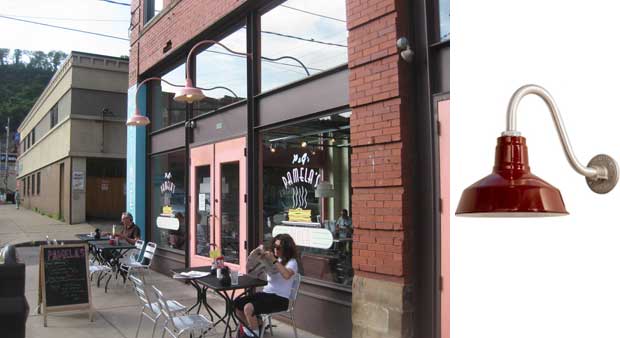 Long Arm Gooseneck Lights at Pittsburgh's Famous Diner
Fabulous food isn't the only reason why Pamela's Diner has remained one of Pittsburgh's most popular breakfast spots. Outdoor gooseneck lighting is only part of the retro charm and memorable atmosphere that draws a steady base of loyal customers. Pamela's Diner is a favorite stop for locals and tourists, alike, including Barack Obama and John McCain, who both stopped in for a bite during their respective presidential campaigns.
Above the entry to Pamela's, two vintage style warehouse shades accent the front doors and outdoor patio seating area. They're connected to the exterior wall of the diner with long gooseneck arms in a matching finish. Whether their finish has slightly dulled over the years, or they've been painted Cadillac Pink to match the decor, these iconic lights fit perfectly in with a retro 50's feel.
Barn Light Electric sells a warehouse shade similar to the ones pictured above, called the the Goodrich® Dino Porcelain Gooseneck Light. Like many of the porcelain barn lights found online at Barn Light Electric, the Dino pays homage to the original gooseneck lighting that were manufactured during America's industrious era during the 1930′s through the pre-atomic era of the 1950′s. Although it's only 12 inches in size, the bowl shape of the Dino was inspired by the first RLM Warehouse Shades.
Like its predecessors, the Dino is made with an interior steel shade and an exterior coating of porcelain enamel that's thin enough to ensure high quality reflection, yet thick enough to protect the shade from rust, corrosion and even fading of color! As a result of its stylish appearance and overall durability, the Dino is one of the longest lasting lasting selections on the market today.
While the Dino gooseneck light is a popular shade for restaurant and commercial lighting, it's also a popular choice for residential spaces. Homeowners in search of industrial looking gooseneck lighting, typically install the Dino in busy areas of the home like above kitchen and bathroom sinks. Outside of the home, the Dino makes a great light for garages, sheds and front porches.
Photo Courtesy of uhockey.blogspot.com