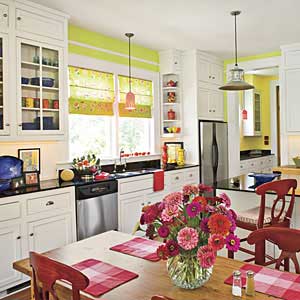 A Tasty Southern Living Kitchen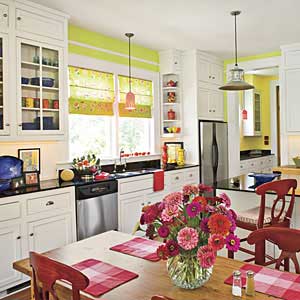 Discovered on a recent Southern Living feature titled: "80 Tasty Kitchens," two kitchen pendants caught our eye. Quietly dropping down from the ceiling are two lights resembling a Barn Light Chestnut Pendant and The Mig Retro Steel Pendant.

It's easy to see why this spicy mix of color and decor was added to the list. Southern Living highlighted these rooms for their creative and inspirational designs. Bold colors and clean, crisp cabinetry combine with country styling to produce a space worthy of entertaining.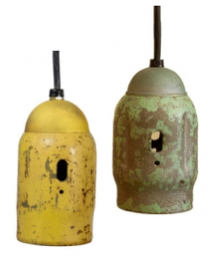 As you can see in the picture above, each pendant serves its own functional purpose. During the day, light easily bounces around the room and little additional lighting is needed. By night, the person lucky enough to be doing dishes may need some help seeing if everything has been cleaned up – that is where The Mig comes in. It has a cylindrical cap-like shape that stems from its original background – use as an original steel acetylene tank lid. That's right, these re-purposed pieces have been collected and made into light fixtures! Their colorful finish is worn and will tie in well with cottage decor. We feature yellow and jadite green today, but other options like blue, orange and red are also be available.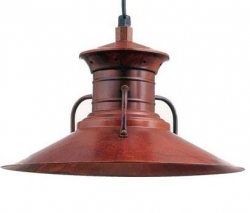 The pendant placed over the kitchen island bears a stark resemblance to one of our barn pendants. The stainless steel Chestnut Pendant complements the modern kitchen appliances that are commonly used today. The Chestnut's decorative, spooled neck and extending arms give the shade both a rustic and contemporary style that is sure to get noticed. The photograph above features only one of these pendants, but should your counter or prep area need additional lights or larger shade sizes, The Chestnut is available in sizes ranging from 12-24 inches.
For more kitchen lighting ideas take a look at our list of the Top 5 Kitchen Pendants for your home. These pendants will help you achieve the best balance between trendy and practical accessories!
Top Photo Courtesy of Southern Living