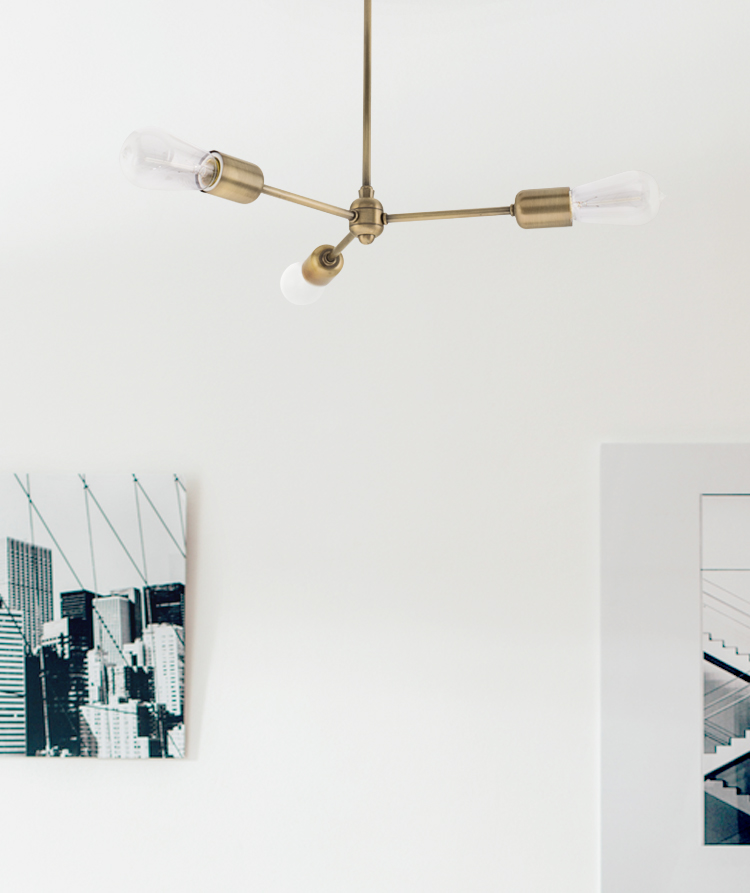 Modern Chandelier Offers Minimalist Design, Maximum Style
Barn Light Electric is well known for its vintage-inspired barn lighting. Starting with our signature fixture — the Original™ Warehouse Gooseneck Light  — our craftsmen have spun off hundreds of different styles of pendants, wall sconces, chandeliers, and more based on this iconic RLM warehouse shade.
And while many of these lights are considered "classic" barn-style fixtures, we also craft lights with a more modern bent. We offer collections of sleek wall sconces, minimalist pendants, and even a collection of Modern Chandeliers.
The newest addition to the chandelier collection is the Downtown Minimalist 3-Light Chandelier which incorporates three bare-bulb fixtures into a single chandelier. Its clean and simple design is suitable for modern kitchens, living spaces, and commercial settings that desire a distinct aesthetic.
Hand crafted from commercial-grade materials, this 3-light pendant can be customized with one of 18 powder coat finish colors or, if you like our porcelain palette of colors, there are five paint-to-match porcelain hues to choose from. Four stem options are also available ranging from 12″ for low ceilings to 36″ for larger spaces.
The pared-down design of the Downtown Minimalist is perfect for showcasing Edison Style Bulbs, Half Chrome Bulbs, or our new Tala Bulbs for a unique look. It's easy to customize this rugged fixture to become a beautiful accent piece in loft apartments, boutique retail spaces, and homes with industrial styling.
To bring warmth and an air of sophistication to your space, this new ceiling pendant is also available as the Downtown Minimalist Brass Chandelier. With an unrivaled sense of style that only brass can bring, this chandelier is American made and crafted from high-quality brass to provide years of service.
It is available in both Raw and Weathered Brass and the same stem options as the standard Minimalist Chandelier. Like all of our exclusive Barn Light Electric fixtures, these chandeliers are custom made to your specifications. Assembled by hand and packed with care, these custom lights will soon become the centerpiece of your space!