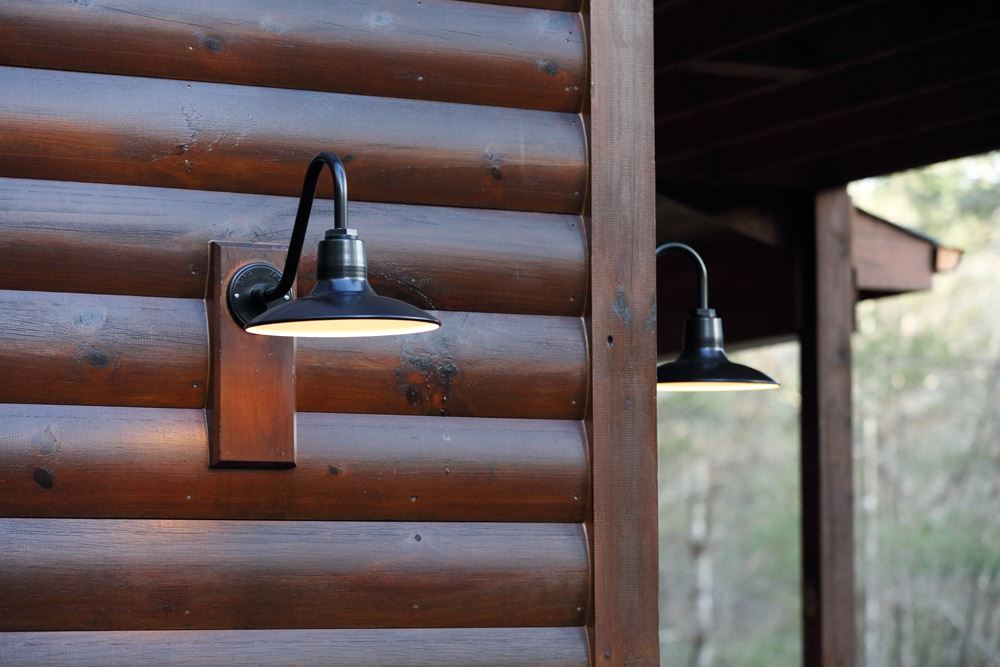 Gooseneck Barn Lighting for Mountain Retreat
When you live at the beach, going to the mountains is a real escape. For internationally renowned photographer Gregory Daniel and his wife Lesa, a cabin nestled in the Blue Ridge Mountains of north Georgia offers a rustic and peaceful getaway from their coastal home in central Florida.
"Owning a cabin in the mountains has been a dream of mine for as long as I can remember," Greg says. Antler Lodge is now the family's go-to retreat and is also used as a rental so other families can make memories there too.
The couple recently retrofitted all of the outdoor lighting at the cabin and chose an American-made gooseneck light to highlight the outdoor spaces of their home.
"Having a cabin in the Georgia mountains is about as American as you can get, so selecting lights made in the USA was a no-brainer," Greg says. "These light are commercial grade and are one of the elements everyone notices when they arrive."
Greg and Lesa chose 12″ Dominion Gooseneck Lights for the porches and exterior doorways. They customized these handcrafted wall lights with a Black finish and G26 gooseneck arm.
"These barn lights are perfect! The staff at Barn Light Electric helped us design the absolute perfect light for our use," Greg notes. "They helped with the shade size and profile along with the appropriate gooseneck arm for proper clearance. The black color pops just the right accent with the warm logs of the cabin."
The Dominion Gooseneck Light is a slimmed-down version of a classic RLM warehouse shade. With its shallow bowl reflector, this gooseneck wall light offers a modern take on the traditional barn light.
There are plenty of customizing options to choose from including guard-and-glass, a wire cage, or a dusk-to-dawn photocell to turn the light on at dusk and off at dawn. And with dozens of durable finish colors to choose from, you can create a custom light to perfectly suit any style!
Photos courtesy of Gregory Daniel Portraits