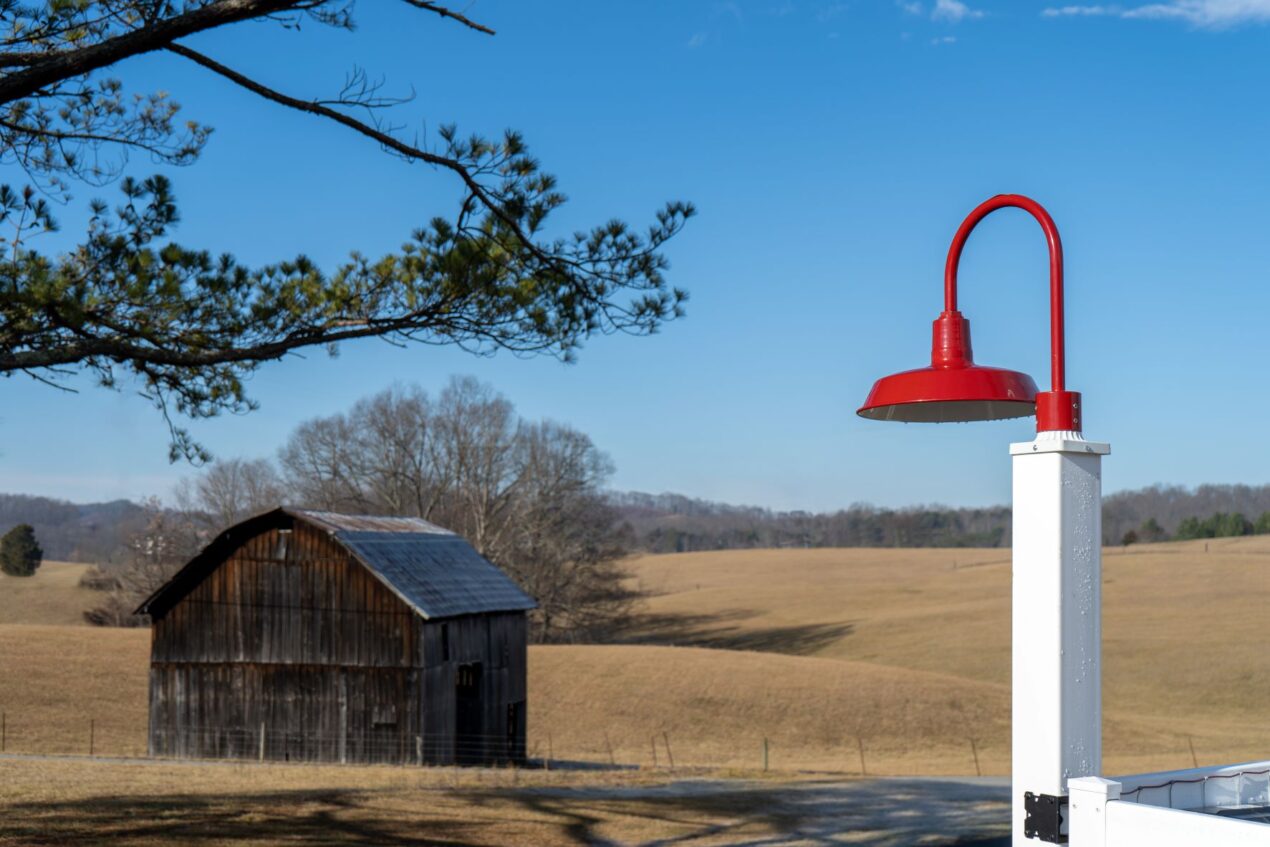 LED Lights Offer Efficiency Plus Plenty of Farmhouse Style
When Rita and Steve moved into their rural East Tennessee home which has been in the family since 1967, they began renovating the space to add more farmhouse style. The house, along with a classic red barn and a shed full of chickens, sits on 10 acres of land with a beautiful view of rolling hills and surrounding farmland.
For the exterior, the couple fenced in an acre of land with a white, vinyl rail fence reinforced with aluminum-welded wire.
"The fence gives our two 100-pound Great Pyrenees pups a safe place to play," Rita says. "Although the fence was added for functionality, we wanted it to be aesthetically pleasing and maintenance free."
The double, automatic gate entry on the fence serves as the focal point for guests entering the property. Rita wanted farmhouse-style fixtures to tie in with her red barn in the background. She also wanted LED lighting with a cool white color temperature.
"We wanted lighting fixtures with a substantial presence; nothing wimpy," Rita explains. "We also wanted a barn red color and LED options. Barn Light Electric met these needs and more. They offer custom, quality, and American-made products."
Rita and Steve chose The Original™ LED Single Post Mount Light for their gated entryway. They customized these two handcrafted lights with 16″ shades, their favored Barn Red finish, and matching Barn Red mounts. They also selected the 1250 lumens, 4000K color temperature, and flat lens for the LED options.
"We chose the 16″ shades to match the scale of the 14-foot double gates and oversized gate posts," Rita notes. "The finish color ties in with the red barn in the background. The 400K color temperature provides bright, cool white light while the flat lens gives a laser-focused profile from the road."
Barn Light's collection of LED lighting offers not only energy savings but also environmentally friendly and low-maintenance fixtures. With an average of 50,000 hours of service from each integrated LED module, Rita will never have to worry about changing a light bulb.
"We like how the lights tie the overall farmhouse style of the property together. They are eye-catching, energy saving, and of exceptional quality," Rita says. "They provide a beautiful, simplistic look without taking away from the natural beauty of the land."
Photos by Bridget Leary