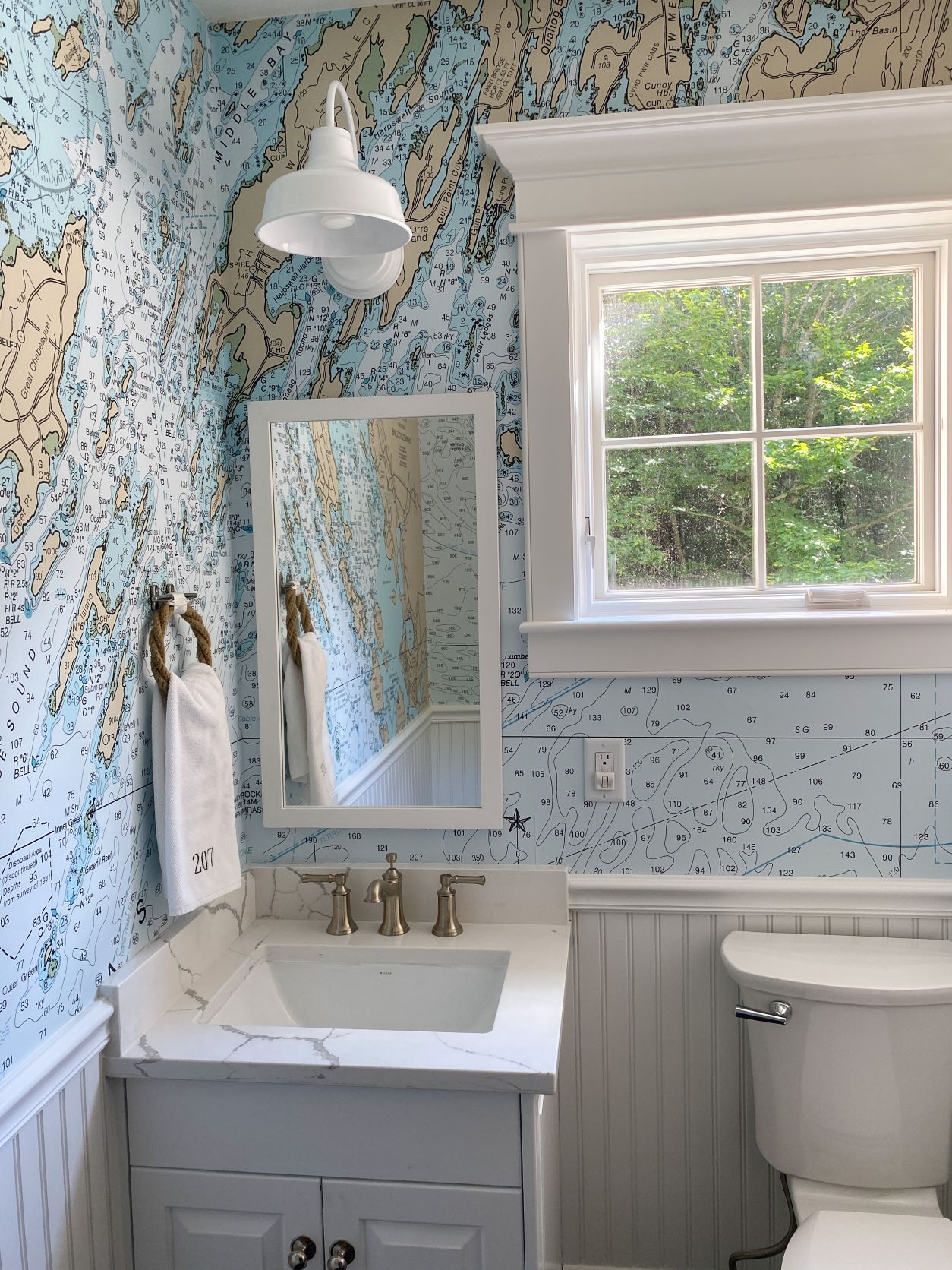 Bold Wallpaper, Customizable Lights Make a Statement in Home Renovation
When Allie and her husband planned to renovate their Falmouth, Maine, home, they decided to push the envelope a bit. Veterans of the renovation process at two former homes, the couple decided to go with a style that better reflects their coastal location.
This major renovation expanded the 3,100-square-foot home to 4,200 square feet. They also added two bedrooms to the original four, and a third full bath for the family of six. Every room got new paint and lighting while others received new cabinets, flooring, and wallpaper. Allie shared much of the renovation process on her Instagram account.
"When looking for lighting, we wanted something classic that wouldn't go out of style," Allie explains. "Something that wasn't too trendy and that we would still love 10 years from now." She discovered Barn Light Electric through an online search then followed on social media to see the lights in other people's spaces.
Allie chose vibrant wallpaper accented by handcrafted wall sconces for two of her bathrooms. One bathroom, shared by her sons, features playful whales splashing across the walls. The rope-framed mirror lends more nautical style and is highlighted by the Esso Wall Sconce. This wall light is customized with a 10″ shade and powder coat Navy finish.
"I knew I could do something boyish and you can never go wrong with navy!" Allie notes. "It matches the blue whales perfectly and, since I was designing for kids, I knew I could play with the color."
For another bathroom, Allie stayed with the coastal theme and chose a gorgeous nautical chart wallpaper. She stayed with the Esso Wall Sconce but customized this fixture with a powder coat White finish.
"We chose white to go with the nautical map because the map itself doesn't have much white in it," she says. "We knew the light would pop against the wallpaper color."
For two of her boys' bedrooms, Allie wanted to incorporate some color and youthfulness to the spaces. She searched the Barn Light website for lighting that would grow with the boys into their teenage years. She landed on the Drum Schoolhouse Flush Mount Light as the perfect fixture.
"One of my sons chose to have a navy ceiling so I customized his fixture with a Barn Red fitter," Allie explains. "This brought in some contrasting color and made the light pop against the navy ceiling and white walls." Allie also customized this fixture with four painted bands of Barn Red which, she notes, adds to the coastal feel.
For the other bedroom, Allie chose to customize this Drum Schoolhouse Flush Mount Light with a Navy finish to complement the white ceiling and light gray walls. This fixture also features four painted bands of Navy.
"I love that the fixtures give off great light while looking modern, stylish, and timeless," Allie notes. "I reached out to Barn Light before I placed my order, and everyone I talked to was very helpful and knowledgeable about the products I was ordering." She adds that the website is easy to use and she customized each light to fit its purpose in their overall design.
"It's always a bonus when the products you love are American made and from a company with good values and great customer service!"
Photos courtesy of the homeowner