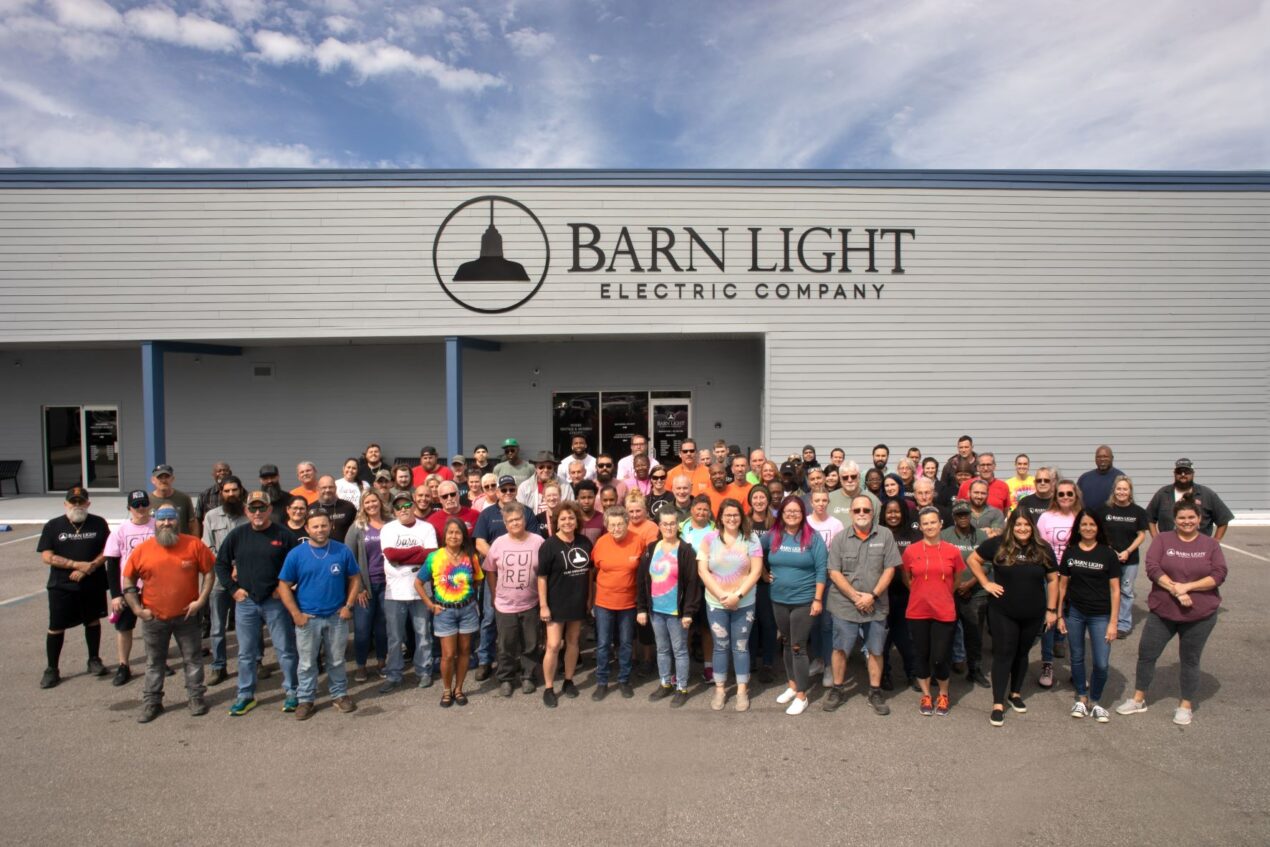 Celebrating 15 Years of American Ingenuity & Craftsmanship
When the 2008 recession put a death grip on the U.S. economy, workers lost jobs, the housing market crashed, and businesses closed their doors. In the small town of Titusville, Florida, residents were struggling.
Jon Cabrera worked at the local UPS store until it closed its doors for good. Gayle Wardlow owned a tile company with her husband but construction jobs soon dried up. Both heard talk, however, of a promising business in town that was defeating the odds.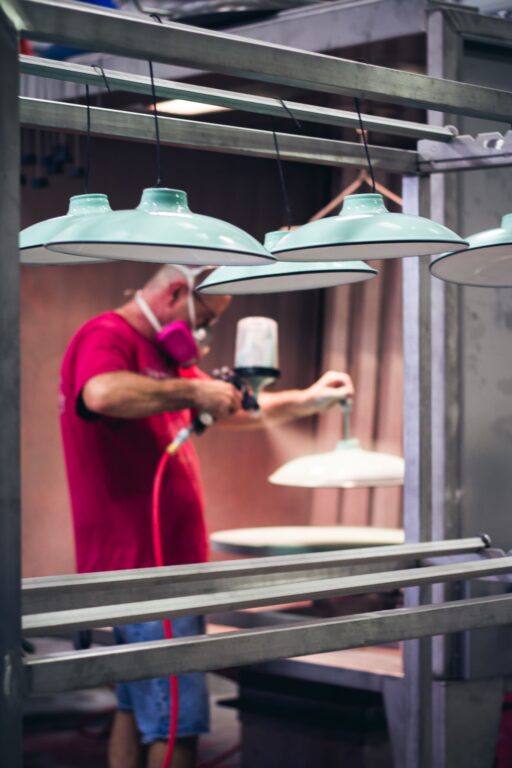 Barn Light Electric sold vintage and retro-style lighting which was growing in popularity especially within the design community. Jon was hired for the customer care team while Gayle started out in order entry. Both have played important roles in Barn Light's amazing growth and will be on hand this week as the company celebrates its 15th anniversary.
"The progression of our manufacturing and engineering capabilities have been incredible to see," Jon says. Barn Light started out in a small storefront in historic downtown Titusville but, as the company grew, operations spread out to several locations in town. Metal spinning took place in one workshop while the porcelain enamel operations took place in another. Business offices with marketing, sales, and human resources were also housed in a separate building.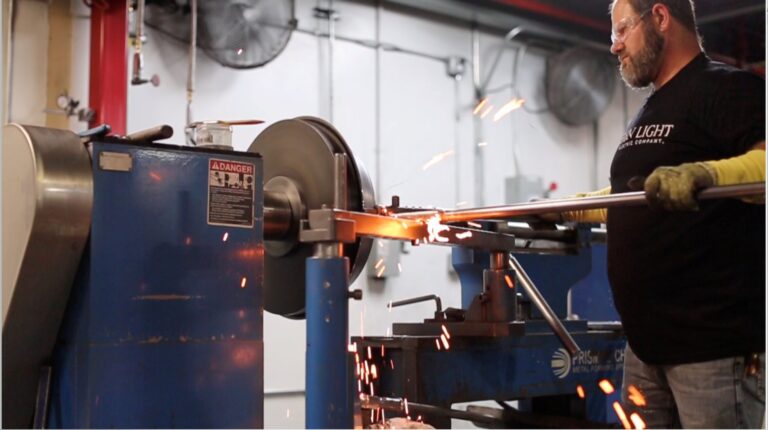 In 2013, everything finally moved under one roof when a former home improvement store became available. The space offers 60,000 square feet for the handcrafting, production, assembly, and shipping of Barn Light's exclusive collections of lighting, furniture, and dinnerware.
Today, Barn Light's family includes 120 employees who work side-by-side to craft durable and beautiful American-made products. The company remains America's only manufacturer of porcelain enamel lighting crafted in much the same way as it was back in the early 20th century.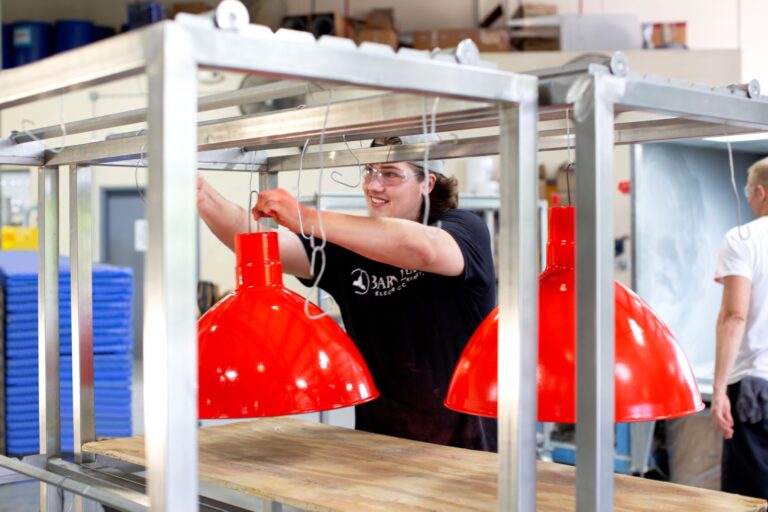 "Our quality sets us apart from the competition," notes Josh Baker, manufacturing supervisor. "Our team takes pride in every step of the process to ensure the best quality possible." And while much has changed over the last 15 years, some things remain the same.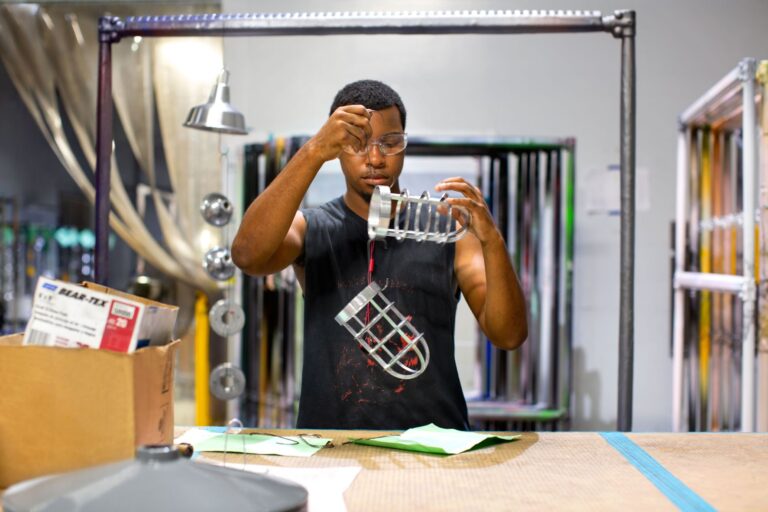 "We still use a hands-on approach to the manufacturing process," says Charlie McCain, regional sales manager. "We spin metal by hand, finish by hand, and assemble by hand. We are still made in America!" Charlie's wife, Hannah, a data analyst for Barn Light, adds that employees are always ready to pitch in and work together when problems arise or urgent orders come in.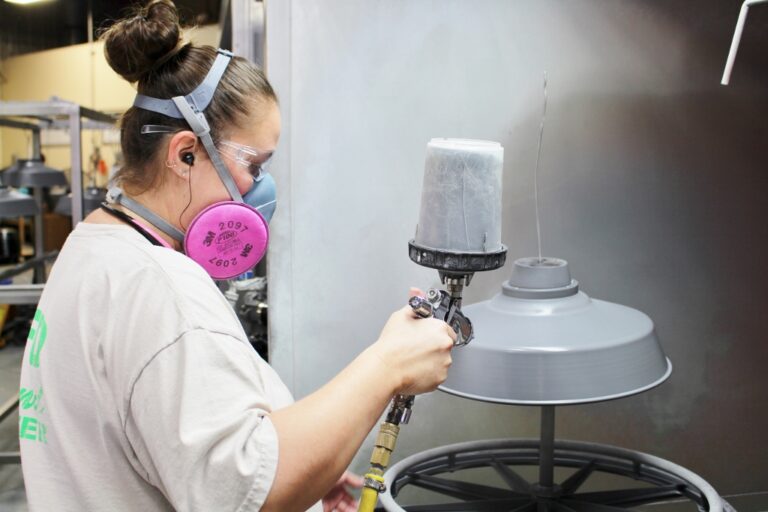 Barn Light's web content specialist, Danielle Cabrera, has been with the company for more than 12 years and agrees that Barn Light still encompasses that small business feel in the best ways.
"Producing artisanal, handcrafted products in large quantities is difficult," Cabrera says, "but we do it better than anybody!"