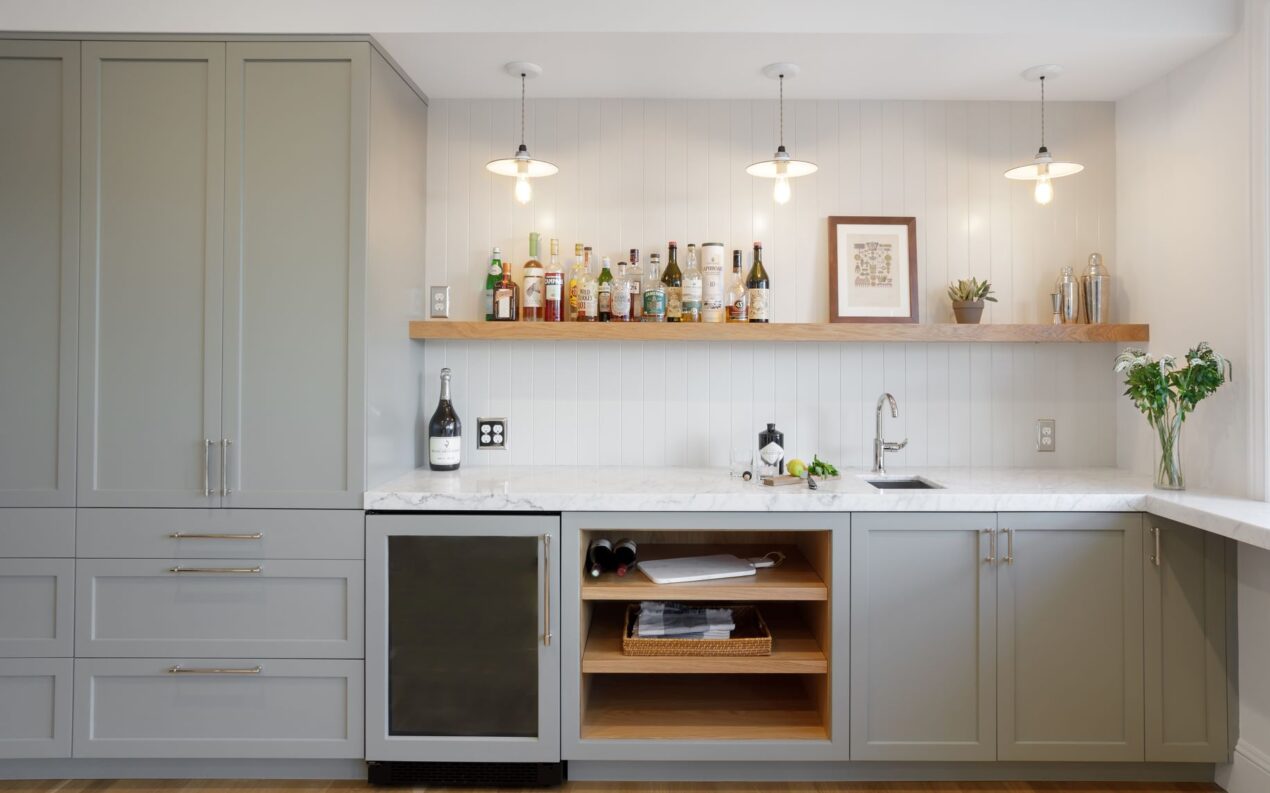 Handcrafted Lighting Brings Warmth, Authenticity to Kitchens
Whether you live alone in a trendy tiny home or share a spacious farmhouse with your family, the kitchen is likely a mainstay of your home. With so many activities taking place in this space, from food prep and entertaining to midnight snacking and family chit chat, this hub must not only be adaptable to many needs but should also reflect your style.
When Jonathan built a new home right here in our hometown of Titusville, he wanted a Florida coastal look for his kitchen. With Barn Light Electric located less than a mile from his new home, Jonathan knew exactly where to find the style he envisioned for his kitchen.
"I wanted something different, not plain," he says. "I didn't want the made-in-China stuff off the shelf at the big-box store." Jonathan selected the Outback Pendant Light to highlight his kitchen island. He customized these handcrafted lights with 18″ shades, a paint-to-match Jadite finish, and standard white cords. He also chose contrasting white guards and ribbed glass to slightly diffuse the illumination.
On the other side of the US, in sunny San Francisco, California, the team at Peters Design Build tackled an extensive renovation of a 1930s Marina-style home. The owners wanted to preserve many of the home's original details but modernize the kitchen and other spaces in a way that honored the home's history.
"Lighting was very important for this project's embrace of the home's heritage," says Michael Ford, lead architect with Peters Design Build. "I wanted durable fixtures that didn't just provide functional light but that also worked as elegant objects and points of interest."
For the kitchen sink and counter space, the team chose the Conoco Gooseneck Light. This handspun, American-made wall light is customized with a 12″ shade, powder coat White finish, and a G26 gooseneck arm in a contrasting Galvanized finish. A 40-watt Thread Edison bulb adds a vintage touch.
"This gooseneck references designs from the 1930s that would have been in wide use at the time the home was built," Michael explains. "The elegant, simple shape of the Conoco shade gives the fixture a slightly more refined look that works perfectly with the handmade, thin brick tiles." He adds that the white finish helps keep the kitchen bright and airy while the contrasting arm references the raw zinc countertops that surround the range to create an elegant, but casual, material palette.
In the nearby family room, a new wet bar is highlighted by matching Conoco Draftsman Pendants. These pendant lights are customized with 10″ shades, a porcelain enamel White finish, and putty cotton twist cords.
"Specifying the coordinating shades across the project creates a sense of unity throughout the home," Michael notes. "These pendants provide excellent ambient light and coordinate perfectly with the painted v-groove backsplash." He adds that the cotton twist cord is a beautiful retro option that contributes to the overall palette of natural components.
"We love being able to specify American-made products whenever possible," Michael says. "These lights create a sense of warmth and authenticity to the home, and the styling is perfect for the updated, classic design direction."
Photos courtesy of Peters Design Build