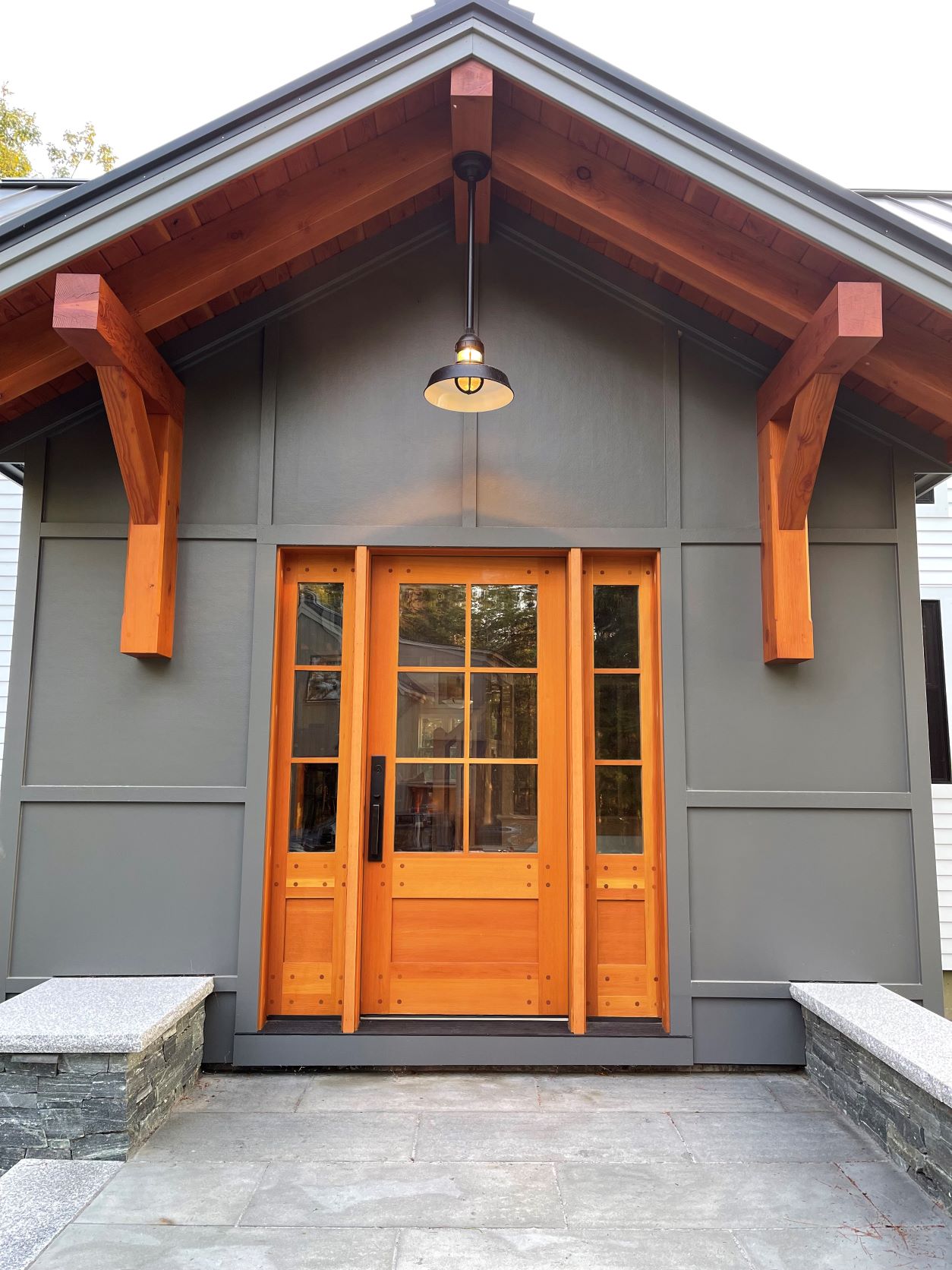 American-Made LED Lighting Offers Stunning, Energy-Saving Style
Here at Barn Light Electric, we take great pride in manufacturing our products each and every day. From the hand spinning of metals and the application of finish colors to the careful assembly of all the pieces, many hands touch each fixture as it's created.
And while we love seeing these American-made lights get wrapped up and shipped out, what thrills us even more is when customers share photos of their fixtures after installation.
We recently received photos from a customer with a beautiful home on Casco Bay in the Gulf of Maine. Known for its stunning beauty, this area of Maine is home to lighthouses, plenty of marine life, and a bountiful fishing fleet as well.
Stephanie's home features the classic black-and-white palette of many New England homes but is accented by a beautiful dark grey entryway and portico. The warm wood tones of the front door and ceiling are highlighted by a Sydney LED Stem Mount Pendant Light. This rugged fixture is customized with a 14″ shade, a Matte Black finish, and 24″ stem to bring it to the perfect height above the door. Stephanie also chose ribbed glass for this guard-and-glass fixture which diffuses the light slightly.
For a side door, Stephanie chose another guard-and-glass light but with a wall-hugging sconce mounting. The Streamline LED Industrial Guard Sconce is customized with the same Matte Black finish as her pendant. Stephanie chose the warehouse shade, standard cast guard, and ribbed glass. She also opted for the convenience of a dusk-to-dawn photocell which turns the light on automatically at dusk and off again at dawn. Stephanie never comes home to a dark house!
On the back side of the home, the family enjoys comfortable outdoor spaces including this patio. Chilly Maine evenings are brightened by a cozy fire and additional Streamline LED Industrial Guard Sconces flanking the sliding doors. These integrated LED fixtures provide 50,000 hours of light with no bulbs to change ever.
And who wouldn't want to spend a long afternoon on the back porch enjoying this view?! Stephanie opted for more Sydney LED Stem Mount Pendants for this space. These nautically inspired lights feature 14″ shades, the Textured Black finish, and ribbed glass.
With their rugged design and cutting-edge LEDs, these lights offer long-lasting, energy-saving benefits without sacrificing on style. For more options, check out Barn Light's entire collection of LED Lighting!