Imaginative Lighting Designs with Eye-Catching Style & Color
One of the most often-heard compliments we receive here at Barn Light Electric is that our collection of handcrafted lighting offers something for just about everyone. Whether you love classic, black gooseneck barn lights or need a splash of vibrant color or innovative style to perk up your spaces, we've got you covered.
Today, we're spotlighting some of our most creative and unique fixtures that appeal to those who want a true, head-turning focal point in their home or commercial space.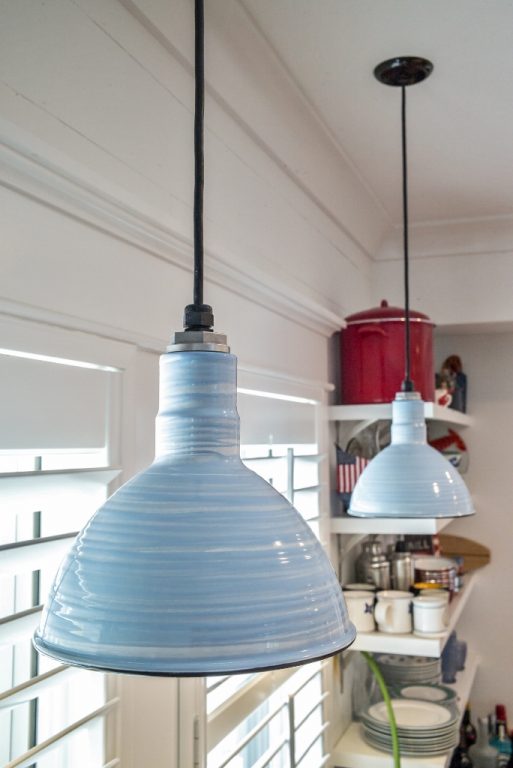 For those who love color, look no further than the Pollock Collection. The unique finish option on these handspun fixtures emulates the drip-paint technique developed by American painter Jackson Pollock. To create these vivid patterns, porcelain enamel is artfully dripped, swirled, and layered onto a solid steel shade. The Pollock No. 13 Pendants, above, feature spirals of Delphite and White.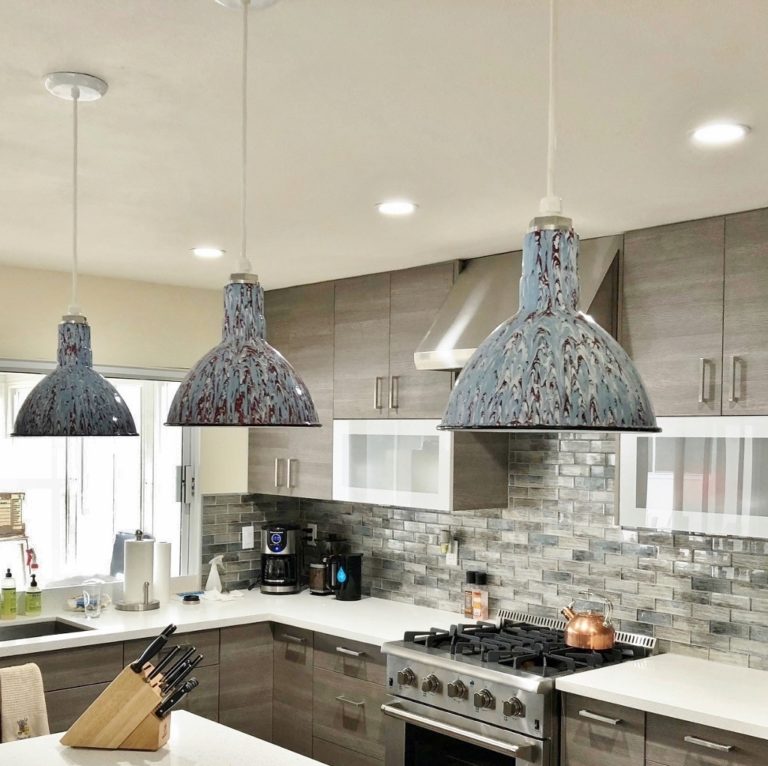 These Pollock No. 8 Pendants feature Red, Delphite, and White in a pattern that varies slightly from fixture to fixture because of the hands-on application. Thanks to this meticulous process, no two fixtures are exactly alike. Thirteen different color variations are available for these deep-bowl pendants.
Two of our most creative fixtures involve repurposing items into stylish lighting. The Bucket Collection features a galvanized steel bucket transformed into pendant lights and gooseneck wall lights.
These American-made fixtures are easy to customize with 30 finish colors to choose from ranging from traditional Black and Dark Green to more lively Watermelon, Lavender, and Buttery Yellow. Pendants come in cord, chain, or stem mountings and more than two dozen gooseneck arms offer the perfect projection and style for your space.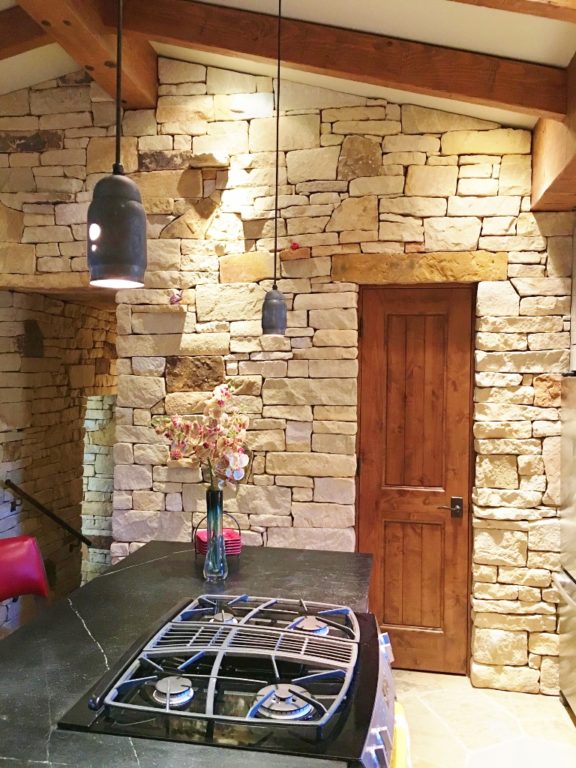 More upcycled gems are found in the Mig Collection which features pendants crafted from the tops of old acetylene tanks. More than 40 finish colors are available for the Mig which comes in single and multi-pendant styles. Rugged enough for both residential and commercial settings, the Mig gets an extra dash of personality thanks to 20 different cord styles and colors.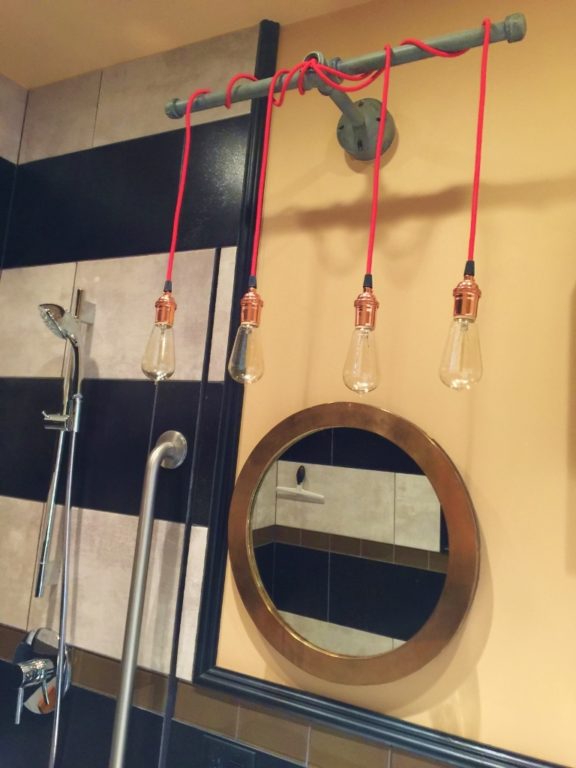 While industrial lighting has been trending for quite some time now, Barn Light offers some eye-catching fixtures you won't find anywhere else. This steampunk-style Lang Machine Age Wall Light is crafted with a rugged pipe mounting, copper sockets, and red cording for a splash of color.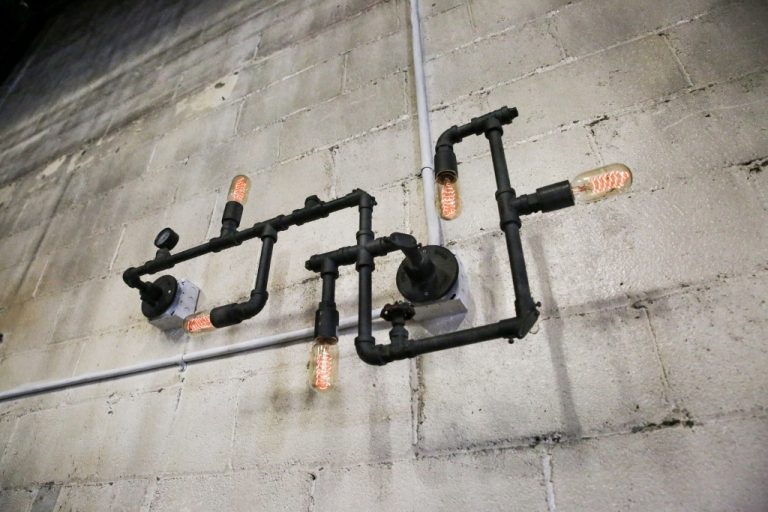 This Huxley Machine Age Wall Mount, located in a Nashville, Tennessee event venue, not only serves as a light fixture but also dynamic wall art. The bold wall sconce features metal piping, and decorative gauges and valves along with five 40-watt spiral Edison light bulbs.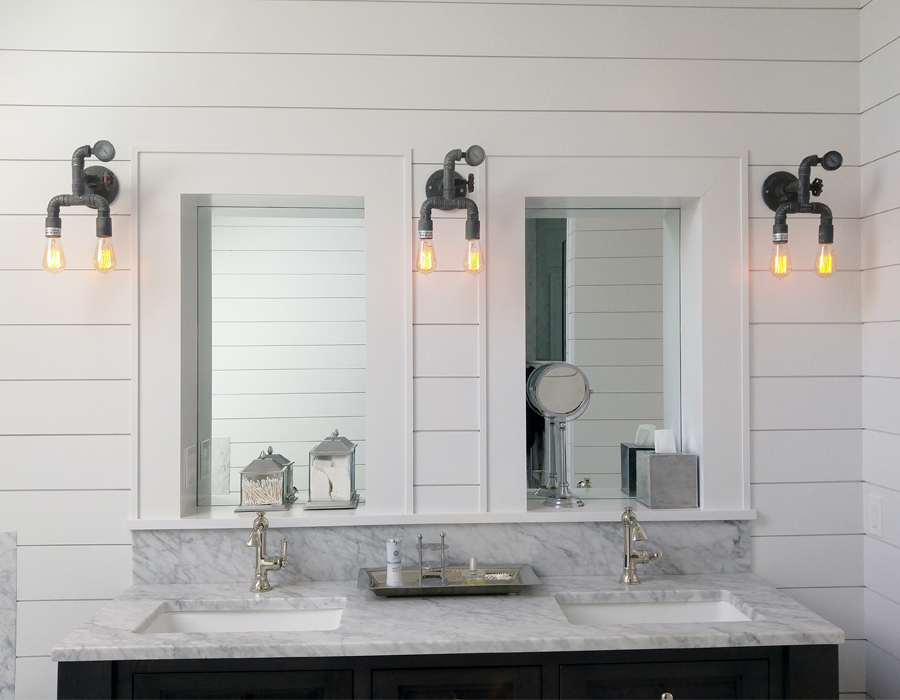 The more compact Blaylock Machine Age Sconce offers the perfect touch of industrial style to this bathroom. Coated with an aged aluminum finish, these American-made wall sconces can be mounted either horizontally or vertically to best suit the space.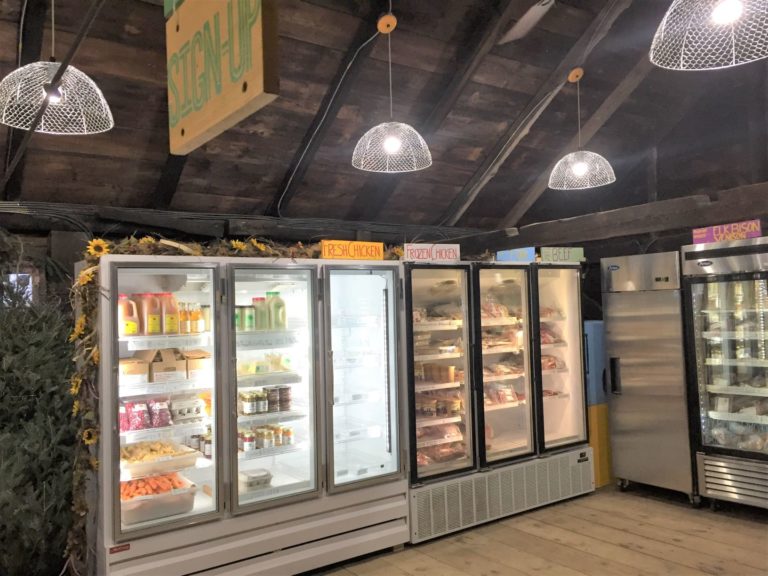 And finally, one of our newest offerings is the Chicken Wire Pendant which is available in both cord-hung and stem-mount styles. This farmhouse-inspired pendant is crafted from chicken wire which can be finished in one of more than two dozen colors. The cord and canopy can also be customized for an added pop of color.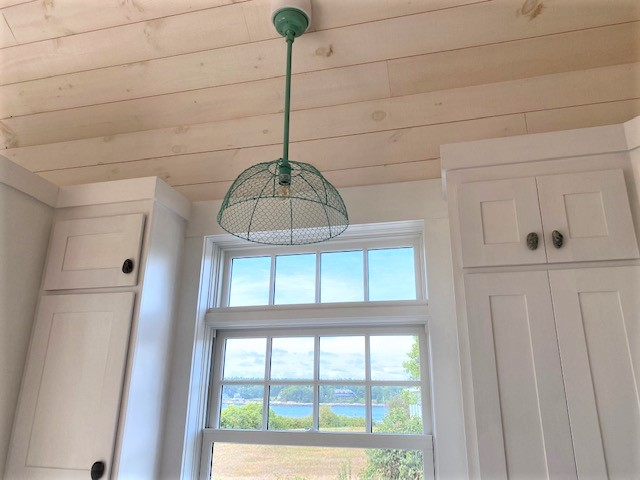 While the chicken wire creates a playful look to the shade, a rugged stem mounting provides a more formal appearance to the design. Finish off your distinctive design with a hang-straight canopy for sloped ceilings and an Edison bulb or Tala Lamp for the perfect glow!