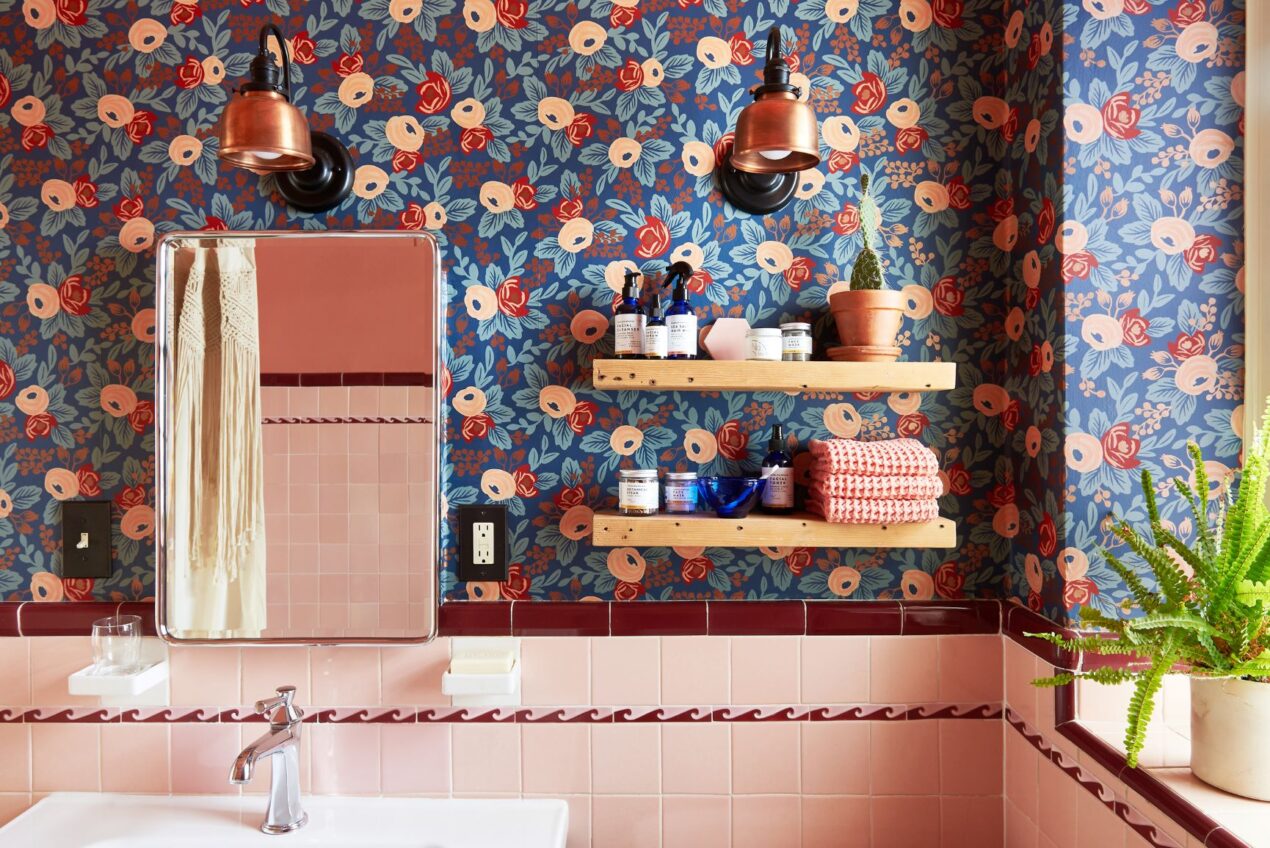 Copper Wall Sconces Bring Natural Element to Remodeled Bath
Designer Sean Lewis of Airy Kitchens in Philadelphia spends most of his time working with clients on creating beautiful and functional kitchens. But today, Sean is sharing a project much closer to home.
In fact, it's the second floor hall bathroom in his own home. A leak in the 100-year-old plumbing started the ball rolling on an extensive remodel of the space used by Sean's son.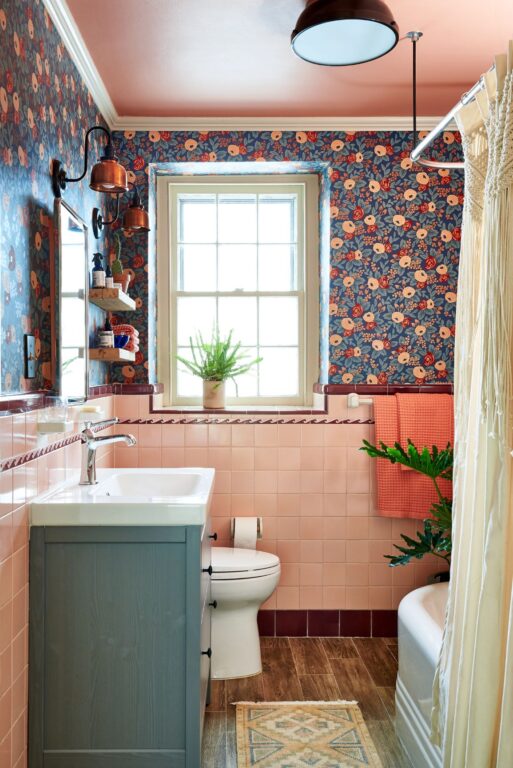 "Our home is located in northwest Philadelphia in the Mount Airy neighborhood," Sean says. "It's a leafy neighborhood full of stone houses built in the 1920s. This was an extensive remodel that required removing the existing floors, but we saved the tile and bathtub."
Sean wanted to respect the beautiful, original art-deco pink tile while adding other elements that were equally fun and playful. One wall light was mounted by the sink in the original space, but Sean wanted to add a second fixture.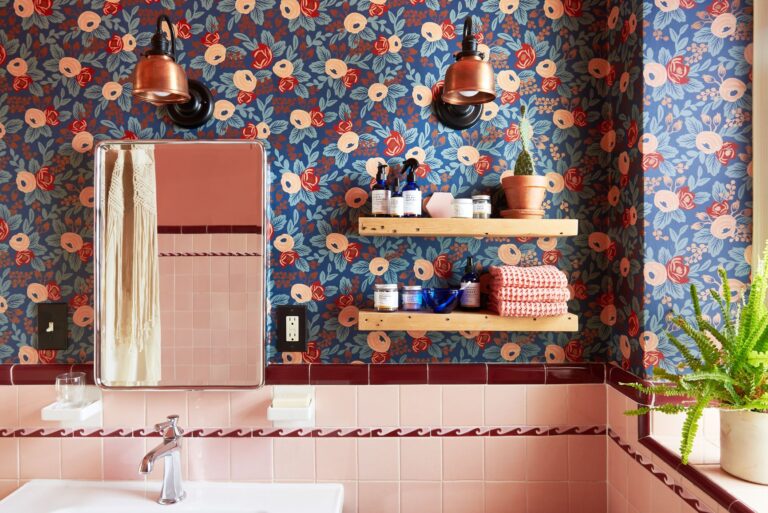 "I kept the original fixture location and added a second sconce for balance," he explains. "I needed a light that would not hang down over the medicine cabinet but would add some height. It was not easy!"
Luckily, Sean knew where to turn for handcrafted lighting that would suit the space perfectly. The Fargo Wall Sconce gave Sean the height he needed in a wall light and was easy to customize. Sean opted for a Raw Copper finish with a Black mounting.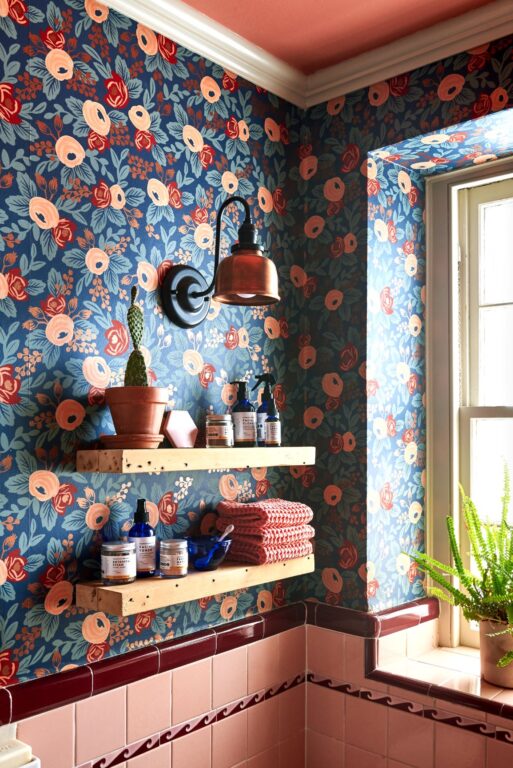 "I was so excited to find the Fargo Wall Sconce!" he says. "As a designer, I love that most of the Barn Light Electric products come in an array of colors. The Raw Copper really ties the whole space together and brings a natural element to the space that a painted shade would not." Although the plumbing fixtures are chrome, Sean wanted the lights to tell a different story. The black mounting lends a contemporary feel to this bubbly pink bathroom.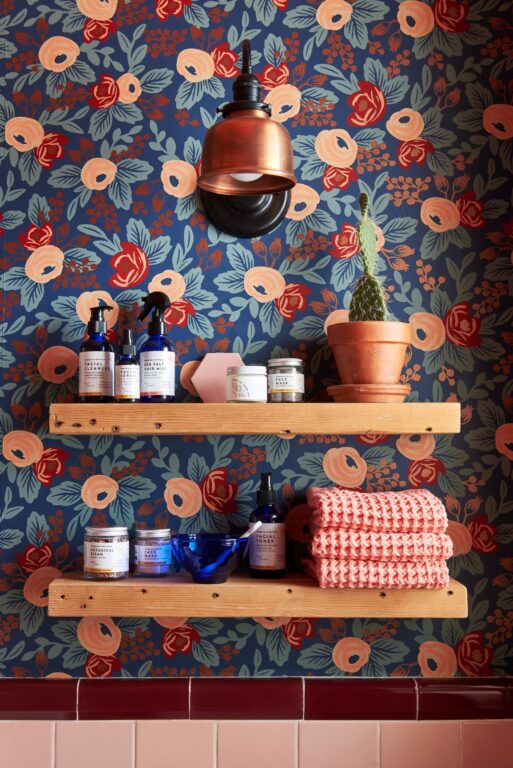 American made from commercial-grade materials, the Fargo comes in a rainbow of finish colors to complement any space. Other options include a wire cage plus switch and light bulb options.
"The Fargo Wall Sconce fits perfectly, has the playful look I wanted, and the copper shade looks amazing against the pink and blue wallpaper," Sean says. "The lights give a great balance to the space."
Photos courtesy of Airy Kitchens and Kira Luxon Photography