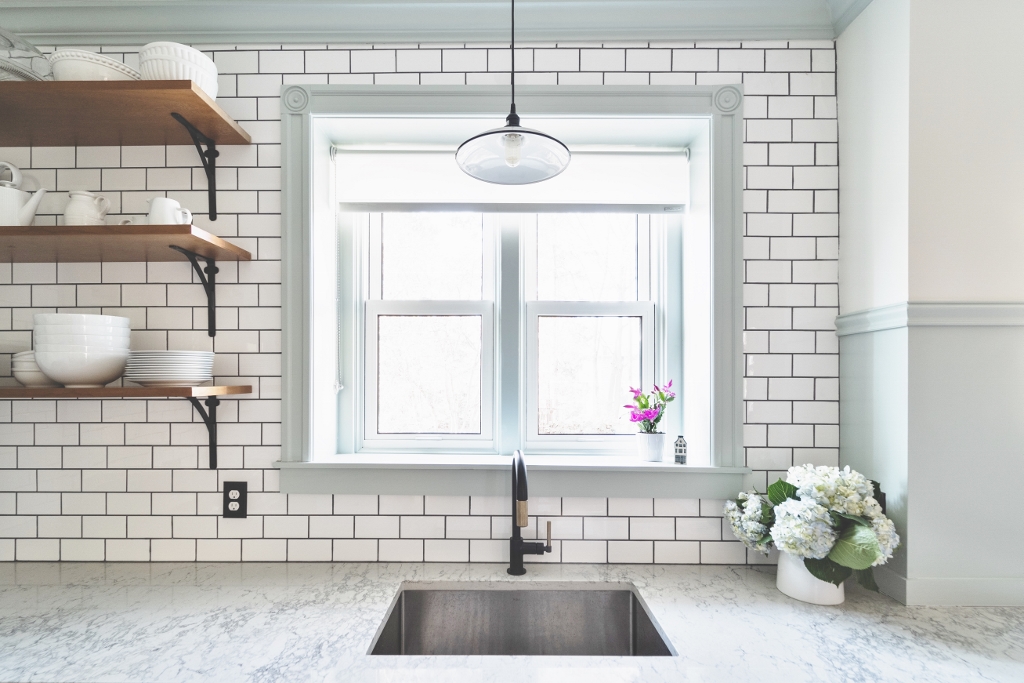 Porcelain Pendants for Vintage-Inspired Kitchen Reno
Kitchen renovation checklist:
Create more space
Match the style of the home
Add seating
Add storage
Add American-made lights
Sounds like a tall order, but Sean Lewis, senior designer for Airy Kitchens in Philadelphia, was up to the task. This 1920s-era home suffered from a small kitchen and small laundry room. By removing a wall between the spaces, Sean was able to add more space and light.
"Our clients wanted a beautiful space that was also highly functional with lots of storage," Sean says. "We created a room, just off the kitchen, that houses a stacking washer and dryer and the toilet. Then we added a hand washing sink between the laundry room and back door. I love shaker design which is the inspiration for the painted trim and shaker pegs."
Sean also loves to replicate vintage style in his kitchen designs but admits that Victorian-era fixtures are terrible.
"They are just too ornate, so I typically go more modern with light fixtures to give the space a contemporary touch," he explains. "Barn light fixtures are a great way to give a modern look to a vintage style space. They look simple and are easy to clean."
Sean chose the Sinclair Industrial Pendant Light for the kitchen and adjoining space near the laundry room. He customized these handcrafted, porcelain enamel pendants with 12″ shades, a White finish, and Black sockets. He also added 40-watt spiral Edison light bulbs for a soft glow.
"I source American-made items whenever I can, and that's not easy when it comes to lighting," Sean notes. "As an interior designer, it's nice to have a place where I can see lots of different options, configure them online, and get a price." Although Sean loves many of the industrial-style fixtures that Barn Light crafts, he adds that this project called for something a bit more elegant.
"The Sinclair is one of the most simple and sleek-looking pendants you offer," he says. "I love all of the color options, but this kitchen already had a lot of color so we chose the White finish. The kitchen is outfitted with LED recessed lights which are bright and cooler in color, so we used the Edison bulbs in the pendants to offer a warmer glow. You can light the kitchen for a party and keep the recessed lights off."
Sean has been designing both residential kitchens and outdoor spaces for about 15 years. He discovered Barn Light Electric during an online search for outdoor lighting.
"I have plenty of experience with Barn Light and I've never had an issue with quality or delays which is important for getting renovations done on time," he says. "We love the simple clean look of these pendants. They really match the kitchen perfectly."
Photos courtesy of Airy Kitchens and Max Grudzinski Photography