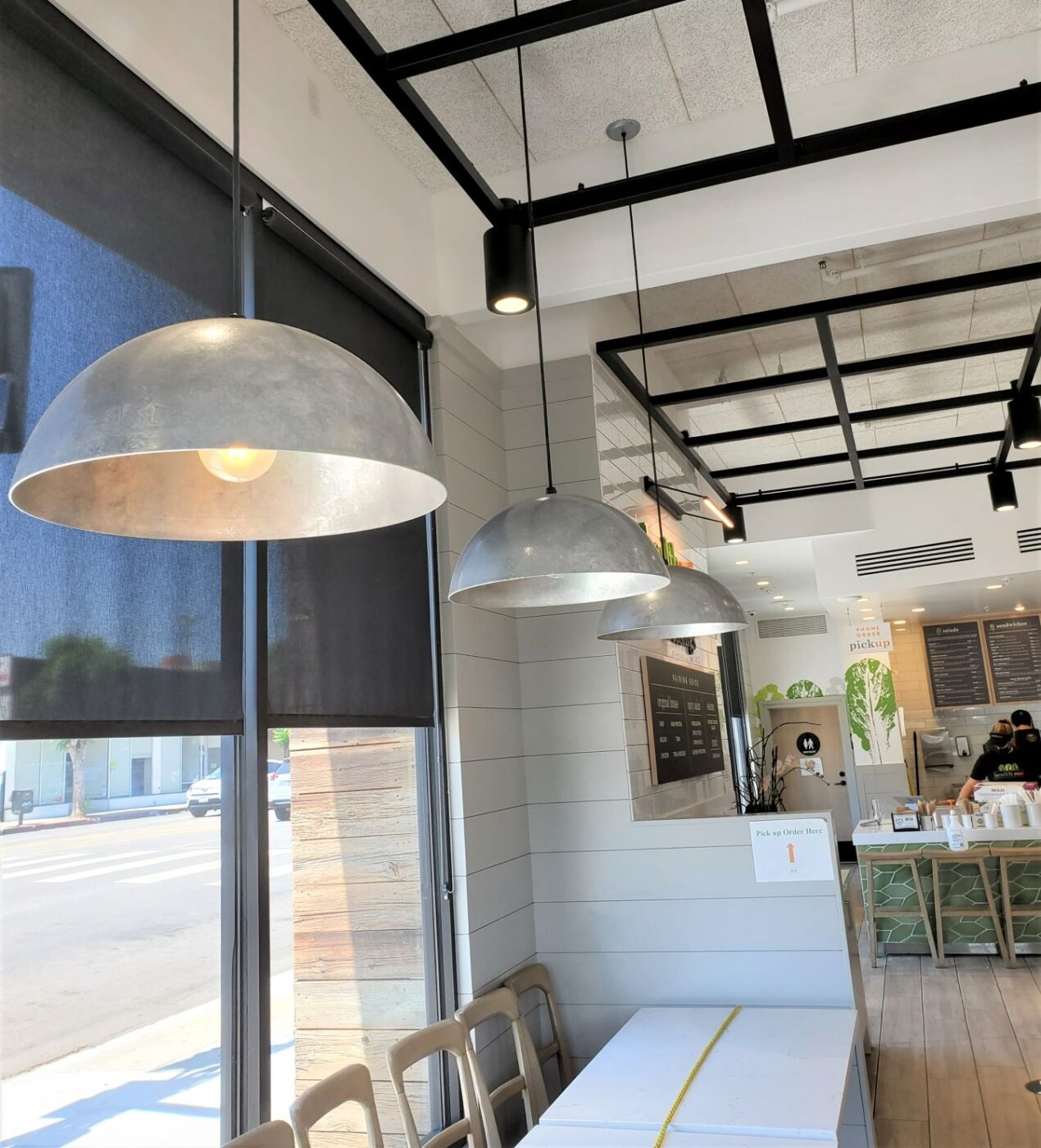 Sleek, Modern Pendants Draw Attention at California Eatery
Creating the perfect vibe in a new restaurant is just as critical as perfecting the food you offer. For the newest location of Health Nut LA, owner Steve Choi wanted to create an inviting space that surrounded his customers with well-thought-out designs, colors, and patterns.
The fast-casual, healthy-eating establishment, located in Sherman Oaks, California, opened last year in an existing space that needed mainly cosmetic changes.
"We were going for a modern farmhouse feel," Steve says. "We wanted customers to feel comfortable and at home." When looking for lighting, Steve and designer Jen Ward focused on design and color options. Working with LIGHT-CA, Barn Light Electric's commercial rep in California, they selected fixtures that were easy to customize to create the desired feel.
By the large front windows, Steve opted for the Loma Pendant Light. With clean lines and curves that epitomize contemporary designs, the generous 20″ shades draw attention from passersby. Steve further customized these handcrafted lights with a Galvanized finish and standard black cords.
"We felt these have a unique look that stands out but still offers a comfortable visual and are a nice complement over each table," he explains. "We felt the bigger size and steel color would draw more attention especially from the outside because it's a high-traffic area."
Steve also selected additional lighting to serve as accents throughout the space. The Venice Cylinder Stem Mount Pendant Light is another modern fixture that is handcrafted on site at Barn Light's Florida manufacturing facility.
Steve customized these ceiling lights with small shades that measure 4″ in diameter, a Black finish, and single slots that provide additional uplighting.
"These are simple, elegant, and offer decent lighting," he notes. "We chose the smaller size because we wanted these to be more in the background but provide accents throughout the ceiling."
The Venice also comes in a large size plus 30 finish colors and five slot options. Multiple stem sizes and diameters are also available so the fixtures can be crafted to fit almost any space. Cord hung, chain hung, and LED options are also offered here.
"These lights provide the look and feel we set out for," Steve says, "and we are very happy with them!"
Photos courtesy of Health Nut LA