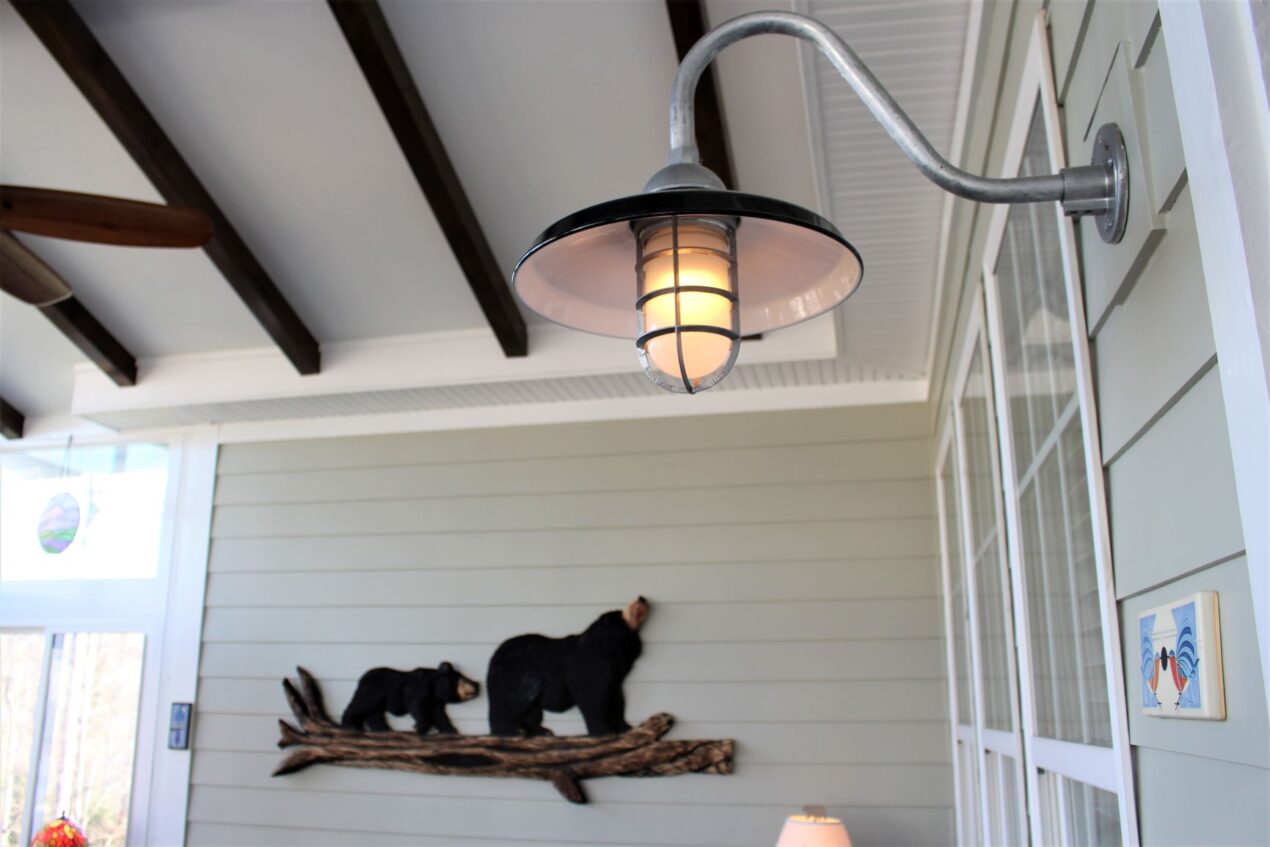 High-Quality Lighting Fuels Couple's Barn Light Addiction
Barn Light Electric enjoys many long-time customers. One of our favorites is Erika who started buying our American-made lighting back in 2012 when she lived in Florida. Erika would drive to our showroom in Titusville to place her orders in person and was featured in this blog post.
Today, we're revisiting Erika who recently added three more Barn Light fixtures to her home just outside of Asheville, North Carolina. She and her husband decided to transform their exterior deck into a sunroom that could be used year-round.
When they purchased the home back in 2017, the couple turned to their favorite lighting company and purchased Bridgeport Vintage Industrial Gooseneck Lights for the front of their mountain home. They decided to replicate the look in the sunroom.
"The classic barn light fixture is our favorite look," Erika says. "The size and graceful shape of the gooseneck is extremely attractive, and the black shade is a great accent to our grey home."
Erika customized her new fixture with a 14″ shade, Black finish, and G15 gooseneck arm. She also chose a standard cast guard in a Galvanized finish.
"I measured with a tape measure and considered both a 12″ and a 16″, but the 14″ shade was to scale for the space," she explains. "I've always loved the simplicity of the galvanized guard and mount. To me, keeping it metallic makes it look more like a vintage lamp."
Erika also purchased a second gooseneck light exactly like her sunroom fixture to place below the deck to highlight an exterior door. She chose frosted glass for both of these wall lights.
"We love the lamps both lit and unlit, but with the frosted glass, you don't see the bulb," she notes. "I find that more attractive, plus it gives a backdrop to the guard so you see that better as well."
With the former deck now enclosed, Erika was left with a small exterior porch. A gooseneck light would be too large for this space, so she chose the Streamline Industrial Guard Sconce to illuminate the porch. She customized this compact wall sconce with a Black finish, Galvanized cast guard, and frosted glass. She also opted for the flared shade.
"We kept the Black finish and frosted glass to repeat the pattern, but I added the shade to give it just a touch more heft for the limited space," she explains. "This is a simple, small fixture that still plays well with our other lamps."
Erika and her husband appreciate the way a simple thing like quality lighting can elevate a home and offer a dash of individuality. Erika recently took advantage of our Memorial Day Sale to order another fixture to add to their collection.
"This will give us 11 of your lights in this house and 20 overall since we began our BLE addiction," she says. "We're really grateful that you make such beautiful products. Everyone involved in the operation should be very proud of what you produce. We're proud to showcase them in our home where they give us pleasure every day. Thank you!"