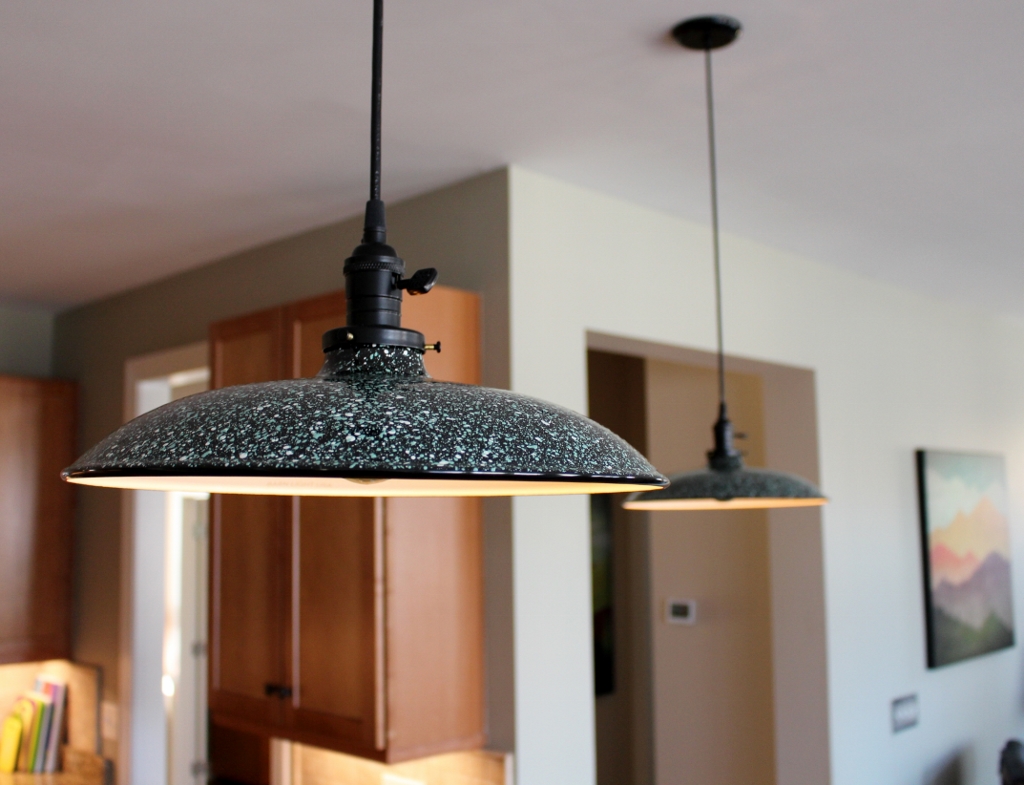 Porcelain Lighting Favored by Long-Time Customer
Back in early 2012, Erika and her husband Scott were searching for lighting for their home in Celebration, Florida. They'd heard about a lighting company called Barn Light Electric in Titusville, a small town just east of them on the Space Coast. They drove over to check it out.
"We were renovating our kitchen at the time, and we wanted to see the lamps in person," Erika says. "I think that's when we fell in love." A Barn Light team member explained how the lights were hand spun on a lathe just like industrial lighting was crafted in the early 20th century. Erika and her husband, both engineers, were fascinated by the process and purchased three porcelain enamel pendants for their kitchen remodel.
Now celebrating 10 years in business, Barn Light Electric continues to handcraft quality lighting, and Erika and Scott continue to be devoted fans. Over the years, the couple added fixtures to several areas of their home including the garage where this red Avalon Pendant Light highlighted Scott's workbench.
When they moved last summer to Asheville, North Carolina, the couple knew where to turn to replace the builder-basic fixtures in their new home.
"Our home in Asheville is in a mountain community with large, wooded lots and long views," Erika explains. "Unlike the coastal feel of our Florida house, this home is more rustic. We quickly realized that Barn Light Electric's fixtures fit that style perfectly."
Erika and Scott's latest delivery was two Sinclair Industrial Pendant Lights for their kitchen. These handcrafted pendants, the 13th and 14th fixtures the couple have purchased, feature 14″ shades with a Black finish speckled with Jadite and White in the classic graniteware pattern.
"We wanted to continue the mountain feel set by our stone fireplace," Erika says. "After going through the website many times, we settled on these graniteware pendants with half-chrome bulbs which satisfy so many of our requirements. We couldn't be happier."
Outside, Erika chose the Bridgeport Vintage Industrial Stem Mount Pendant to brighten her porch and welcome visitors. These rugged ceiling lights are customized with 14″ shades and a Black porcelain enamel finish that will never fade. Erika also chose the standard cast guard option in a Galvanized finish and frosted glass to slightly diffuse the light.
A matching Bridgeport Vintage Industrial Gooseneck Light, (shown above during the couple's first winter snowfall and below in better weather) highlights the garage doors. Erika customized this gooseneck barn light with the same options as her porch pendants with a G15 gooseneck arm to give it just the right amount of projection from the facade.
Reviving the art of handcrafting porcelain enamel lighting was one reason owner Bryan Scott and his wife Donna left their professional careers 10 years ago to launch the company. Porcelain enamel was once an industry standard but fell out of use when less expensive powder coat and paints came onto the market.
"The lights are excellent quality, gorgeous, and made in America — all strong positives for us," Erika says. "Once you start to appreciate barn lights, you see them everywhere. But what you quickly notice is that the really good ones stand out. And that's what we've always gotten from Barn Light Electric."