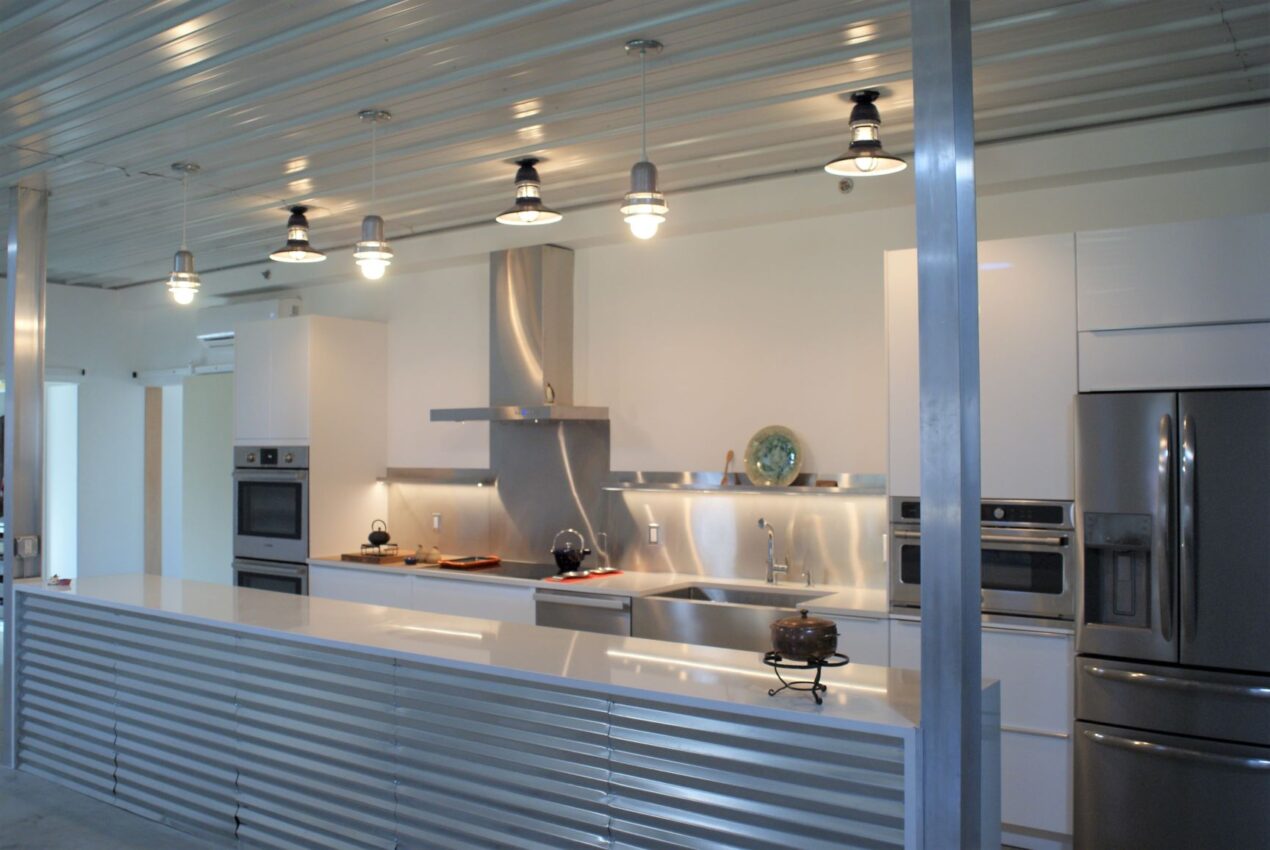 Ceiling Pendants Add Industrial Flair to Barn Renovation
Of all the reasons to shop at Barn Light Electric, the two we hear from customers most often are quality and color. When our owners started this business more than a dozen years ago, their goal was to create high-quality, handcrafted fixtures that could stand the test of time.
And though we started with vintage-inspired Dark Green, Black, White, and Galvanized finishes, that palette has expanded to more than 40 colors including Emerald Green, Magenta, Sunflower, Oil-Rubbed Bronze, and Jadite.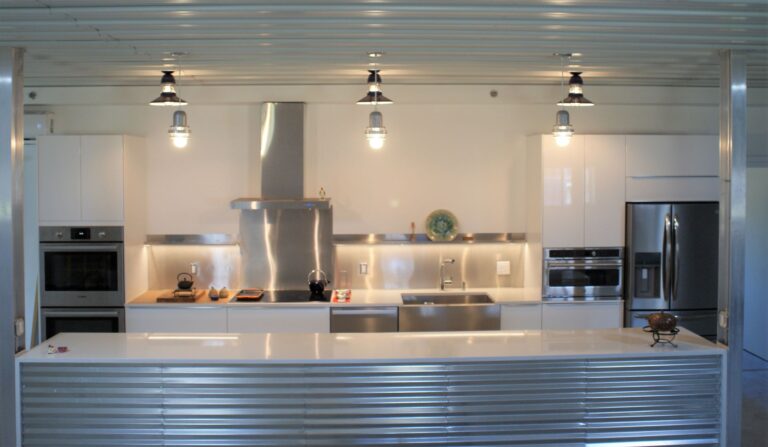 "My choice of manufacturer was made solely on quality of fabrication and color," says Andreas, a customer from Pennington, New Jersey. "Barn Light met both criteria." Andreas recently renovated a Morton barn on his property where he runs his craft business. The project also included an 800-foot extension to the building.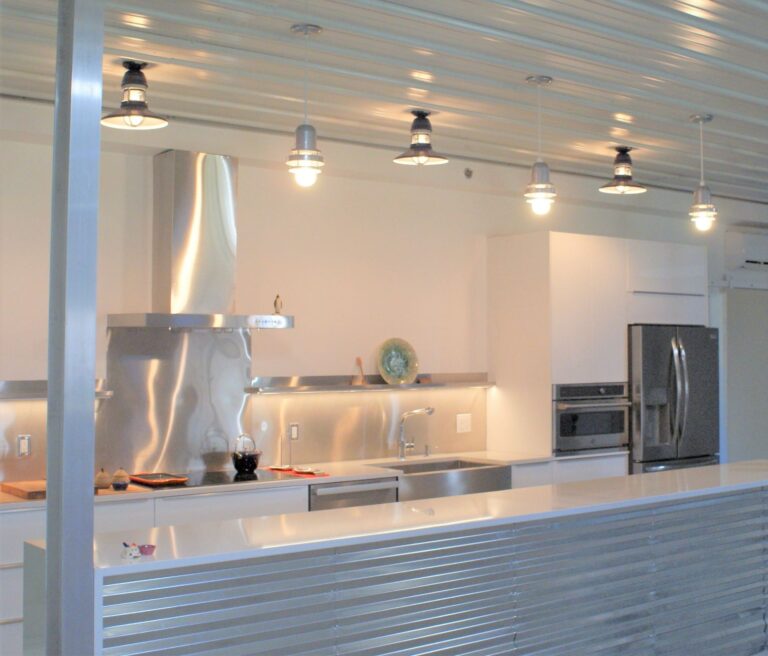 "The feel of the renovation was modern industrial," Andreas explains. "Concrete floors, a metal ribbed ceiling, and red metal cladding on the exterior were integral to the existing structure. And it was important that they remain in the new construction."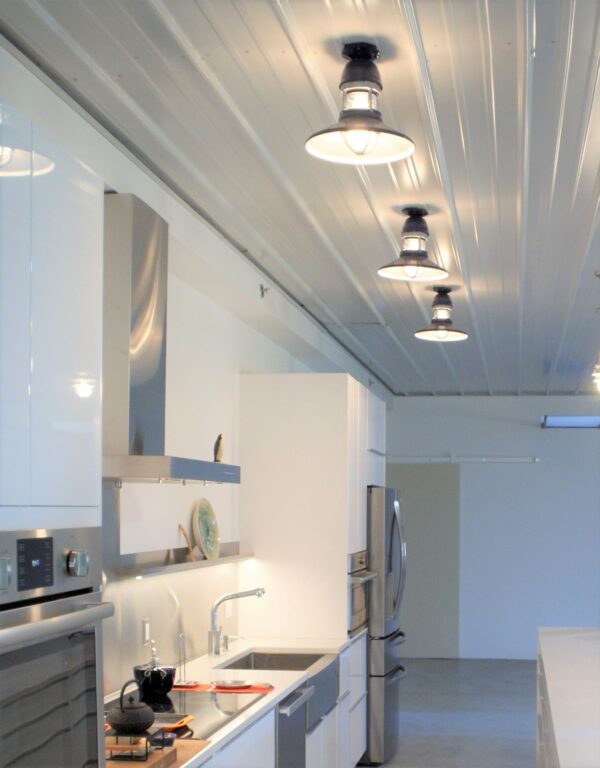 As a long-time customer of Barn Light, Andreas knew where to source high-quality lighting in his favorite color — Cobalt Blue. In the barn's main space, three areas needed lighting. Andreas started with the kitchen walkway where he selected three Wallaby Flush Mount Pendant Lights.
He customized these American-made pendant lights with a 12″ shade, cap, Galvanized guard, clear glass, and his favorite Cobalt Blue finish.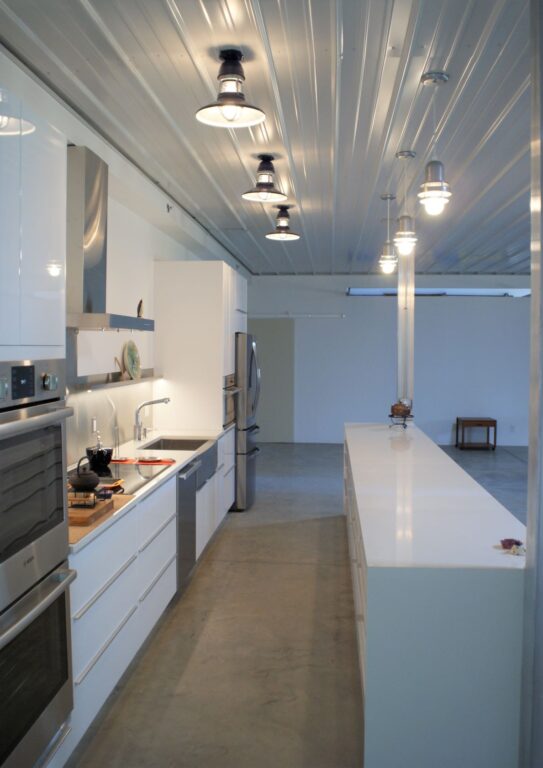 The first hint of color in the space was with the Wallaby fixtures," he notes. "This first introduction of color was important and could only be Cobalt blue — our favorite color. The Galvanized guard is an echo to the Brewster Pendants nearby, the stainless steel backsplash, and galvanized panels on the island."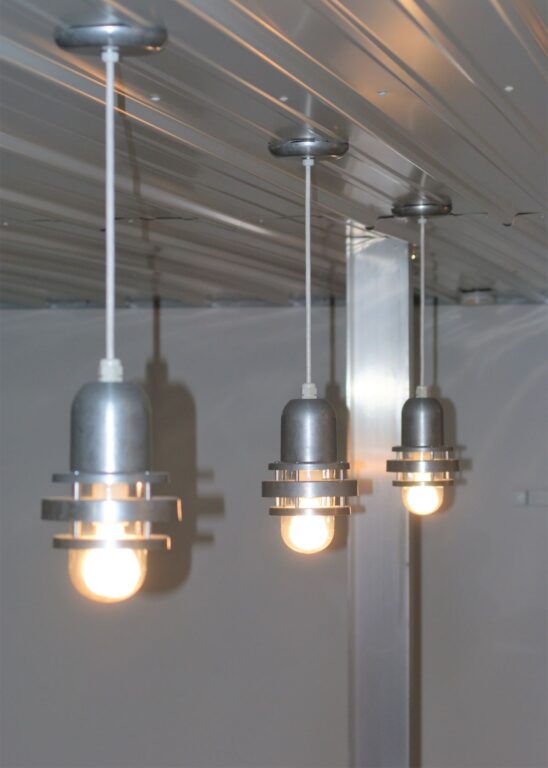 Andreas was attracted to the industrial styling of the Brewster Pendant Lights to accent the expansive island. He customized these pendants with a Galvanized finish, standard white cord, and clear glass.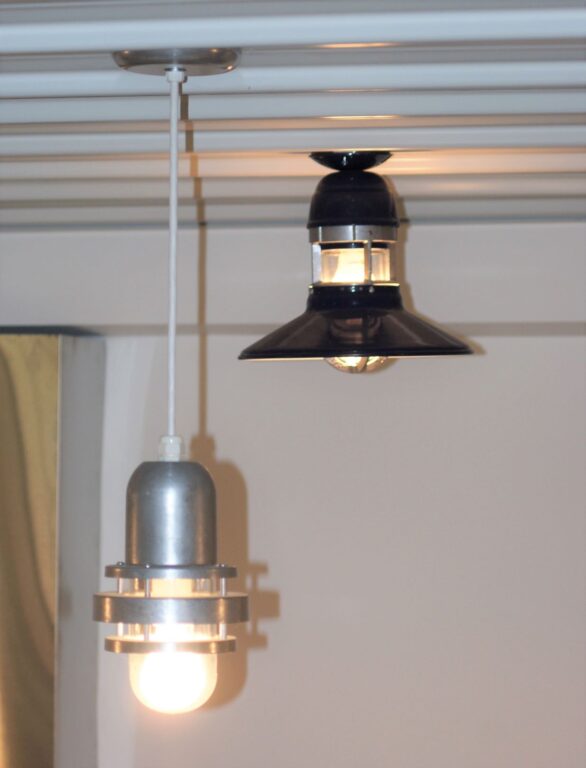 "I chose a Galvanized finish for the Brewsters to reflect the galvanized panels on the back side of the island," he explains. "And I wanted the white cord to disappear in the ceiling. This row of lighting was to remain neutral and not conflict with the color of the Wallaby fixtures."
As a maker of craft furniture, Andreas's next project is a dining room table for the updated space. A new fixture for the table will depend upon the final color and style of the handcrafted piece. We're excited to see what lighting Andreas chooses to complete this renovation!