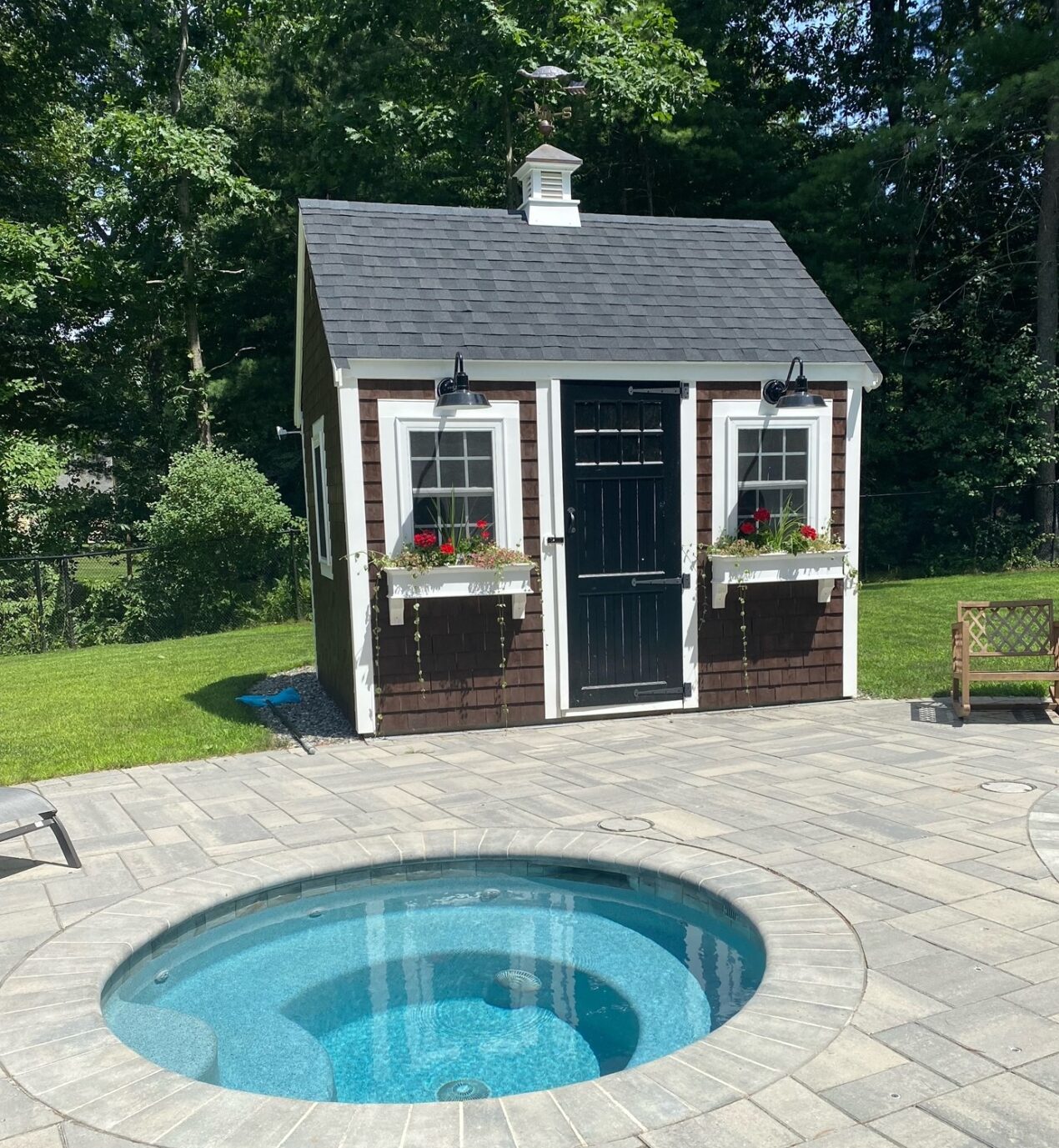 Handcrafted Lighting an Easy Choice for Inside and Out
Amy's first experience with Barn Light Electric came as she searched for lights for her new pool cabana at her Concord, Massachusetts home.
"My girlfriend and I were talking about what kind of light would look nice," Amy says. "I wanted to get away from my standard choice of onion lights, and she asked if I'd seen gooseneck lights." Amy went straight to the internet where she discovered Barn Light's wide variety of American-made gooseneck lights.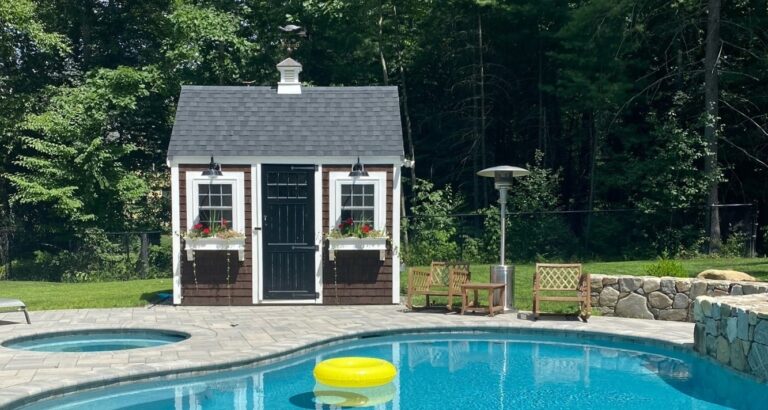 She chose The Original™ LED Warehouse Gooseneck Light for her new pool cabana. She customized these handspun fixtures with 14″ shades, a Black porcelain enamel finish, and a G26 arm. Since having bright light was important to her, she also chose the 1250 lumen package and 3500K bright white color temperature. A domed lens completes the look.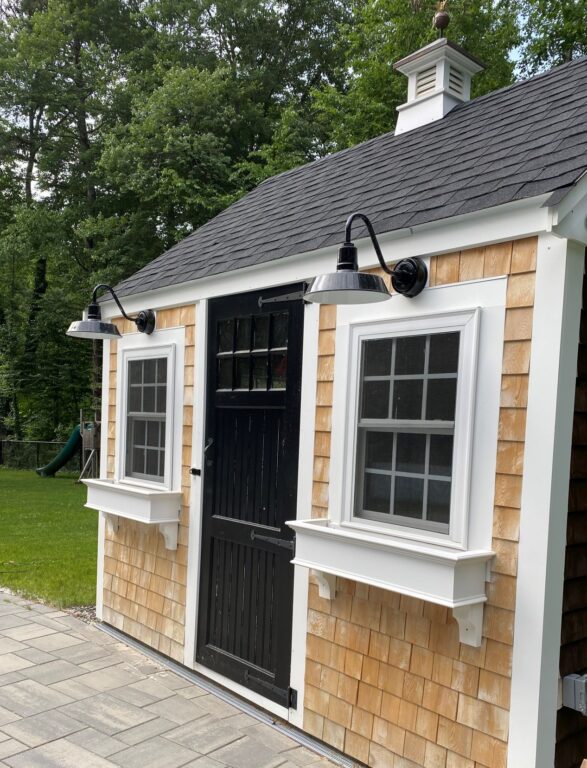 "The options are endless and I was able to create the image I had in my mind. I was looking for classic charm to go with our wooded surroundings, " Amy explains. "I love that they are American made!"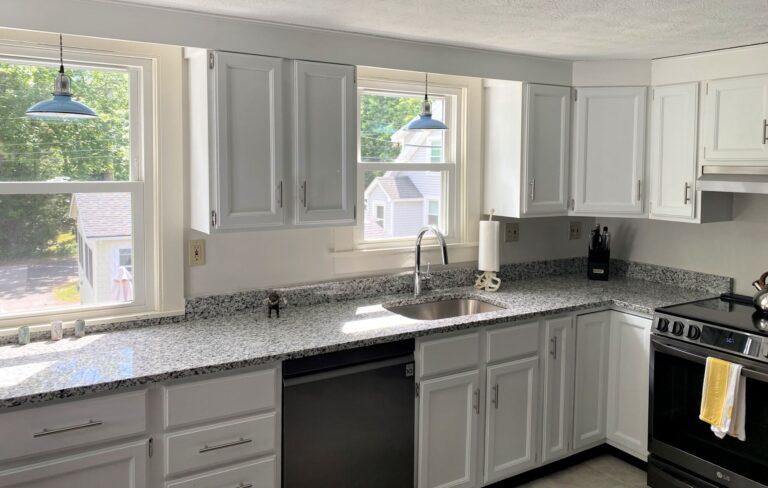 With such a positive first experience, Amy knew where to turn for lighting when she started the remodel of her beach house in Ocean Park, Maine. The extensive project included renovations of the kitchen and every bathroom plus all of the flooring. For the kitchen, Amy was searching for a particular vibe and found it when she clicked on the Sinclair Spoke Top Pendant Light.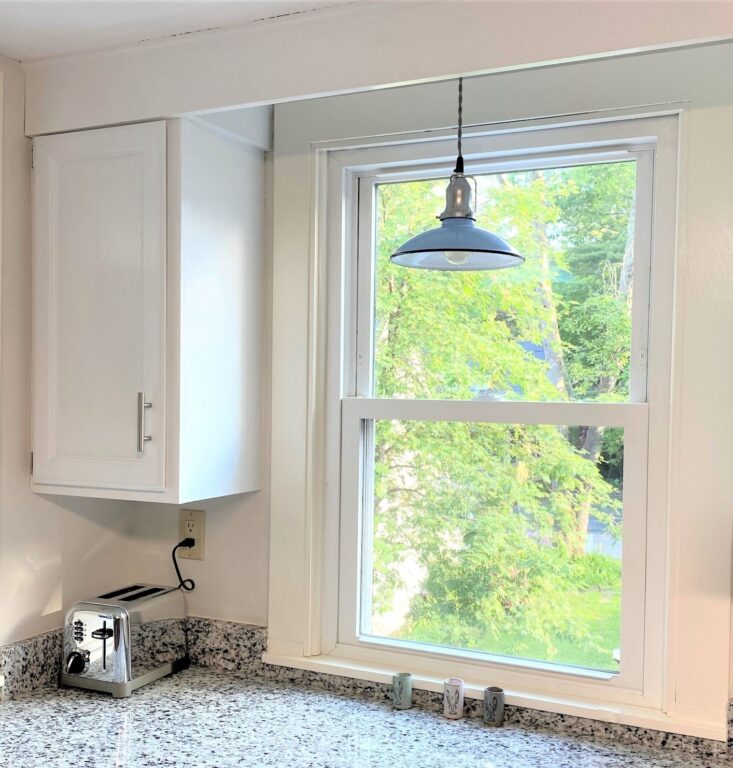 "Appearance and quality were most important to me," she notes. "When I saw those pendants, it was a 'That's it!' moment." She customized these two handspun lights with 10″ shades, a Delphite Blue porcelain enamel finish, and a Galvanized cup and switch. She also added a bit of texture and visual interest with black-and-white chevron twist cords and Victorian 60-watt Edison light bulbs.
"I chose the shade size to fit over the windows, and the color and cord to make the lights the focal point of the room," Amy explains. "I love the way the blue pendants complement the blue cabinets. It's beautiful."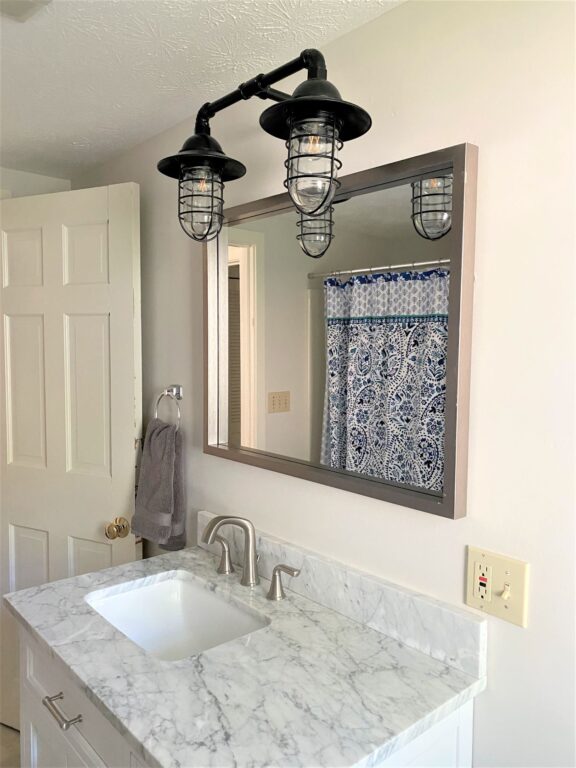 In the guest bathroom on the first floor, Amy searched for an industrial-style light that would complement the gray walls and marble vanity. The Double Market Industrial Guard Sconce caught Amy's eye with its rugged styling that was easy to customize to achieve the desired look. She customized this vanity light with a Black powder coat finish, flared shades, wire guards, and clear glass.
"I chose the finish and shade options to produce an old but new feeling in the bathroom," Amy notes. "It mixes the old feeling of Maine with the modern clean whites and grays of the bathroom. This light is the focal point of the room."
Photos courtesy of the homeowner