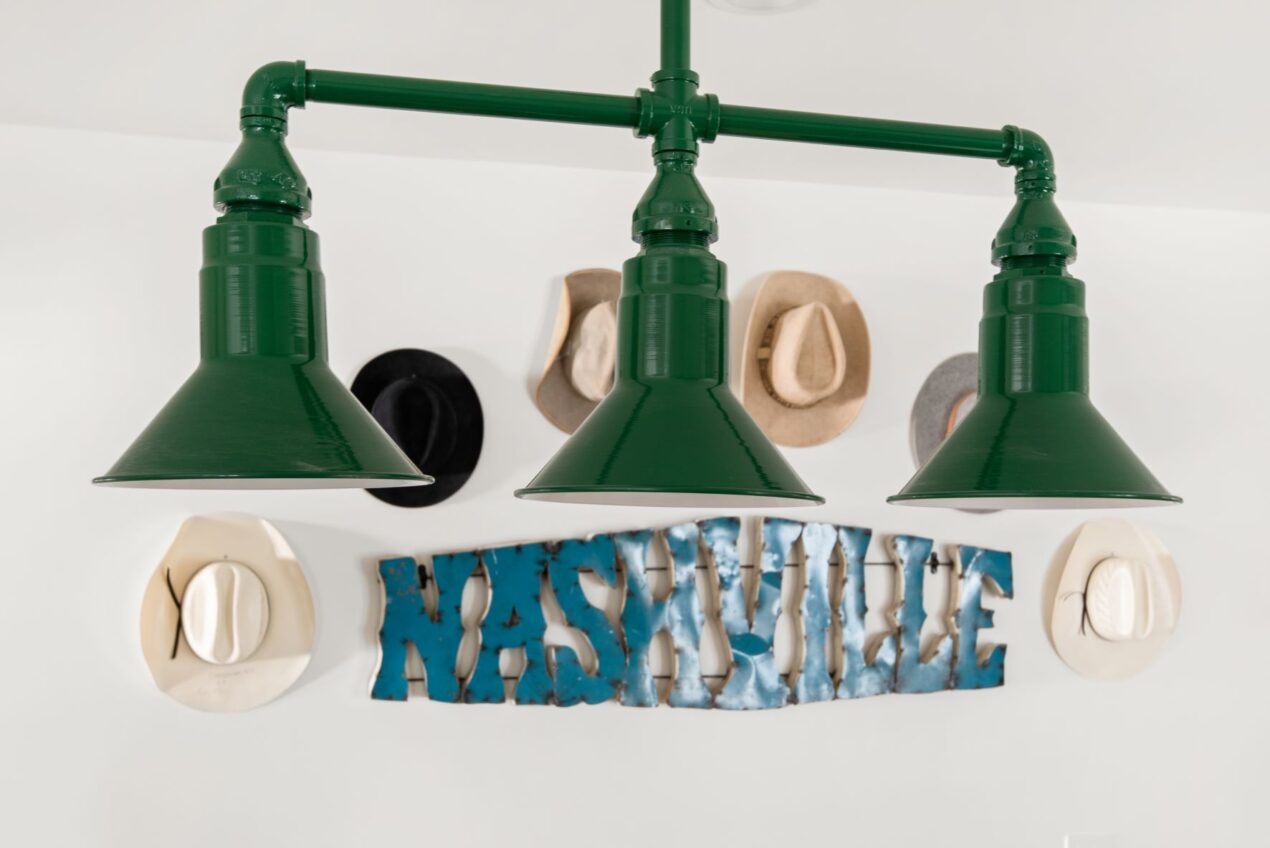 Handcrafted, American-Made Lighting Adds Unique Style to Rental Home
Last fall, we visited with Megan McCrea who owns a small collection of rental homes that she leases through her company Southbound Stays. In that blog post, Megan gave us a tour of a Cocoa Beach, Florida, home that she renovated to have a more fun, beachy feel.
Today, Megan is sharing another renovation, this one a much more extensive remodel of a nearly 100-year-old home near downtown Nashville, Tennessee.
"It was taken down to the studs, and we added a bathroom and completed an addition on the home," Megan says. "My goal was to bring character and historic flair back to the home. I wanted bold but approachable when it came to colors, materials, and fixtures."
Megan feels that lighting is worth the splurge so she accounts for it early in the process when crunching numbers. While it's easy to upgrade pillows, rugs, and other accessories, Megan searches for quality light fixtures that are made to last.
As with her last remodel, Megan turned to the American-made lighting collections at Barn Light Electric for her latest project. She wanted to find fixtures that fit the historic vibe of the home but are unique.
Visitors to The Country Cottage are welcomed by a cozy porch and colorful front door highlighted by two Newport Gooseneck Lights. The handcrafted wall lights feature 9″ shades, a powder coat Black finish, and G26 gooseneck arms.
"The home is a traditional craftsman style," Megan explains. "These lights add something bold without being overbearing and add plenty of light for the safety of our guests."
The kitchen renovation centered on a rare, antique island and a neutral color for the cabinets. For visual interest, Megan wanted to add a bold color with the lighting in this space. She chose Emerald Green from the Barn Light palette of powder coat finishes. A Conoco Stem & Loop Pendant over the sink is customized with a 12″ shade, the Emerald Green finish, and a black cotton twist cord for a hint of vintage charm.
"I strayed from traditional pendant lighting here," she notes. "I love the Emerald Green because it's a color you often see in historic homes. It was a way to bring it back into this home in a dramatic way." The island is highlighted by a Canal SoHo 3-Light Chandelier customized with an 18″ stem and the Emerald Green finish.
"I love being able to customize my lighting colors," Megan says. "This light just finished the space."
The master bath gets a chic, contemporary twist with Chateau Gooseneck Lights instead of traditional vanity lights. These handspun lights are customized with a powder coat Black finish and G26 gooseneck arms.
"I wanted this to be unique and something you don't see in every other home," Megan explains. "Nashville is a 'going out' town so there are often multiple people getting ready at once in the bathrooms. I wanted to have a lot of lighting plus separate mirrors for each sink."
For the second bathroom, Megan opted for the Round Schoolhouse Gooseneck Light for another splash of vintage style. She customized these American-made fixtures with clear glass, four painted bands of black, and G15 gooseneck arms in Raw Brass.
"It seemed very craftsman without being something you see every day," she notes. "And something just struck me about the bands on the lights." Megan adds that she was able to choose such dramatic colors, sizes, and styles for her lights because, surprisingly, the home has high ceilings for such an old home.
"The lights are one of the first things people mention when they walk into the home. It's clearly high quality," Megan says. "It adds to the entire ambiance of the space, helps it feel bold yet approachable, and I know it's not something people see every day!"
Photos courtesy of Southbound Stays