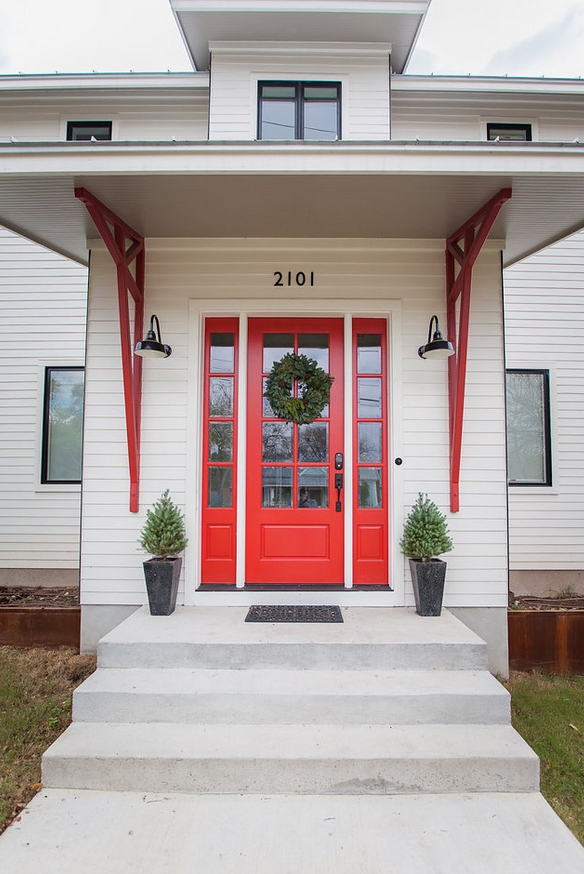 Guest Blogger | Eight Ways to Prepare for Holiday Guests
Believe it or not, the holiday season has officially arrived — Thanksgiving is just a few short weeks away with Christmas right at its heels. That means amid all the gift-hunting and recipe-tasting and general merry-making, your home is about to become a revolving door of holiday guests — sometimes unannounced! Make sure you're ready for the arrival of kith and kin with these simple tips.
Light the way: The first thing your visitors will see when they arrive is the front of your house. Make sure it's well lit with made-for-the-elements outdoor lighting. Post mounts lead friends along your front walk or driveway, while pendants hung from the porch, sconces stationed beside the door, or a lantern nestled above the entrance beckons them indoors. Also be sure that your house numbers are visible from the street for anyone who's visiting for the first time.
Give a warm welcome: For many parts of the country, the holidays are synonymous with colder weather. Blustery winds, dipping temperatures, and even snowstorms are all possible this time of year, so usher your guests out of the cold and into a warm, glowing entryway. Overhead lighting should provide sufficient general illumination. But don't stop there – flank an entryway mirror with sconces to create a focal point, add a table lamp to a console to cast a cozy ruddiness, or hang a show-stopping chandelier for a mega dose of drama.
Use sign language: First-time visitors may feel uncomfortable having to ask their host for everything. Take the pressure off with clever signs around the house. A 'Private' plaque signifies the restroom in a hallway of doors, a 'Coffee' marker allows overnight visitors to rise-and-shine as they please, and a chalkboard menu tells guests what to expect for dinner.
Keep the drinks flowing: The number one rule for holiday entertaining is to make sure your company has a drink in their hand the moment they arrive. Greet them at the door with sparkling wine to kick things off right; continue the evening with Moscow Mules served in traditional copper cups; set up a spiked hot chocolate station for late-night festivities; and follow it up in the morning with fresh mimosas!
Make ahead: Not all holiday guests are expected, and that's half the fun of the season! But nothing kills the seasonal cheer more than having nothing to serve your visitors. Have wine, cheeses, olives, and other make-ahead items (like dips, sauces, and baked goods that can be frozen) on hand so you'll always be ready. Then when guests show up unannounced, you'll have plenty of snacks to load into pretty bowls and plates to keep everyone happy and full.
Go vintage: There's something about vintage décor that makes everyone feel right at home. Maybe it's the sense of nostalgia it imparts or the unadorned simplicity that encourages a casual, kick-off-your-shoes attitude, but whatever it is, it's perfect for the holiday season. Not sure where to start? Try vintage industrial stools for ample seating, a retro cookhouse wall clock for easy time-telling, or enamel tableware that harkens back to the days of storytelling around the campfire.
Get cozy: When the days get shorter and the temperatures struggle to stay above freezing, there's nothing better than a warm place to gather. Encourage nights of memory-making indoors with piles of thick blankets and throw pillows on the sofa and a supply of comfy slippers to snuggle up with.
Stock up: As hard having overnight guests can be on the host, it's often just as angst-filled for visiting loved ones who don't want to pester for every little thing. Anticipate their needs to make everyone feel comfortable. This means stocking the bathroom with extra toiletries, leaving water, good bedside lighting, and some quick reads in the bedroom, and keeping lots of snacks and a variety of drinks on hand that guests can help themselves to.
With these easy tips and a helping of holiday spirit, you and your guests will be merry all season long!
Guest blogger Melissa Andersen is a writer, editor, blogger, and social media manager/consultant for clients such as And North, Kaufmann Mercantile, and The Cousins from HGTV

Top photo courtesy of Stacie Leigh Photography
Bottom photo courtesy of Hunted Interior