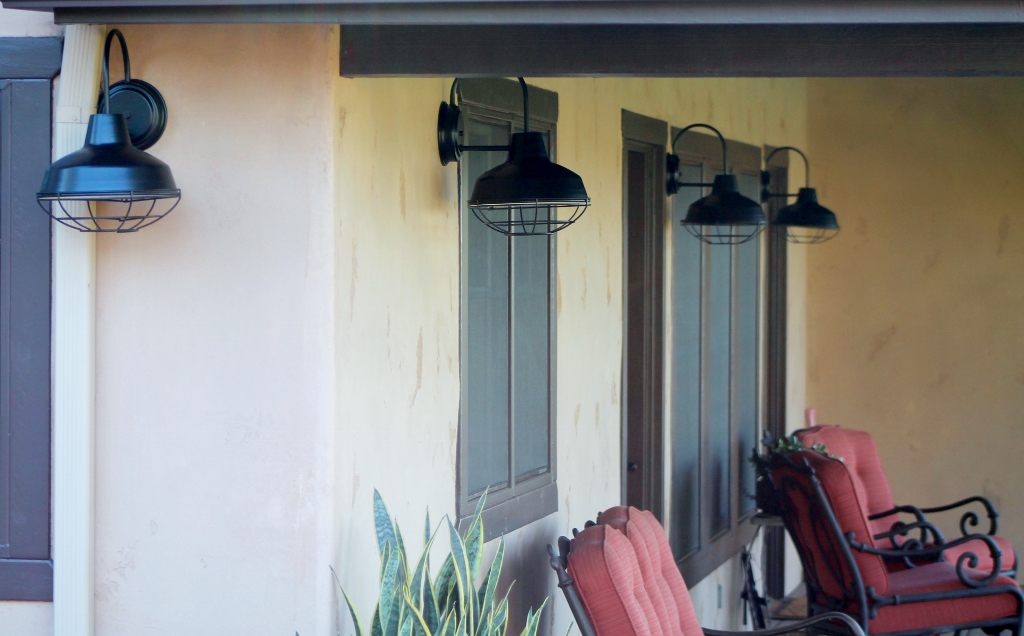 Barn Lighting Adds Rustic Complement to CA Hacienda
After Mike and Veronica moved into their Fullerton, California, home last year, they were happy that the home itself didn't need major attention or repairs. Originally built in the 1940s and renovated in 2000, the 3,000-square-foot, hacienda-style home simply needed an upgrade in the outdoor lighting.
"Structurally, we haven't changed our house," Veronica says. "All of the work that we have done is aesthetic. We wanted to replace all of the old and outdated existing light fixtures."
The couple chose RLM-inspired barn lights to accent their home. This style of fixture was common back in the early 20th century especially on the citrus farms that dot the southern California landscape nearby.
"Mike had been searching online for this type of barn lighting," Veronica explains. "We thought the barn style lights complemented the look we were going for on the house." On the porches and all around the exterior, the couple chose the Avalon Wall Sconce to bring much-needed light to the space for both safety and aesthetics. They customized these American-made wall lights with a 12″ shade, Black finish color, and wire cage.
The Avalon is hand spun from commercial-grade aluminum in our Florida manufacturing facility. This wall sconce can be customized not only with shade size and finish color but with other accessories such as guard and glass, dusk-to-dawn photocell, and a plug-in option.
"Everything about the quality is what we were looking for," Veronica notes. "Being American made was very important to us." Bringing light to the yard are three Bomber Single Post Mount Exterior Lights also customized with a Black finish. All three sport a 17″ shade — one, on the left above, has a wire cage while the other two feature a cast guard and clear glass.
In a nearby outbuilding, Veronica and Mike chose the classic Original™ Stem Mount Pendant Light to bring plenty of illumination to the breezeway at night. These ceiling pendant lights are customized with 20″ shades, Black finish, and wire cages which not only protect the bulbs but offer a vintage look. The barn lights are suspended from 12″ stems that were powder coated to match the shades.
On the side of the building, a matching Original™ Warehouse Gooseneck Light brightens the side yard. One of our best selling gooseneck lights, this traditional exterior light is hand crafted and is offered with a multitude of customizing options. This particular light is finished with a 12″ shade, cast guard and glass, and G15 gooseneck arm.
"We chose each type of light to complement a particular location," Veronica says. "The lighting at night is perfect and we are thrilled with all of them."
Photos courtesy of the homeowner