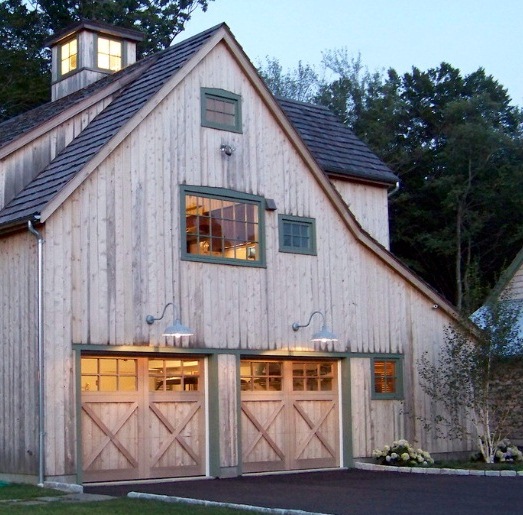 Gooseneck Warehouse Shades Accent Barn-Style Garage
Nothing makes our eyes light up like seeing bold, beautiful warehouse shades highlighting the side of a barn. And while this barn is actually a garage, we love the vernacular of this structure located in a small, western Connecticut town tucked into the foothills of the Berkshire Mountains. From the traditional barn doors to the cupola on top, this building needed nothing more than a classic light like an RLM warehouse shade to complete the look.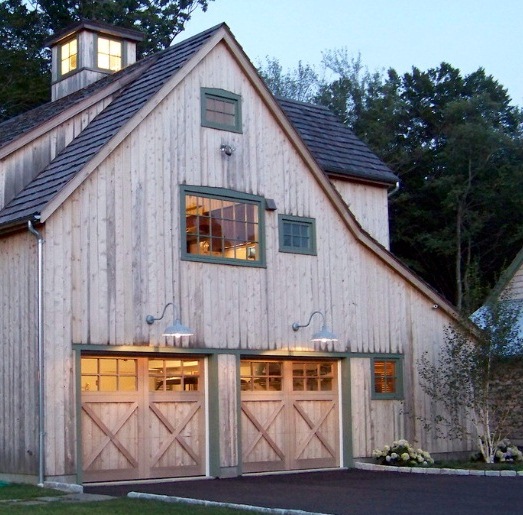 These shades are similar to our very own American-made Goodrich® Bomber Porcelain Gooseneck Light. The Bomber is part of our ever-growing collection of Porcelain Barn Lighting and one of the largest and deepest warehouse shades we sell. When you hold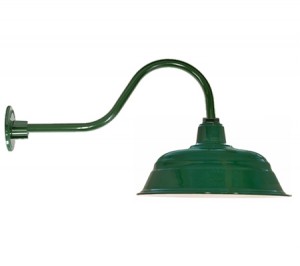 one of these lights in your hands, you can feel the strength and durability of the commercial grade steel from which it is hand spun by our own craftsmen. The Bomber is available in a generous 17″ shade size which is perfect for lighting up garage entries such as this or for outside decks or porches. Coming soon, the Bomber will be available in even more sizes to suit your every need!
Choose from eight brilliant porcelain finishes for the Bomber including the new Graphite shade of gray. The porcelain enamel coating is hand applied giving each shade a unique appearance and character. This finish will never fade from the sun even when used outdoors for years on end. A soap-and-water cleanup is all that's needed to keep your shade looking like new. Several gooseneck arm sizes are available for the Bomber — the arm can match your shade color or try a galvanized or brushed aluminum finish as a contrast. No matter how you choose to customize your classic light, rest assured that it will provide a lifetime of service thanks to quality American craftsmanship.
Top photo courtesy of Vicente-Burin Architects