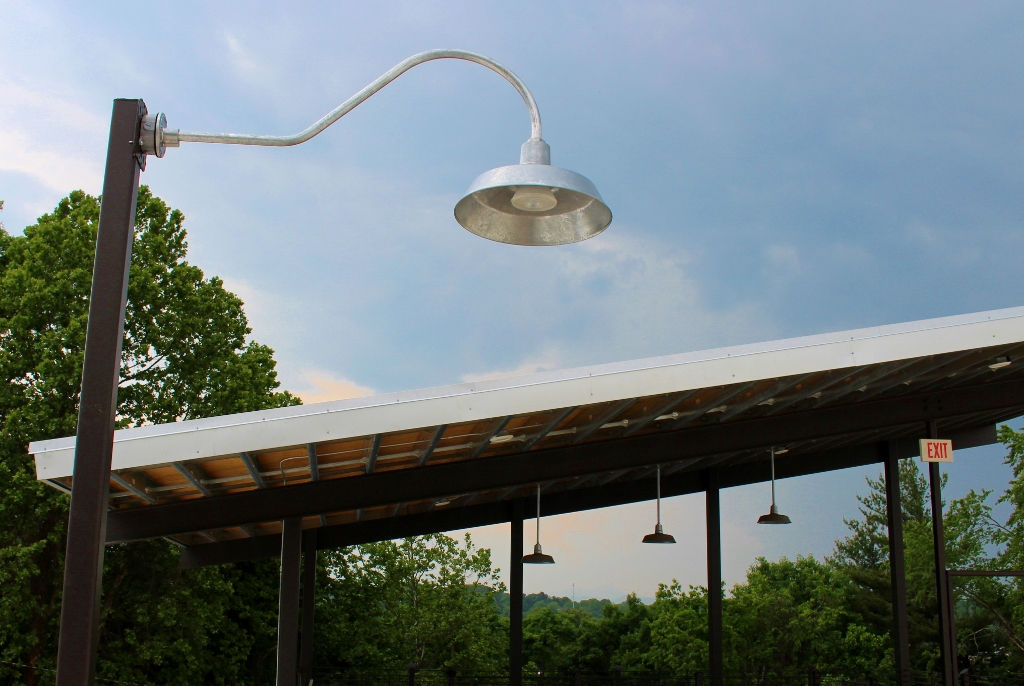 Gooseneck Barn Lights Top Off New Rooftop Bar
How do you top being Asheville's first legal brewery since Prohibition, bottling up to 10,000 cases of craft beer per week? You go even higher with a rooftop bar! Our friends at Highland Brewing cut the ribbon on a new open-air space this summer complete with gorgeous views of the Blue Ridge Mountains and equally beautiful gooseneck barn lights!
Brock Ashburn, of Ashburn Builders, created this new space which sits atop the brewery's event center. Highland is celebrating its 24th year in Asheville, North Carolina, a city that often lands on Top Ten lists for craft beer fans. The new bar has a rustic industrial feel that, in spite of summertime temps, has proven popular with locals and tourists alike.
"People are curious and attracted to the process that gets their beer into a bottle or glass," Brock explains. "We wanted to mix an industrial/ manufacturing look with an event space that can accommodate lots of people comfortably."
Reclaimed wood, steel trusses, and a shipping container-turned-bar combine to give this space plenty of character for those sipping their brews. Brock chose classic Original™ Warehouse Gooseneck Lights to highlight the entry, stairway, and rooftop.
These American-made gooseneck barn lights are hand spun from commercial grade aluminum. Brock chose to customize the new lighting with 16″ shades, a Galvanized finish, and G2 gooseneck arms.
"The gooseneck arm helps get the light away from the light posts and cast it over the walkways and over the deck," he notes. "And the galvanized finish works well with the stainless, wood, steel, and dark paint."
In his search for lighting for the new rooftop space, Brock spotted gooseneck barn lights in a restaurant with a similar industrial feel. He liked the look. His search led him to Barn Light Electric where hundreds of styles of vintage-inspired lighting are manufactured on the Space Coast of Florida.
"Functionality and aesthetics are important to me and I'm very happy with the lights," Brock says. "And I'm very proud to have bought from a company that makes light fixtures on the East Coast!"