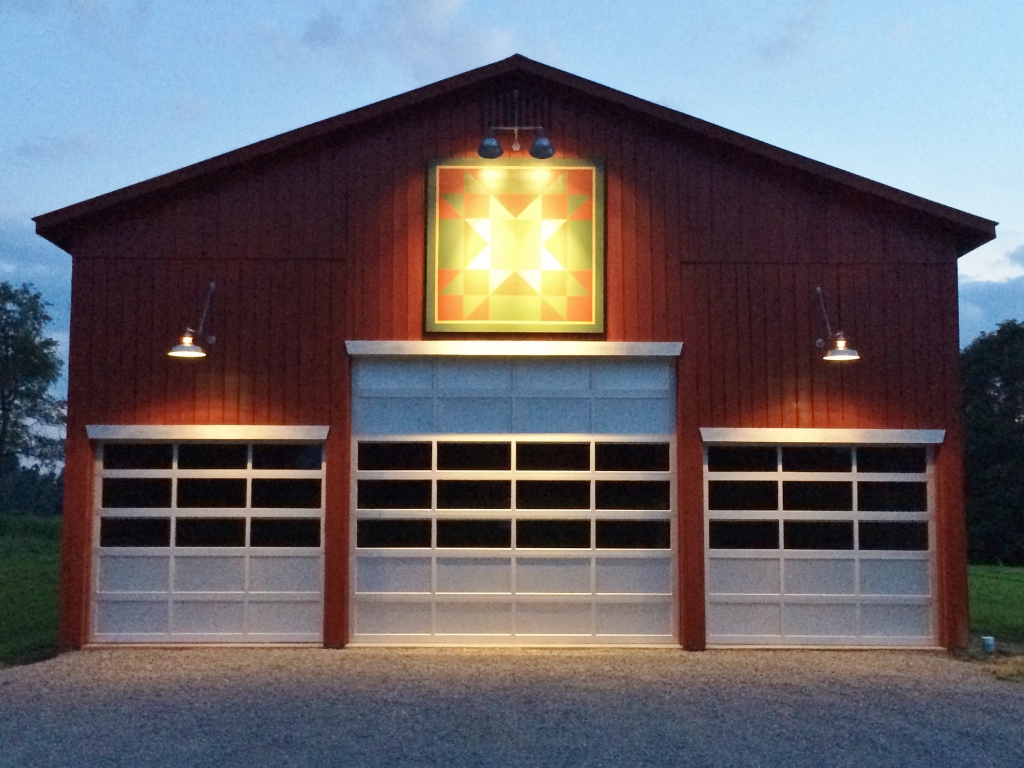 Gooseneck Barn Lighting Brings Focus to Kentucky Barn Quilt
Rolling down the highways through the heart of the Kentucky bluegrass country, you are sure to spot an abundance of barns. Barns of all shapes and sizes dot the hillsides and farms where cattle, crops, and, yes, horses are tended each day.
If you're lucky enough, you might spy a barn like David's which sports a beautiful barn quilt painted on the side. The painting of quilts on barns began as a kind of grassroots, community art movement and there are thousands of these paintings all over the country. A website dedicated to the Barn Quilt Trails notes that there are about 800 barn quilts in Kentucky alone.
David lives in Danville and had the quilt painted on the barn which once kept tobacco but is now used for storage.
"Barn quilts are quite a local tradition here," he says. To bring focus to the new painting and shed much-needed light onto the doors, David chose some classic gooseneck lighting for the exterior. Two Sydney Gooseneck Lights, American-made fixtures with a wealth of rugged industrial detailing, are installed over the two outer doorways. The cast guard-and-glass body provides up lighting while the hand-spun aluminum shade provides a wide span of down lighting. To support the 18″ shade, David chose heavy-duty G36 gooseneck arms. The lights are customized with a Galvanized finish while the guard is a handsome Barn Red. Clear glass offers plenty of light at night.
"I wanted the finish to match the barn and the roof," David explains. "I really like the setting after dark." Over the quilt square, David chose to install the Dual Arm Emblem Sign Light, another commercial-grade fixture that can withstand the elements. Two gas station-style angle shade lights are affixed to a rugged pipe mounting that extends 36″ from the barn facade to project plenty of light onto the painting at night. David customized this sign light with 14″ shades, and a Galvanized finish on both the shades and the arm.
"I felt that I needed that size to properly light the quilt square as well as the 16 x 14 door beneath the painting," David says. In his search for appropriate lighting, David wanted a mix of both functionality and aesthetics, a winning combination that he found with both fixtures. David liked the Sydney Goosenecks so much that he purchased two more for another barn on his property. Looks like he has a blank canvas just waiting for a quilt square!
Photos courtesy of the homeowner