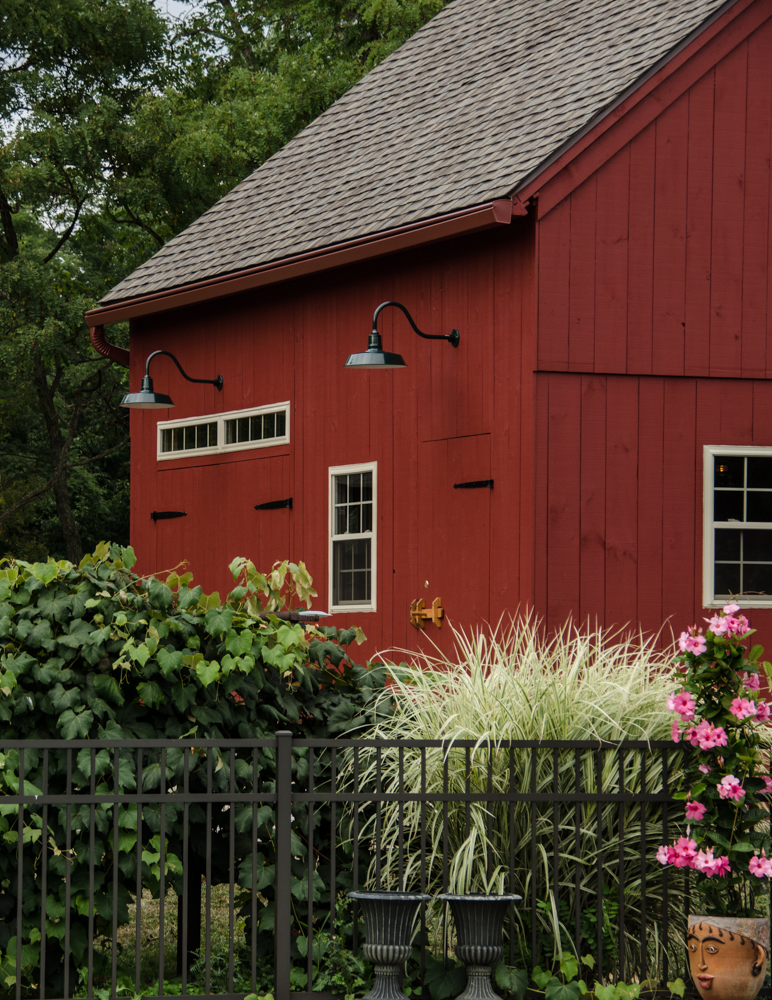 Gooseneck Lights, Ceiling Fan Highlight Barn Loft
On Wednesday, we started our tour of a new construction barn designed to look as if it had stood for decades. Pat, of Doylestown, Ohio, worked with Country Carpenters to carefully select materials and finishes that would honor the character of her property and complement her home and other outbuildings. For lighting, she chose hand-crafted fixtures from Barn Light Electric.
"On my first contact with Barn Light Electric, they understood I wasn't just building a barn," Pat says. "I was working on a project I had imagined for years!" Wednesday's post featured the exterior lighting and main floor of the barn, and today, we head upstairs to the loft which originally was planned as a storage space but, as Pat says, turned out way too nice for simply storage.
Working closely with her electrician to choose the correct size of fixtures, Pat was also on the hunt for a small ceiling fan for the loft.
"We needed three lights down the center of the space, so if I wanted a fan, it would have to have a light kit," Pat explains. She chose the Machine Age Galvanized Ceiling Fan customized with 42″ Silver blades. The optional light kit features a Barn Red cast guard with ribbed glass.
"The galvanized housing on the fan matches the ceiling pendants, and the red guards on the pendants match the fan's light kit," she notes. "They are different shades but the colors bring them all together."
The ceiling pendants in the loft are Brisbane Stem Mount Pendant Lights which match the downstairs lights. These American-made pendants offer rugged styling in a ceiling light that is suitable for both indoors and out.
A small desk in the loft provides a place to work or simply enjoy the stunning views of the surrounding property. Pat selected two 12″ Laramie Gooseneck Lights in a Galvanized finish and G26 gooseneck arm to highlight the table.  After most of the lighting was installed, Pat realized she needed one additional fixture for the stairwell.
"I needed to have a light on the stairs that I could turn on before reaching the switch upstairs for the loft lighting," she explains. A 14″ Laramie Gooseneck, customized with a Galvanized finish, Barn Red guard, and ribbed glass, illuminates the space perfectly. And, as with her pendants, Pat put a rheostat on the fixture so she could have either a bright light when needed or a softer glow for effect.
Over the course of several months, Pat looked at dozens of lights with countless options. When the dust finally settled, she was thrilled with the final look.
"I think I drove my salesman nuts, but he was very patient and helpful. I reached out to Barn Light Electric through their Facebook page and received a ton of support," Pat says. "I asked for examples of different color and style combinations and got great advice on product recommendations. It was excellent customer service!" Pat adds that the lights are often the first thing people comment on when they visit her barn.
"The day the electricians got it all together and the lights came on that night for the first time — it was a beautiful sight!" Pat says. "I stayed in the barn and in the yard for hours to marvel at it. It was so rewarding to see the results of all that work, picking just the right fixtures, and using the best product. It was really worth it!"
Photos courtesy of Gary Jackson