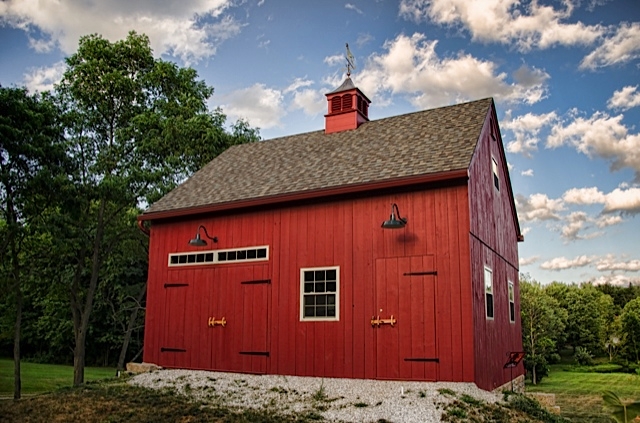 Barn Lighting Brings Authentic Look to New Barn
We're not supposed to play favorites. But this week, I admit, I have a favorite customer. I first heard about Pat, a customer from Doylestown, Ohio, from a member of our sales team.
"Her project sounds really cool," he told me, "and definitely blog worthy." This week, after months of construction, dozens of phone calls and emails about barn lighting, and the hoisting of a customized weather vane in the shape of her beloved dog, Pat's project is reveal ready. 
And while we see orders coming into our Florida manufacturing facility every day, we never know how projects turn out unless customers share photos. Luckily for us, many people, like Pat, are happy to do so.
"We acquired this property in 2009 and made many renovations. The barn was the last big project," Pat says. Although they managed to preserve some of the buildings on the property, the old barn was structurally unsafe and had to come down.
"I wanted the new building to look old but be solid and strong. I wanted it to look like a real wood barn," she notes. "It was important to me to preserve the character of the property." After years of looking at alternatives, Pat stumbled across Country Carpenters and realized the best way to get the "real wood" look was to build a real wood barn.
Pat waited until after the building was complete to order lights. She wanted her new, but old-looking, barn to have the retro look of old gooseneck fixtures on the exterior.
"I stumbled across Barn Light Electric from the Country Carpenter's Facebook page and figured I'd check it out," Pat explains. "Wow, I was not disappointed!" Pat chose two Original™ Warehouse Gooseneck Lights with 16″ shades, Dark Green finish, and G22 gooseneck arms to highlight the main door and a second swinging barn door.
On the main floor of the barn, which has space for a workbench, antique tractors, and an ATV, Pat chose several Brisbane Stem Mount Pendant Lights. She customized these American-made ceiling lights with 16″ shades, a Galvanized finish plus a Barn Red guard and ribbed glass.
"I chose this fixture for the uplighting effect," Pat says. "I really wanted to show off the wonderful wood beams and ceiling above the fixtures." The electrician installed a rheostat on the lights so Pat could control the amount of light.
"When I need really bright light I can have that, but when I just want subdued, soft lighting, I can have that too," she notes.
For the workbench area, Pat chose the Architectural Shop Light. This American-made high bay light is reminiscent of vintage shop fixtures and can be customized with a variety of finish colors and stem lengths.
"I knew this was one of the final pieces to bring all the fixtures together," Pat says. "I was able to stay with the galvanized theme I had going with the other interior lights and it really fit the bill!"
Check back on Friday when we finish our tour of Pat's barn which includes the loft that started out as a storage space but, as Pat notes, turned out "way too nice" for that!
Photos courtesy of Gary Jackson