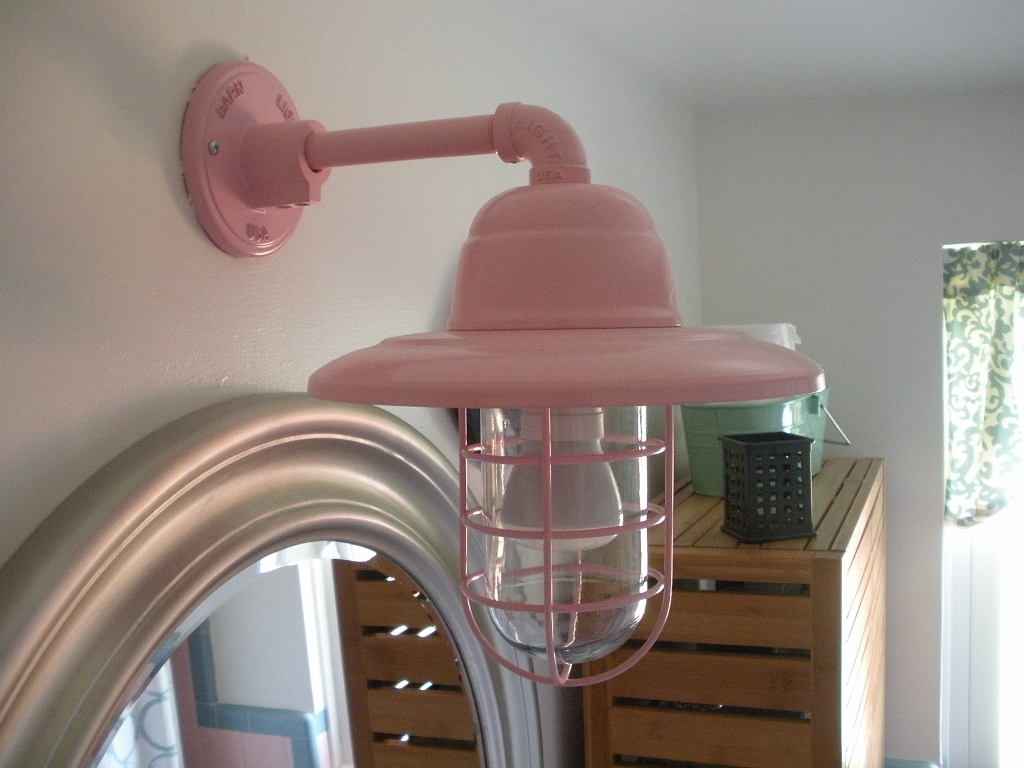 Rustic Wall Sconce for Mid Century Bath Remodel
When Nancy decided that the bathroom in her mid-century ranch home needed a facelift, she wanted to upgrade the 50-year-old sink and toilet, but she didn't want to lose all of the detailing that she loves so much.
"The bath is a beautiful 1950s icon," Nancy says. "I love its pink tile with teal accents that feature a small wavelike pattern around the circumference of the room." Nancy lightened up the room by painting over the pink walls and ceiling and added bright white porcelain fixtures. With those details done, she went shopping for a vanity light. 
"I wanted something that would make a statement, light the room, and serve as my vanity lighting," she says. "After hours of looking at things that weren't not achieving my goal, I googled my way to Barn Light Electric." Nancy found the Industrial Guard Sconce, a handcrafted wall light that oozes mid century detailing with its rugged cast guard body and mini gooseneck arm. Nancy customized this American-made fixture with a wire guard, a Blush Pink finish, and clear glass.
"I chose this fixture because it's stunning. It's both craft and art, and the quality is outstanding," Nancy says. "I like simple geometric patterns and this fixture has both circles and horizontal lines that go nicely with the other pieces and patterns I chose for my bathroom makeover. The fixture brightens my bath and is the best vanity light I've used anywhere."
The Atomic Industrial Guard Sconce is one of the most popular wall lights in our family of Wall Sconces. This eclectic collection boasts designs from pre-World War I through the late 1950s encompassing both the Streamline Moderne and Atomic eras. They also shows hints of nautical styling and are designed, much like the fixtures from these time periods, to be rugged enough to handle any conditions.
And while wall sconces from the early and mid 20th century were designed for strictly practical purposes, Barn Light Electric offers the same high quality construction with a host of customizing options so that customers like Nancy can create a light perfectly suited to their spaces.
"Shopping was a delight! I made several visits and spent hours looking at fixtures," Nancy says. "I don't normally do that, but the experience was addicting! I love my very first Barn Light Electric fixture and it won't be my last!"
Photos courtesy of the homeowner