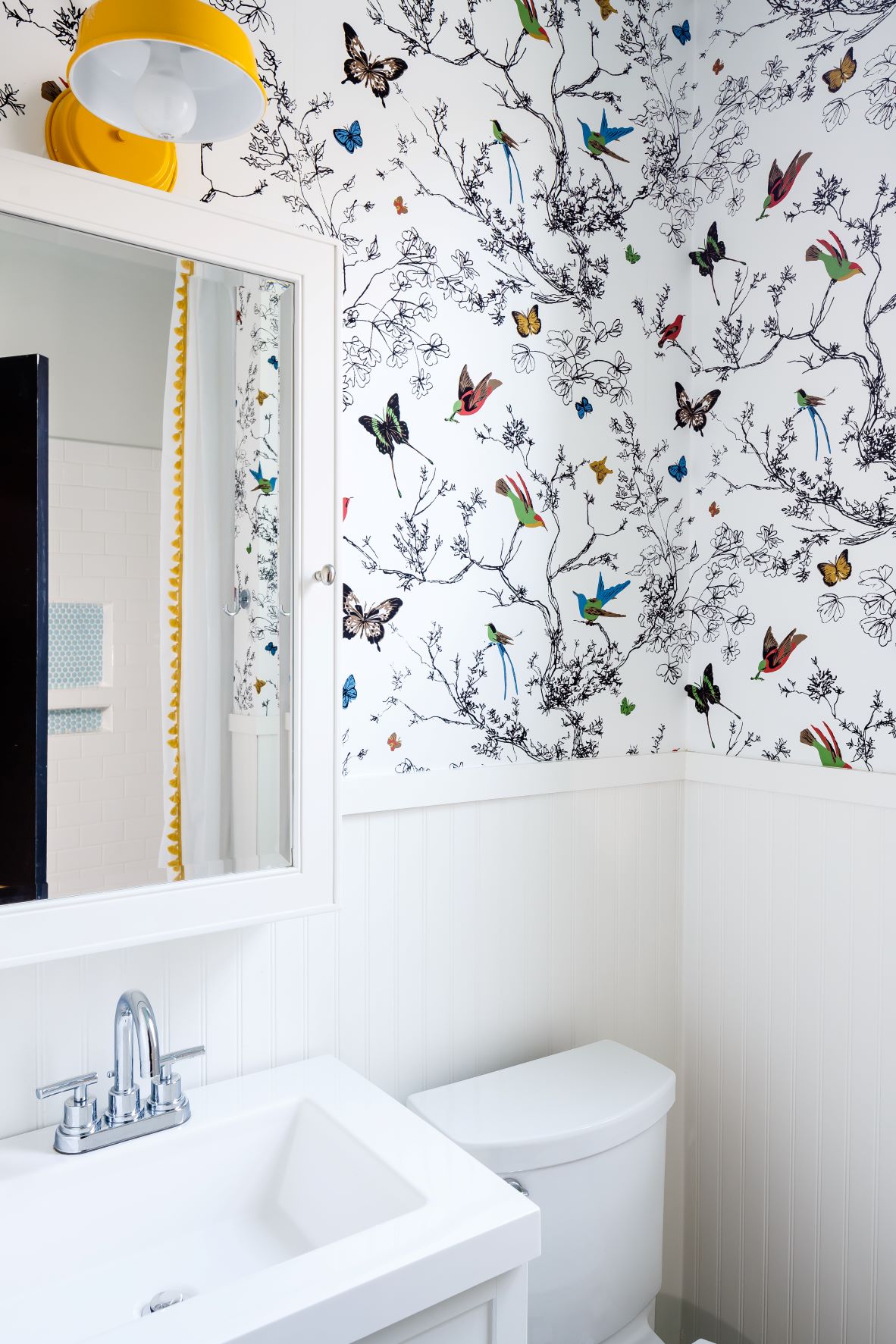 Getting Creative in the Bathroom on Wallpaper Wednesday
If you're looking for a quick spring refresh for a bath or powder room, look no further! It's Wallpaper Wednesday and we're featuring some of our favorite bathrooms that have the perfect combination of lively wallpaper and handcrafted lighting!
From our friend Mary Jo at MJG Interiors, this Avalon Wall Sconce is the perfect complement to the colorful tree wallpaper. This American-made wall sconce is customized with a 16″ shade and finished in a powder coat Barn Red.
Wallpaper, fresh paint, and new light fixtures are easy, affordable ways to give bathrooms new life! This bathroom, created by King Consulting, benefits from playful wallpaper and a splash of Buttery Yellow from the 12″ Marathon SoHo Sconce.
When faced with a leak in his 1920s-era bathroom, designer Sean Lewis started renovating the space. He opted to keep the vintage pink tile but added color and updated style with floral wallpaper and two Fargo Wall Sconces in Raw Copper.
"The Fargo Wall Sconce fits perfectly, has the playful look I wanted, and the copper shade looks amazing against the pink-and-blue wallpaper," Sean says. "The lights give a great balance to the space."
Designer Anne Nelson has lived in both Florida and Massachusetts and claims to have saltwater running through her veins. It's no surprise that she fell in love with this wavy wallpaper for a recent bathroom renovation. A long-time customer of Barn Light Electric, Anne knew she could find the perfect handcrafted fixtures to complete this nautical bath. She chose the Barn Light Mini Eclipse Wall Sconce and customized these 7″ wall sconces with a Galvanized finish and G38 gooseneck arms.
For her outdated bathroom, Melissa, of The Inspired Room, chose the Austin Double Straight Arm Vanity Light. Customized with a White powder coat finish, the lights are both beautiful and functional but allow the wallpaper to be the center of attention.
"We love this fixture because it has two shades, and we love the simplicity of the straight arms," Melissa says. "Our previous fixture had three lights and curved arms." The new vanity light provides plenty of illumination from the 8″ shades and complements other Barn Light fixtures Melissa has throughout her home.
We fell in love with this bathroom when designer Bethany Adams posted this lovely photo, taken by Tim Furlong Jr., on Instagram. The black-and-white branches on the wallpaper are enhanced by pops of color from a wide variety of birds and butterflies. The Esso Wall Sconce with its 8″ shade adds the perfect splash of Buttery Yellow. Such a happy place to start your day!