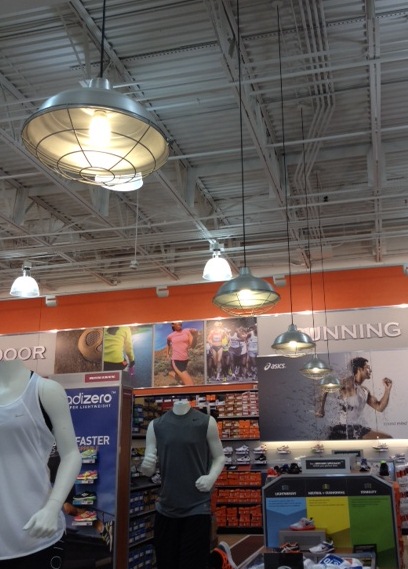 Galvanized Warehouse Shade Ideal in Remodeled Sports Store
When a local sports store recently underwent a major remodel and facelift, those in charge, no doubt with new sneakers on, jumped on the industrial bandwagon that's sweeping the design world! Gone are the flourescent lights that once hung from false ceilings above. In their place are shiny new galvanized barn lights, much like our Barn Light Warehouse Pendant, complete with a wire cage for a truly industrial look.

The high ceiling, with its ductwork and electrical systems exposed to shoppers below, is the starting point for these cord-hung pendants that provide lighting over the displays and shelves full of baseball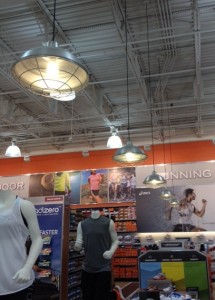 gear, running clothes, and fishing rods. The galvanized finish on the pendants is a great choice for this commercial setting as it is remarkably durable over time even under harsh conditions. The wire cage attached to the shade gives a rustic look and protects the bulb from loose basketballs that whiz by thanks to enthusiastic 12-year-old boys.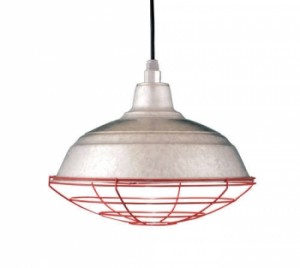 The Warehouse Pendant continues to be one of our most affordable and popular barn pendants. Its styling dates back to the 1930s when RLM American made shades were first handcrafted for use on farms and in warehouses and factories. Today, the warehouse shade is a hot item for homeowners and designers because it is a classic style that can take on a variety of looks depending on how you finish it. We offer more than 50 different standard, premium, aluminum, and other specialty finishes for our warehouse shade. For a traditional home, choose a powder coated patina for a classic look, or if you have a more modern, urban space, pick one of our vibrant finishes like blue, red or bright yellow. This fixture can be cord hung or stem mounted, and can also include a colored wire guard like these or choose a cast guard and textured glass for another great vintage twist.