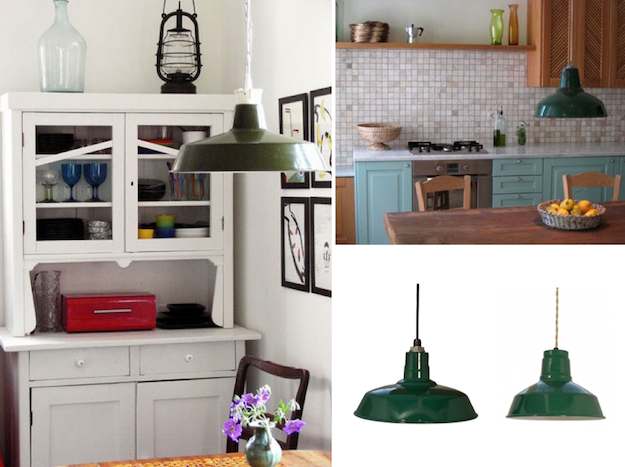 Porcelain Enamel Pendants That Blend With Any Decor
Accessories are key to bring in color and life into your space. Finishing off a room by adding accessories can also define your room's style and personality. But take these two rooms for example, one (left) is fairly modern and city like, while the other (right) has a few country touches. If you remove the glasses, art, flowers, and fruit – what do the two have in common? Large furniture pieces – and well, lighting!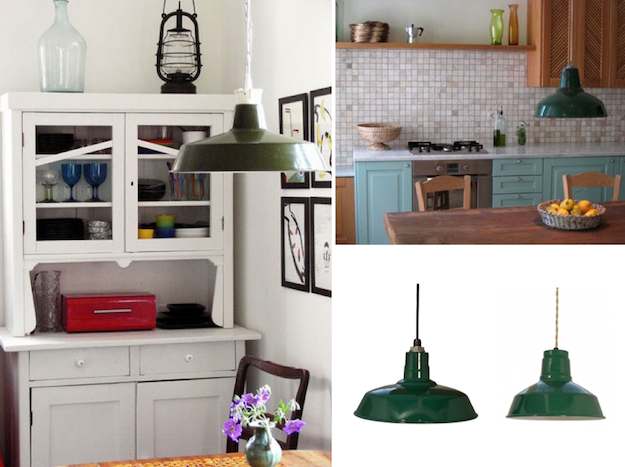 Photos Courtesy of (Left) Apartment Therapy and (Top Right) Steeldaisy Associates.
As Shown (Bottom Right) Barn Light Electric Ivanhoe® Sky Chief, Green and Ivanhoe® Dino, Green
Warehouse shades, no matter what the size, are all the rage in the design world, and the best part about these styles of shades, is that they complement any design theme you're going for. Whether its a cozy cottage, seaside escape, modern loft, or urban farmhouse, a warehouse shade is an ideal pendant to select for any room in the home.
The exclusive porcelain enamel collection from Barn Light Electric represents both photo's lighting selections. The larger, Ivanhoe® Sky Chief is based on traditional warehouse style shades from the 1930's and 40's. It's exterior porcelain enamel coating boasts one of the strongest finishes on the market today. The interior shell of the shades are constructed of steel. Once the baked on colored finish has been applied, an outer coating of glass covers each shade, ultimately giving it an A+ when it comes to lasting a lifetime.
The smaller shade you see above is our Ivanhoe® Dino. The same process and materials go into producing these miniature warehouse replicas. Ivanhoe® Dino shades can be used alone or paired together for lighting larger areas, such as a kitchen island, or dining room table.
If you wish to mount either of these shades near the exterior of your home, both are available in a galvanized stem mount option. This makes them safe to place them in wet locations where rain or snow could be present. The stem mount also provides added durability for high winds and storms. Whichever you choose to light your home, know that when you purchase a porcelain enamel shade, you're purchasing a shade built to last for years!