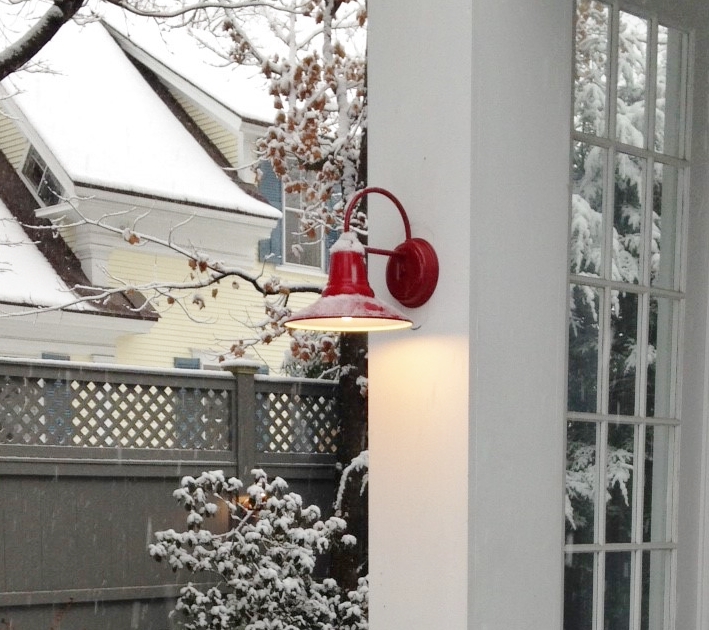 Porcelain Enamel Wall Sconces Handle Vermont Winter with Style
It's been a wild and wacky winter so far and, technically, it's not even winter yet! In some parts of the southeast, there was snow on November 1st yet temps reached into the 70s on December 1st. You never know what winter may bring unless you live in Woodstock, Vermont, like our friend Sophia, where you are pretty much guaranteed to have your fair share of snow and ice this time of year.
And when you have wild winters, you need outdoor lighting that can stand up to Mother Nature. Sophia recently updated some of the exterior lighting on her historic home which was built in 1840. An addition was put on in the 1990s, and Sophia bought the place three years ago.
"I wanted to put in lighting that referenced the town's farming culture," Sophia says. "The lighting that was there was more formal."
Knowing that the New England winters can be brutal with snow, blowing winds, and ice, Sophia took note of Barn Light Electric's Porcelain Enamel Collection while she was browsing for fixtures online. She narrowed her choices down to the line of wall sconces for the garage and rear of the house.
"They are classic Vermont but with a modern twist," she notes. For the house, Sophia chose the Aero Wall Sconce and customized it with a 12″ shade and a Cherry Red finish. The porcelain enamel finish on this wall light is applied to commercial grade steel then baked in our porcelain oven to seal the glass to the shade. This time-honored process results in a high-gloss finish that will never fade and is simple to maintain.
"I think it has a classic, elegant shape and I wanted the red to complement the house which is white with gray shutters," she explains. For the garage, Sophia chose two more 12″ Aero Wall Sconces but customized these with a White finish to complement the white trim on the gray building and as a nice contrast to the green doors.
Both of the colors pop nicely against the facades of her home and garage and the Cherry Red fixture looks even better with the snow flying.
"I like that they are both functional and attractive," Sophia says. Porcelain enamel lighting is manufactured exclusively by Barn Light Electric and is hand crafted to last for generations. Old Man Winter's got nothing that porcelain enamel can't handle!
Photos courtesy of the homeowner