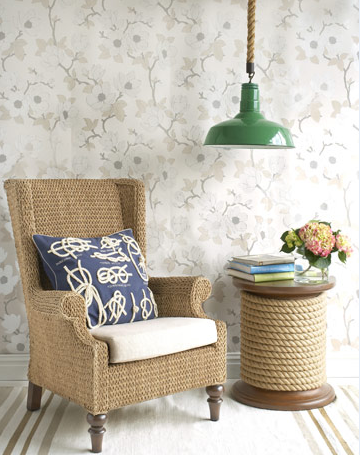 Porcelain Enamel Warehouse Shades 'Tie' Into Coastal Decor
Today's photo inspiration is one we'd like to call Coastal Country. Immediately my eye is drawn to the fabulous vintage green warehouse shade that drops in to say hello. The amazing color practically shouts out "look at me!' It has a way of standing out even next to the unique knotted pillow and spool- like end table. Its accented surroundings have a formal feeling, while the light provides a fun bit of whimsy.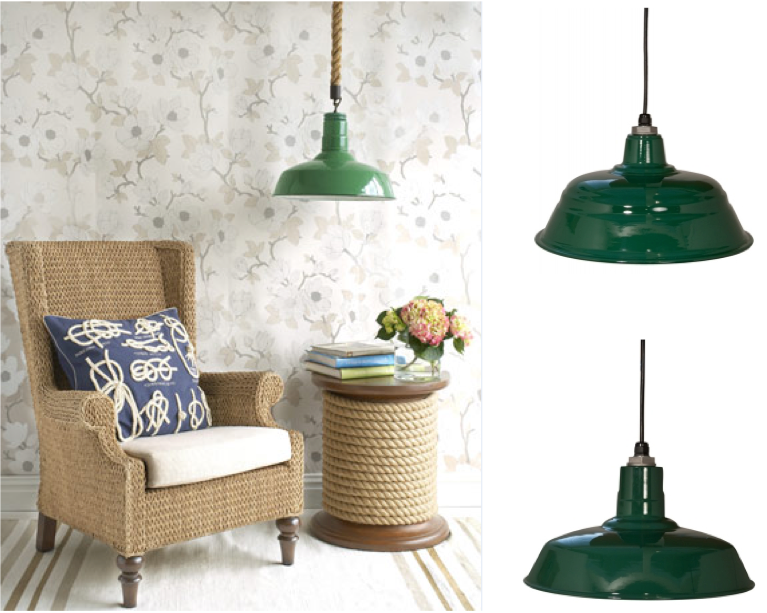 Photo courtesy of Country Living
Top: Ivanhoe Bomber 17″ Porcelain Enamel Pendant
Bottom: Ivanhoe Sky Chief 16″ Warehouse Porcelain Enamel Pendant
More than likely the shade shown above is an authentic vintage shade from around 1940 and has been kept in exceptional condition. Although they were made to withstand years of use placed outside gas stations and auto shops, when styles changed many were removed and replaced with newer options. In addition to this, many of these vintage shades were destroyed around the mid 20th century when abandoned factories and warehouses were torn down completely. If you don't have the resources to track down an authentic shade for yourself, and you'd like to capture this look for your own home, Barn Light Electric has recently introduced a line of vintage reproduction porcelain enamel shades that can be purchased online.
Similar style shades to consider are the Ivanhoe® Sky Chief or Ivanhoe® Bomber pendants in Vintage Green. If Vintage Green isn't your first choice, all porcelain enamel pendants are available in numerous colors and sizes. Although we do not supply the very interesting rope cord like you see in the photo, if you're one to mix up your room's decor every now and then, this particular pendant can be hung indoors or outdoors in a damp location such as the front porch. Their solid construction consists of an interior steel shade, with a final outer coating of glass to increase the strength and longevity of life – whether it be indoors or out!