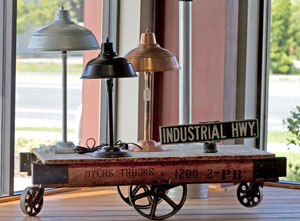 Barn Lamps for Table & Accent Lighting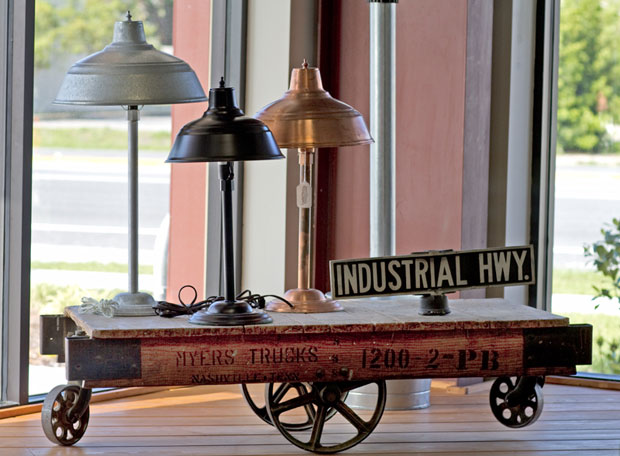 With a busy schedule, finding enough time to tackle even the smallest home improvement projects can be a major challenge. If you're looking for a quick and simple way to beautify a room, consider adding one of our metal barn lamps to a desk, end table or bookshelf.

Our barn lamps are cherished for their eye-catching design and unique style. As you can see in the photo above, each Machine Age Lamp displayed on the industrial factory cart has noticeably different features compared to traditional lamps. These well constructed pieces feature a metal warehouse shade design as opposed to cloth or linen shades. The shade design is not only easy on the eyes, but is easily wiped clean as opposed to others which can collect dirt and dust over time.
These lamps are a natural fit in industrial, modern age or country style rooms. Their round metal shades were inspired by America's Machine Age, when steel factories were running at full speed and manufacturing was at its peak. You may recognize this RLM warehouse shade design from our Old Dixie gooseneck or pendant lighting styles.
These Barn Light Machine Age Lamps can be customized in tons of different finish options. Country-style raw copper is just one of more than 50 finishes available to help you choose a style that suits your interior. If these barn lamps weren't quite what you were searching for, Barn Light Electric also offers a wide selection of Swing Arm Lamps and Task Lamps that can be paired with many of our coordinating vintage or modern pendants and wall sconces.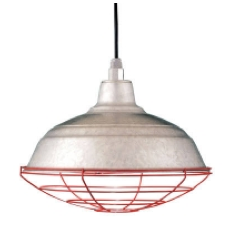 Were you searching for this style of barn lamp? Oftentimes referred to as a barn light on our website, these warehouse shades are a great matching ceiling pendant to the barn lamps shown above. Consider hanging these above a kitchen island or sink, while accessorizing an off set seating area or living room with a couple Machine Age Table Lamps!