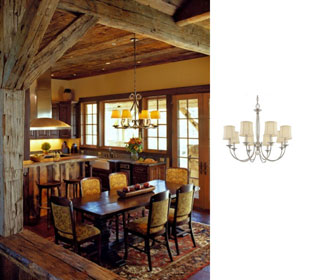 Vintage Chandeliers Add Traditional Style to Any Home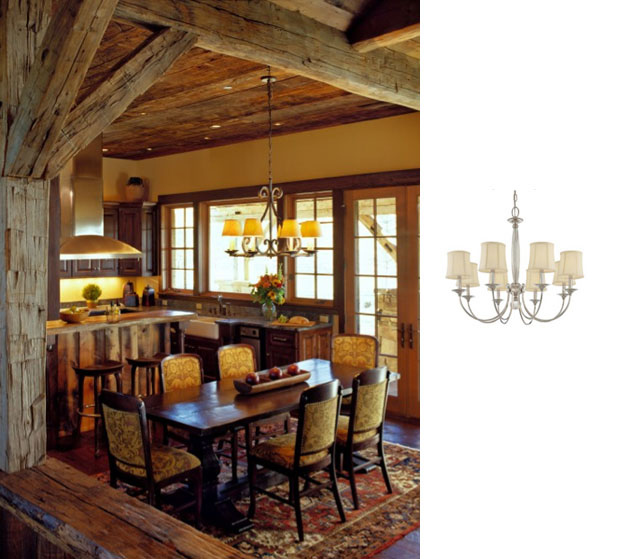 Don't let the word "chandelier" intimidate you from browsing Barn Light Electric's selection of modern, rustic and vintage chandeliers. Thanks to affordable pricing and a wide variety of styles and sizes, chandeliers have made the transition from high end to mid sized homes and cottages.
Whether they're installed over your family's dining table or within the entryway of your home, chandeliers have the ability to become an instant focal point. Within this Montana log cabin, a six shade chandelier (say that five times fast) hangs above a large oak table. Similar designs are available at Barn Light Electric, such as the Whiting Chandelier – an adjustable, six shade chandelier in a polished nickel finish. This rustic space utilizes a darker color pallet than those of normal industrial farmhouses, but you still find exposed wooden ceilings and a well worn wooden table that match the overhead lighting.
Notice the stark difference between the simple styling of this chandelier compared to the elaborate, crystal-laden frames that are commonly associated with traditional chandeliers. Several of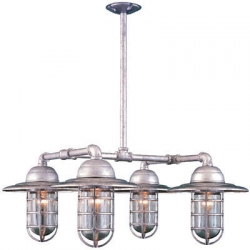 Barn Light Electric's chandeliers are based on the handcrafted Art & Crafts style, while others resemble Victorian and Colonial styles from the late 1800's and early 1900's when fixtures were candle-lit or gas powered. Today's versions of these designs honor this candle-lit style but substitute light bulbs in place of an open flame.
Each category of chandeliers sold at Barn Light Electric caters to interior designs with various accessories and decor. For example, if your home incorporates Mid Century Atomic Era lighting or nautical decor, you'll find plenty of accompanying chandeliers in the rustic chandeliers section (shown on the right). If you own a log cabin or a historical home, you're more likely to find a matching chandelier in our vintage category. Many of our modern design chandeliers are produced with innovative concept shapes that will look great in any home interior full of contemporary furnishings and decor. So, no matter if you own your home or rent, and whichever style you prefer, our collection of chandelier lighting is sure to bring warmth and character to your space!
Top Photo Courtesy of Gordon Gregory and the Blog of Design Associates Interiors