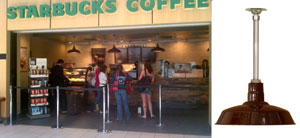 Stem Mount Warehouse Shades Shine at Orlando Starbucks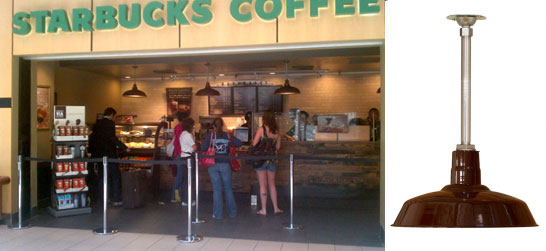 Thanks to the cleverly placed stem mount lights in its storefront, this Starbucks Coffee Shop at Orlando International Airport offers a setting that's much more intimate than the rest of chain stores and restaurants throughout the terminal.

The dark brown (dare we say coffee bean finish?) on each shade complements the off white brick walls and Scandinavian looking wooden front counter. These pieces only add to the welcoming atmosphere that's not typically associated with airport terminals. Models similar to the stem mount warehouse pendants pictured above include the Benjamin® Sky Chief Porcelain Stem Mount Light as well as the Benjamin® Bomber Porcelain Stem Mount, which features a deeper and slightly larger shade than the Sky Chief.
In addition to the stylish accent contributed by the tone and shape of each pendant, these impressively efficient lights accomplish two major feats for any successful restaurant. They:
Highlight the food on display making it look super fresh and tasty
Provide great lighting in the busiest section of the cafe
To accomplish both of these tasks, the lights are spaced over three primary areas where customers interact with the clerks. With the warehouse shades over these three crucial areas, each customer in line can clearly see the freshly baked pastries, pay for their coffee and pickup their order with the simplest of ease. This ergonomic layout is ideally suited for the incredibly fast paced and cramped setting of a major airport, where customers are usually pressed for space and time.
Stem mounts like the ones used on our warehouse shades above are valued for the extra layer of protection they add to your wiring. Whether you're a restaurant owner or homeowner in the midst of planning an exterior upgrade to a porch or garage, you'll appreciate the durability offered by a stem mount. You can find warehouse shades similar to the fixtures pictured above in the Benjamin® Stem Mount Lighting section of Barn Light Electric's line of Porcelain Barn Lights.