Galvanized Column Mount Dock Lighting | 1 Year Later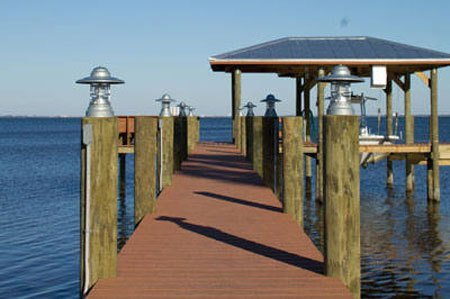 It was one year ago this month that we first installed galvanized Barn Light Column Mount CGU Exterior Lights – time flies! The posts of our dock sit along the Indian River Lagoon, part of the Atlantic Intracoastal waterway on Florida's East Coast.

Today, each of the galvanized Column Mount CGU Exterior Lights still retains its original finish. Despite direct exposure to salty sea breezes throughout the year, a galvanized finish is the most durable choice for saltwater environments. As you can see in our photos, our nautical lighting acts as a beacon – both drawing you out to enjoy soaking up the sun, and welcoming you home after a long day on the boat.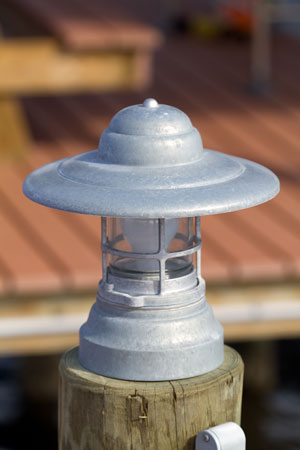 Anyone who lives in a coastal community knows the value of weather resistant, outdoor lighting. Year round exposure to high winds and extreme rain will test the quality of any outdoor fixture. Like all of our products at Barn Light Electric, our post mount lights are constructed from the highest quality, American made parts available.
The Column Mount CGU Light is designed in a nautical style. It proudly features a central cast guard with a thin, wide shade above that makes it an ideal light for docks and decks. If you don't own a dock but are searching for stylish and reliable outdoor lighting for patios or walkways, this versatile column mount fixture also looks fantastic on brick, masonry and stone columns! Your finishes aren't limited to galvanized metal, but more than fifty other choices!
In a few short weeks, winter will be officially over and the collective sigh of all those braving our record-setting winter will be heard loud and clear! With the warmer days of spring just around the corner, now is the best time to clean and update your dock with all weather lighting!