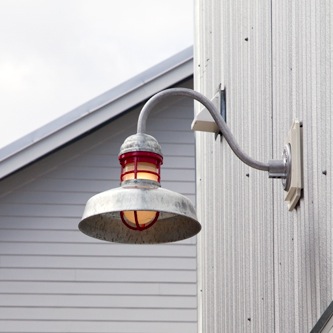 From Pendant Light to Gooseneck Shade: Our Top Picks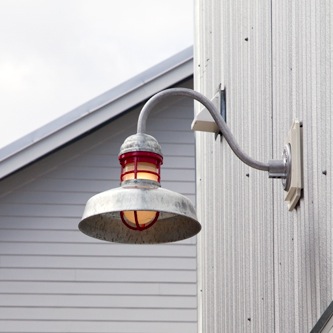 Barn lights come in many shapes and sizes, as well as mounting options. When it comes to versatility, many homeowners and designers choose pendant lights for the space in question. The benefit to choosing ceiling pendants is that their mounting options (cord hung or stem mounted) are adjustable for varying ceiling heights. Others choose sconces and flush mount lighting where pendants may not be an option. Have you ever thought to consider a gooseneck barn light in your home though?  What you may or may not have noticed is that many of our favorite barn pendants are available as a gooseneck light as well!
One of our bestsellers in terms of pendants and gooseneck lights is the Outback Warehouse Shade, shown above. What makes this barn light a customer favorite you ask? With the options to make this light unique, homeowners can order it nearly any finish combination they wish. A new use for the Outback Warehouse Light is as a vanity farmhouse light. Mount a single light it over your mirror, or as a pair on either side for a refreshing take on bathroom lighting.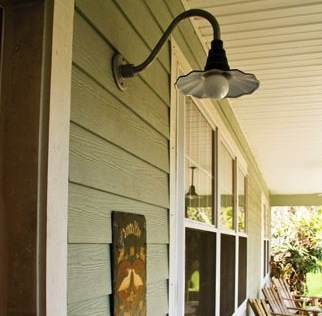 Another viable option for new lighting ideas is the Barn Light Aztec Sconce. While it is categorized in our Barn Wall Sconces section, the Aztec features a gooseneck mounting option and bears a striking resemblance to our Radial Wave designs. The Aztec is available in small to medium sizes, ranging from an 8" shade diameter all the way to up to 14". If you need a larger size, check out the Barn Light Radial Wave Shade, perfect for exterior garage lighting!
So you love both styles mentioned above and can't seem to make a decision? Then the Outback Radial Wave Shade is definitely your lighting soul mate. Combining the fluted shade and exposed cast guard and glass, the Outback Radial Wave Gooseneck Barn Light is sure to catch the attention of any passerby! Consider replacing your old pendant light with a unique gooseneck light today.