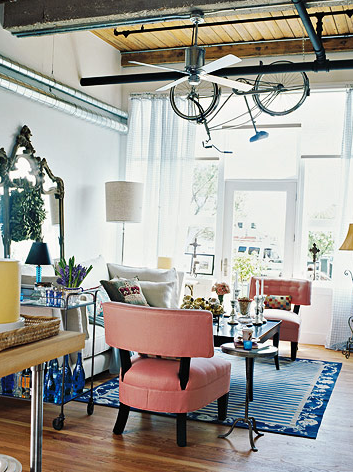 An Adaptable Modern Ceiling Fan
Designers always make it look so easy, don't they? How on earth can you possibly create a good looking room by digging through local flea markets and estate sales? Pretty certain the times I've gotten up early on a Saturday to find a few treasures, I've returned home empty handed. How about you?

More than likely, the image shown today had several designer's input – it comes from Better Homes & Gardens after all. But isn't it quaint? It's got that traditional homey feel with the formal seating arrangement, side cart, and large Victorian style mirror. There are plenty of vintage finds down below, yet something is a bit outside the box once you look upward.
Almost as if the room was horizontally cut in half design wise, the upper portion reveals the home's true bones – it's a loft! High ceilings draw your eyes up to notice the concrete beams, exposed ductwork and commonly found item – the suspended bike to save on floor space. These modern, industrial traits are carried over into the loft's ceiling fan.
Whether or not it was installed before or after, the centralized modern ceiling fan just seems to work. Mirroring the design of our Lapa Ceiling Fan, the Bright Nickel finish plays off a few accents found throughout while the white blades reflect around some sunlight and keep it open and airy. Ceiling fans are not only great accessories, but they're oftentimes a necessity in big cities. It's not uncommon to move into an older building that's not equipped with central air conditioning – not something you want to find out on the first hot day of summer!
Whether you wish to try your hand at early morning sales or leave that to the pros, however you choose to decorate is totally up to you. Just remember, you can always easily shop from home with us!
Top Photo Courtesy of Better Homes & Gardens