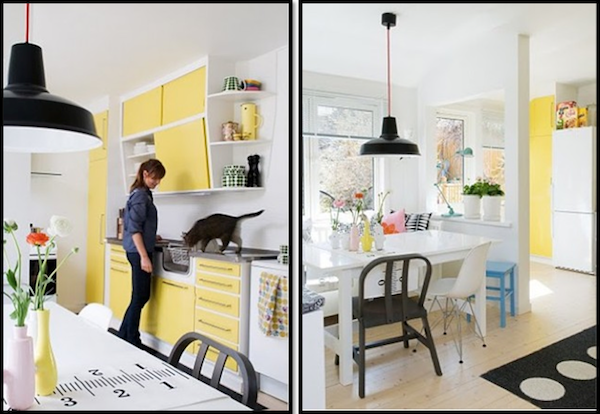 Barn Pendant Lighting for Eclectic Spaces
Who's to say that porcelain barn lighting, minimalist furniture, and artsy décor can't mix? If this thought has ever crossed your mind, the kitchen today might instantly prove that theory wrong.
Although it's small, it is anything but lacking in interest. The little details are what make this eat-in kitchen unique, just like the sunshine yellow cabinet doors. The variety of colors found in the banquet throw pillows, sky blue stool and vintage task lamp work together to create a bright and cheery space. Who wouldn't want to whip up a nice meal here?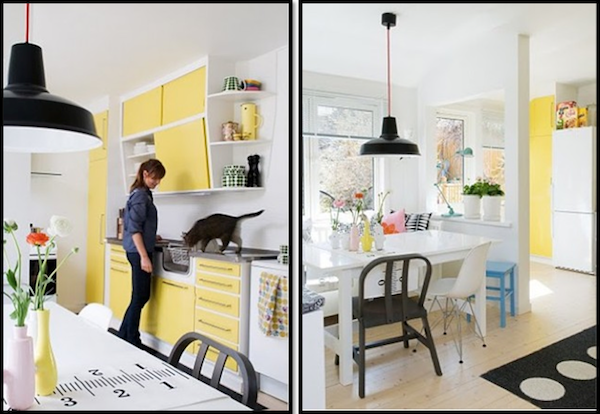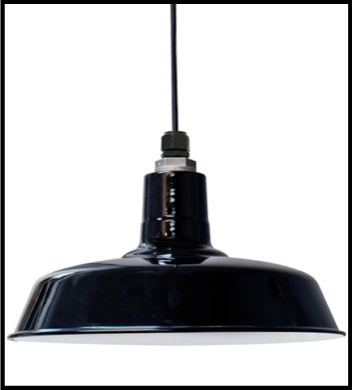 In an area like this many would use recessed lighting, but thankfully they did not. With all the colors and details, the designer chose to keep the lighting simple yet creative by using a classic warehouse shade design.
The warehouse pendant light above the lacquered table is reminiscent of our own Ivanhoe® Sky Chief Porcelain Pendant. The Sky Chief, a customer favorite, is flexible in the sense that the design can be utilized in any setting – indoor or outdoor, modern or traditional, residential or commercial. With our selection of porcelain barn lighting, you don't have to go far to find a universal light for your design.
To get this look shown today, choose our Ivanhoe® Sky Chief in a black porcelain finish. The sheen of the glass-like finish coordinates with the table below and combines the modern and vintage vibe found throughout. You can even get a coordinating red cord for your new barn pendant. Our red cotton twist cord adds an eclectic twist (no pun intended) to an otherwise classic style.
If your space is a little more compact, check out the slightly smaller Ivanhoe® Dino pendant. With the Dino you'll have the same shade design as the Sky Chief, just scaled down to better fit your space.
Top Photos Courtesy of Kitchen Building