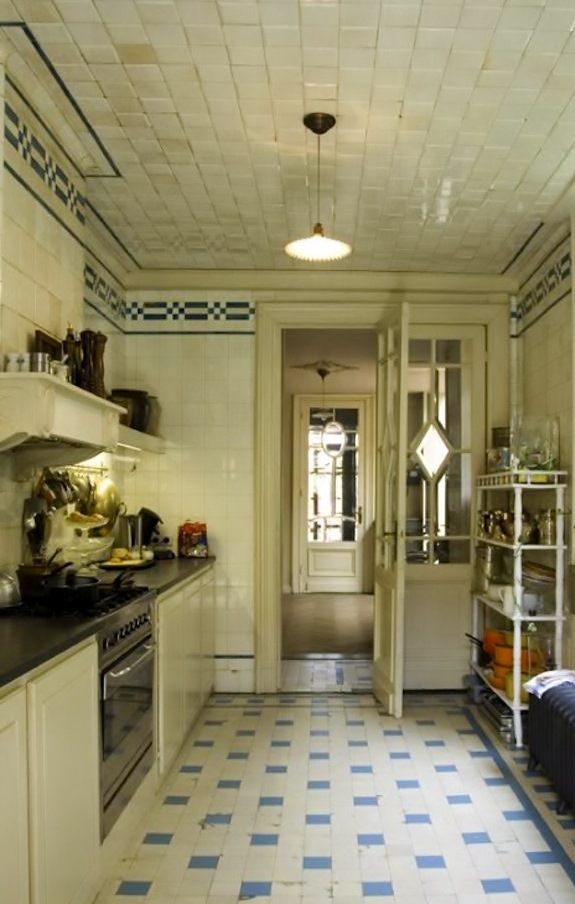 Flared Glass Shade Pendant Offers Simple Touch to 19th Century B&B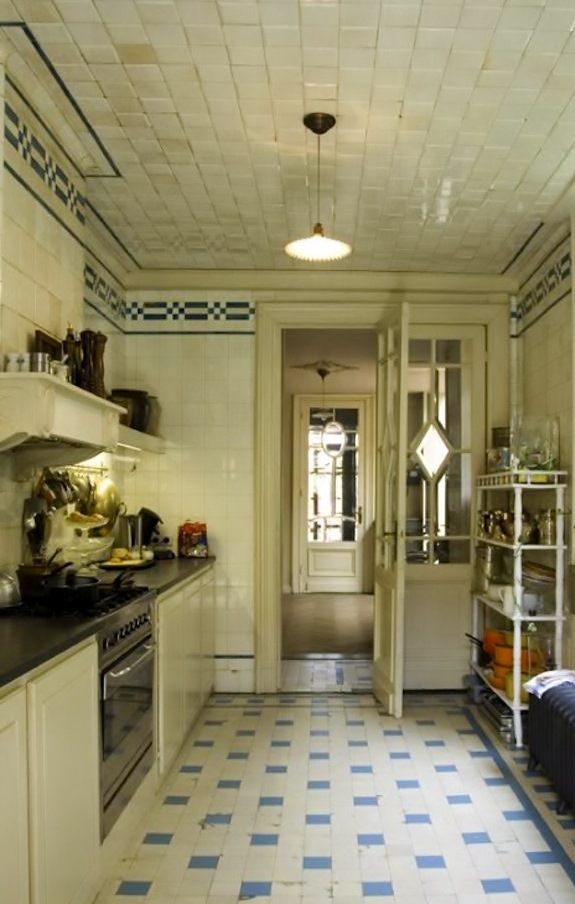 The lively city of Antwerp, located on the eastern banks of the river Scheldt in Belgium, is rich in art, architecture, and culture. Though famous for its diamond trade and the fifth largest port in the world, there are centuries worth of nooks and crannies to explore along its cobblestone streets. One of these hidden gems is the Boulevard Leopold, a quaint bed-and-breakfast located in a 19th century home that features a mix of vintage and modern. Here in the kitchen, we find floor-to-ceiling tile including a decorative blue pattern along the top of the walls that flows onto the ceiling. This treatment draws the eye upward, expanding the narrow space. And taking center stage — a delicate glass shade pendant that adds another vintage touch.

This shade would be right at home in our Glass Shade Pendant collection where we offer a variety of Milk Glass, Holophane Glass, and Cased Glass vintage fixtures. This light in particular looks much like our Flared Milk Glass Shade with Cotton Twist Cord. This 9 1/2″ wide shade offers a nice spread of light with its shallow, flared design and can be paired with either an unfinished brass or polished nickel socket. What gives this light a truly unique look is the colored cotton twist cord which comes in your choice of Putty, Brown, Black, or Red and in a range of lengths to fit any space.
Another easy addition that really boosts the character of this light is a nostalgic Edison Style Light Bulb. These bulbs are offered in a variety of shapes and styles and produce a warm, soft light. The Victorian 40-Watt Light Bulb features a quad loop filament while the 1910-Era 60-Watt Light Bulb has a squirrel cage filament. These authentic, replica bulbs put the perfect finishing touch on any vintage and industrial fixtures!
Top photo courtesy of Remodelista