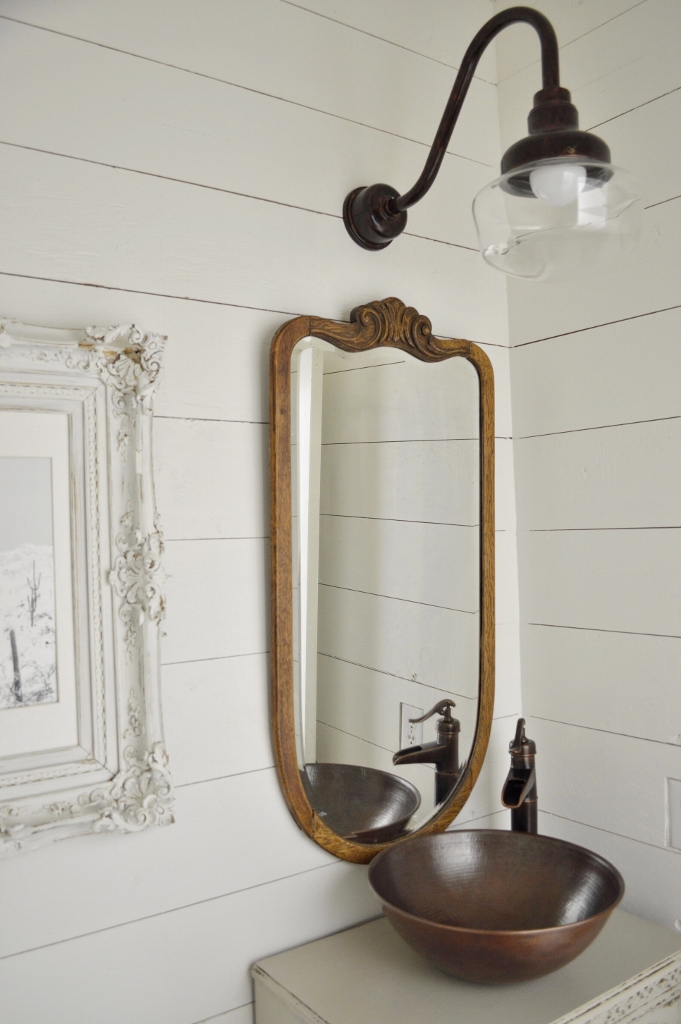 Schoolhouse Gooseneck Light Offers Vintage Character
Oh, the lowly powder room. Most often a small space with a token light fixture, the powder room is seen as a quick pit stop rather than a destination for thoughtful design.
But Natalie, from My Vintage Porch, had big, beautiful ideas for her small powder room space.
"This is a room we wanted to renovate for quite some time, but we needed budget-friendly ideas," Natalie says. "This space had only builder-grade touches, and we wanted to add more character." Natalie covered over the tired, striped walls with shiplap and replaced the pedestal sink with, believe it or not, an old record cabinet!
"The biggest thing I wanted to do was add character and to change out that sink with an old dresser-type vanity," she notes. "I love vintage and antique pieces and the record cabinet fit the space perfectly." To accent her re-purposed vanity, Natalie chose classic schoolhouse lighting.
"I have always adored schoolhouse lighting," she says. "The schoolhouse gooseneck lights really struck me. I think this fixture gave us just the added touch we were looking for." Natalie chose the Primary Schoolhouse Gooseneck Light and customized this American-made fixture with a small, clear globe. She fell in love with the Oil-Rubbed Copper finish and chose a G15 gooseneck arm for the best projection from the wall.
"I love the Oil-Rubbed Copper which mixes perfectly with the sink and faucet we chose," she notes.
"I didn't want the light to overpower the space, but I wanted it to be a statement piece at the same time," she says. "To me, it's almost as if the light has a story to tell with its fancy character. I love the way the light pulls the whole bathroom together." You can read more about this powder room reno and see Natalie's handy hubby in action in this post on Natalie's blog.
Photos courtesy of My Vintage Porch