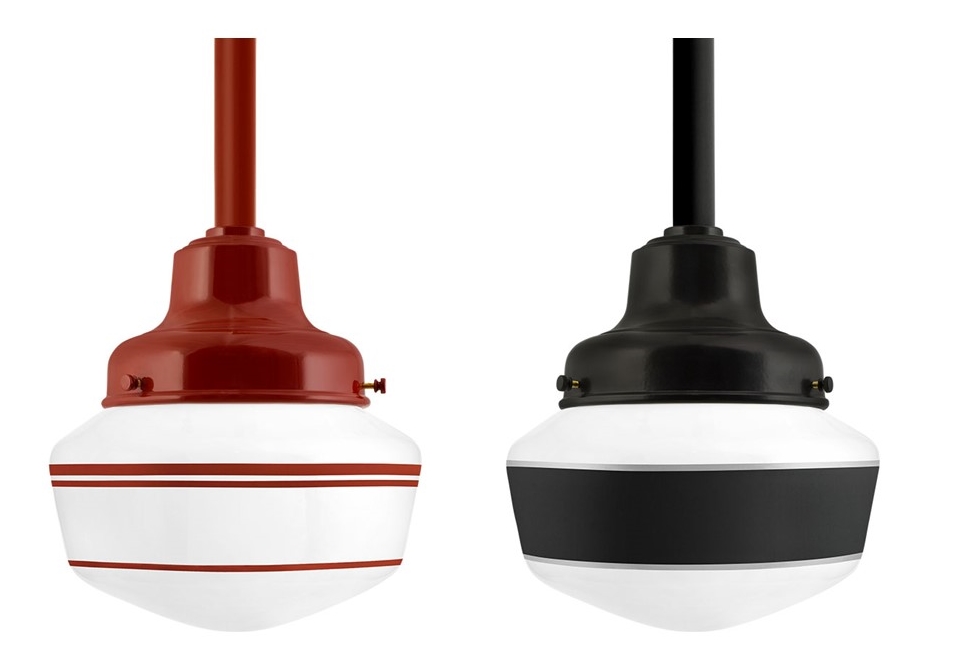 High Lumen LED Schoolhouse Lights Debut at Lightfair International
The phrase "Where vintage and modern collide" isn't just a slogan for our t-shirts here at Barn Light Electric. This phrase describes the passion we have for handcrafting classic styles of lighting while making them fresh and relevant with new materials, finishes, and options Grandma never dreamed of.
We're sharing our passion this week with others in the industry at the annual LIGHTFAIR International trade show taking place in Chicago. It's been a jam-packed week of meeting old friends and making new ones as we unveil our newest offerings with those in the lighting industry.
The big buzz in our booth this week is our newest entry in our Schoolhouse Collection. Schoolhouse lighting first came onto the market back in the early 1930s when opaque glass globes were added to bare-bulb pendants. These beautiful pendants were often found in schools (hence the name), libraries, and other public spaces.
Our latest twist on this classic fixture is found in our High-Lumen LED Schoolhouse Collection which unites the timeless look of schoolhouse lights with crisp, high-lumen LED light. Available in studio, chain, stem, and gooseneck mountings, these schoolhouse lights offer the vintage charm of early 20th century lighting while still providing the energy-efficient, environmentally friendly benefits of LEDs.
"We're excited to introduce this new line of decorative architectural lighting" says Bryan Scott, owner of Barn Light Electric. "The quality and durability of these American-made lights not only offer crisp, vivid light, but they're built to last in high-traffic, commercial locations."
Constructed with a tempered, diffused glass globe and stainless-steel hardware for durability, these high-lumen LED fixtures feature an innovative LED module that offers superior color quality, reliability and efficiency. The integrated module has an LED Chip on Board (COB) to deliver up to 6500 lumens.
While most LED lighting systems illuminate blue and green very well, they lack in the red spectrum range. The LED modules in Barn Light Electric fixtures offer both a high R9 value (saturated reds) and a high CRI (Color Rendering Index) value to provide consistent color and quality of light throughout a space. The CRI measures how well a light illuminates an object's true colors. Advanced dimming technology across the entire dimming range keeps colors natural.
And while this new collection of lighting is the most energy efficient we've ever offered, there is no sacrifice on style. Like all of our American-made fixtures, these lights can be customized with one of more than two dozen finish colors and dozens of mounting options.
Well-crafted, fashionable, energy-efficient lighting that illuminates almost any space from intimate residential rooms to large offices and community spaces! For more information, chat our friendly sales staff from our home page or call 800-407-8784.