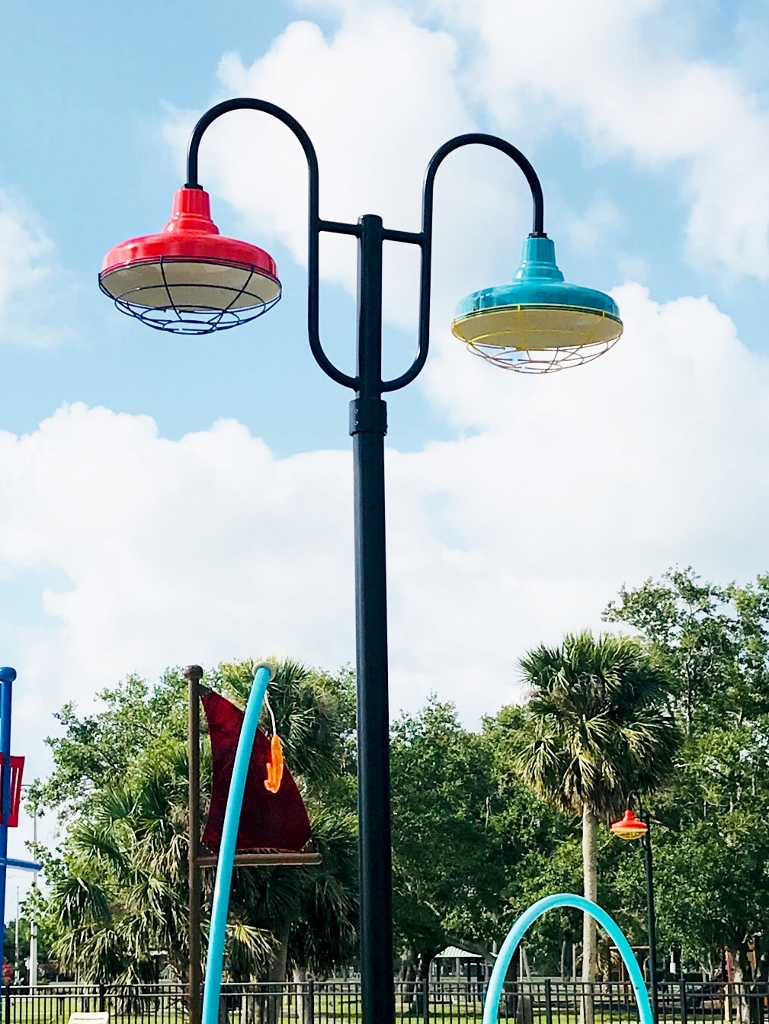 Colorful Post Mount Lights Add to Festive Vibe of Splash Park
Here on the Space Coast of Florida, there's little escape from summer's heat and humidity. But locals and tourists alike are singing the praises of the newest way to keep cool here in Titusville. The Sand Point Splash Park, located just off the shores of the Indian River, features colorful wading pools and festive fountains of water throughout the park.
Barn Light Electric was happy to support this effort to give kids in northern Brevard County a fun place to chill and play with family and friends. Eight of our Union Double Post Mount Lights dot the park's landscape and provide illumination in the evenings.
"Members of the Barn Light staff came out and we talked about what style and color of lighting would complement the park," says Vanessa, project engineer for the Splash Park. The Union Double Post Mount Lights are customized with Black poles and 16″ shades. The hand-spun shades are finished in durable powder coat colors of Teal, Orange, Royal Blue, and Buttery Yellow. Wire cages in contrasting colors add to the color riot.
"The colors are very pretty, lively, and welcoming to visitors," Vanessa says. "We appreciate the donation of these lights very much."
Post mount lighting is a great choice for public parks to illuminate gathering spaces, walkways, and parking lots. Commercial businesses also benefit from this type of outdoor lighting to welcome customers and provide a safe environment after dark.
Residential customers use post mount lighting to illuminate long driveways, landscaping, and carports. These rugged, exterior lights can be customized to complement most any decor with either powder coat or porcelain enamel finishes. Wire cages like the ones used on the Splash Park fixtures not only provide protection for the bulb but also add a hint of industrial style. The cast guard option lends a nautical flair and encloses the bulb completely in glass surrounded by a rugged guard.
For questions on any of our American-made outdoor lights, visit our website or call our award-winning sales team at 800-407-8784. You can also chat during regular business hours via our home page or email the team at sales@barnlight.com.