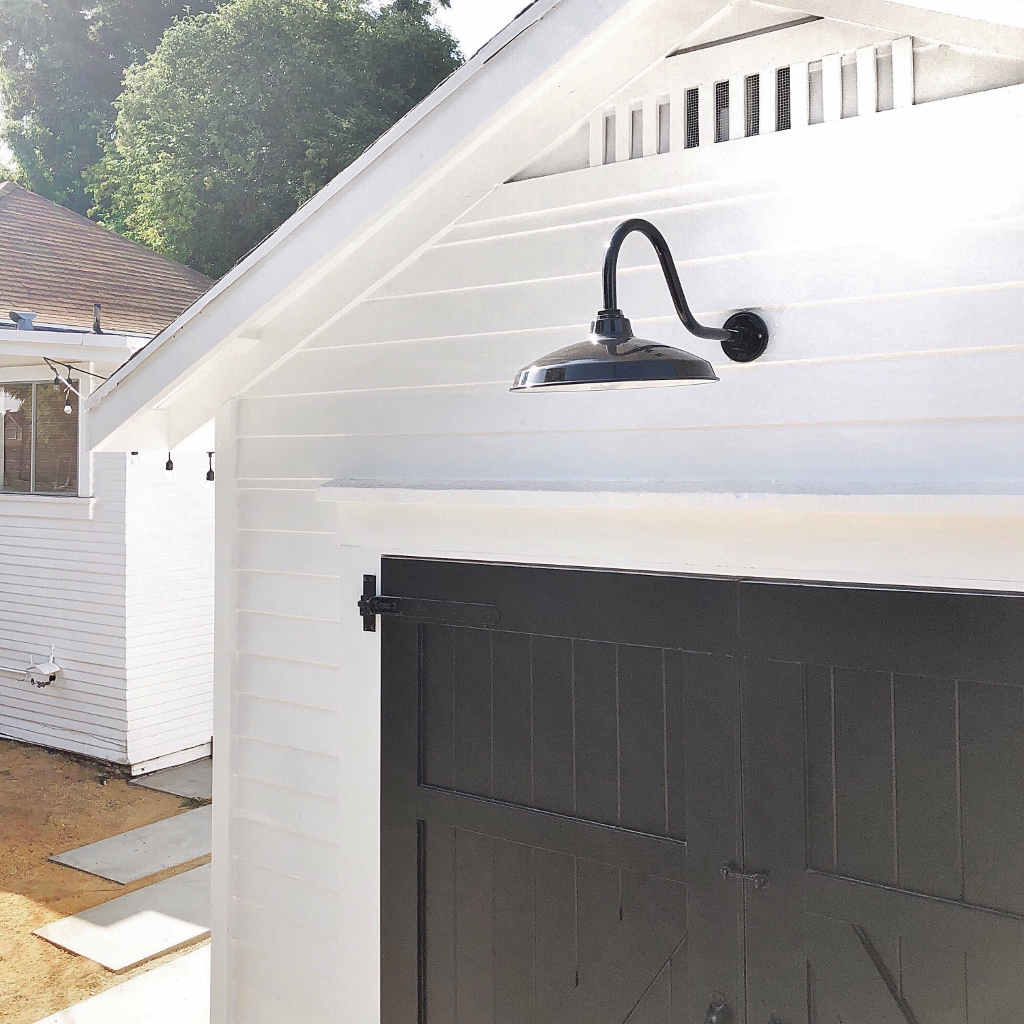 Porcelain Gooseneck Handles California Sunshine
Renovating a garage often lacks the joys of renovating, say, the kitchen or the family room. It's just not nearly as much fun spending money on utilitarian spaces that simply house the car and lawn mower.
When Meg started contemplating an overhaul of her garage earlier this year, she wanted to make the space as charming as her Orange, California, home. She loves the modern farmhouse look, with more of an emphasis on the modern, so she paid particular attention to the details of the full-gut renovation.
"Our little 1909 cottage is located in Old Town Orange and is a National Historic District," Meg says. "We took the garage down to the studs then lifted her eight inches for a new footing and slab. Damaged siding was replaced, the interior was finished, and new carriage doors were made." The end result is a building as equally appealing as her home.
When looking for lighting, she wanted to find a gooseneck light to pay homage to the age of the home and to accent the new black carriage doors.
"When we discovered Barn Light Electric, we were so excited to find an option for more modern barn lights for our space," she notes. Meg honed in on the Marathon Gooseneck collection where she found commercial-grade gooseneck lights finished in high-gloss, never-fade porcelain enamel.
"We wanted a light that could handle the southern California sun beating on it year after year," she explains. "We needed the best product that was of commercial grade." Meg chose the Marathon Gooseneck Light for her new garage. She customized this American-made gooseneck light with a 16″ shade, Black finish, and G22 gooseneck arm.
"When discovering all of the different options, we wanted to stick with more modern lines and felt we could achieve the look with the Marathon," Meg notes. "I had my husband stand on a ladder holding his measuring tape in all the different sizes that the light came in. We decided ultimately that the 16" size was aesthetically the best. Black is the accent color for our house and is a classic color I won't get bored with.
"There are a lot of things I love about our barn light," Meg says, "but mostly that it draws so many compliments and has really been the cherry on top of our whole project."
Photos courtesy of the homeowner